Last updated on May 17th, 2012 at 07:50 am

Recently I found out about two fantastic travel contests that you should enter. That is, of course, if you want to experience the adventures of a lifetime in Australia and learning all about the wines of France while traveling throughout the United States.
The two contests are: The Tourism Queensland and Pro Blogger chance to experience the Great Barrier Reef as Queensland Blogger Correspondents and Wines of France Tour: The Road Trip of a Lifetime. To learn more about each contest and how you can enter, keep reading below.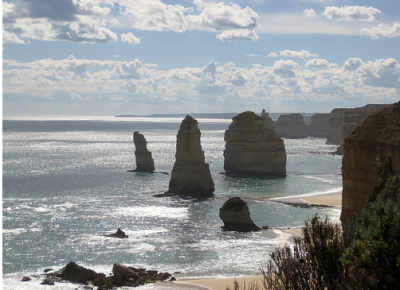 Australia from TwentySomethingTravel's blog
Queensland Blogger Correspondents 
Catherine Hughes, our fearless editor here at 8 Women Dream, brought this one to my attention. She was–and always is–kind enough to suggest that I enter this one for myself. As much as I would love, love, love the chance to dive into uncharted waters of my own travel experiences in Australia, but I already have travel plans scheduled during this trip's timeframe, so I am passing the good word to you great people!
The Trip Details
In order to deliver the most accurate information possible, I have included the trip information here from Darren Rowse's article in Pro Blogger.
***PLEASE NOTE THAT THE DEADLINE TO ENTER ISÂ midnight April 17, 2012 (AEST–that's Australian Eastern time)!
Ten lucky bloggers will win a five-day, all-expenses paid trip to Queensland, Australia including return economy-class air tickets, accommodation, excursions to some of Queensland's bucket-list attractions like the Great Barrier Reef, meals, and two close-encounter workshops with me. The event will run from June 5 until June 10, 2012, not including travel time.

In return for seeing some amazing sights, tasting some modern Aussie tucker (food), and meeting some wonderful characters, we'll put aside time for you to create content (a minimum of two blog posts complemented by tweets, videos, photography, status updates, or podcasts) for you to share with your audience. The content will later be featured on the Tourism Queensland blog.

From June 5 to June 10 this year, Tourism Queensland and I will bring ten of what I think are the most intriguing bloggers from around the globe to Queensland to meet me and experience the Great Barrier Reef as Queensland Blogger Correspondents. You could be one of them.

As part of the experience, you will be required to report about your adventure on your blog and social networks. The content will later be added to Tourism Queensland's new blog. It's going to be fun, but there will also be a little work (if you call blogging "work") involved. A working holiday of sorts.

Plus–as an extra bonus–during the trip I'll be running two exclusive training workshops for the ten winning bloggers. We'll spend four or five hours–perhaps on a tropical island or maybe under the canopy of the world's oldest rainforest–talking about the principles of successful blogging and workshopping how you can improve your blogs.
For more information and how to enter, Darren Rowse requests that you please "read the competition terms and conditions and then head to the competition entry form."

Wines of France Tour: The Road Trip of a Lifetime
In a way, this contest sounds too good to be true. And it might be, or at least it could be a little deceiving at first. While you will be sipping and swirling the wines of France, this contest doesn't leave the states. After all, you don't have to go to Bordeaux to appreciate the wine. To get started, learn more and enter this contest, you should "friend" Wines of France on Facebook. From there, you can navigate to "Road Trip of a Lifetime" section on their page to enter.
Here are the details straight from the source–Wines of France's Facebook page:
What could be better than a trip combining endless amounts of French wine, good food and the open road? Getting paid for it.

Wines of France is going on a tour this summer and we want you to come along for the ride. One lucky writer will join us on a two week tour of the Midwest- beginning in Chicago and winding up in New Orleans. Have that road trip itch? This trip will certainly scratch it, but that's not all. Along with the experience of a lifetime, you will earn $2,000. Your responsibilities will include tweeting and blogging about your adventures on the open road.

Wines of France and Lush Life Productions are searching for the perfect companion for our tour. You should have an active and well-maintained blog with a decent following and an adventure-loving personality. You will be on site with us for two weeks assisting with the production of events in Chicago, Oklahoma City, Kansas City, Dallas and New Orleans. Each event will be different, ranging from an all-out wine extravaganza to an informal in-house dinner with a local chef!
Good luck to you all! Let us know if you plan on entering! Whether you enter or not, what travel contest would you love to enter?
Katie

Enjoy this special 8WomenDream Guest Contributor story submitted by new and experienced big dreamers throughout the world, edited and published to capture a dream perspective from different points of view. Do you have a personal dream story to share with 8WomenDream readers? Click here to learn how to submit dream big articles for consideration.
Note: Articles by Guest Post Contributors may contain affiliate links and may be compensated if you make a purchase after clicking on an affiliate link.