Last updated on January 23rd, 2019 at 10:40 am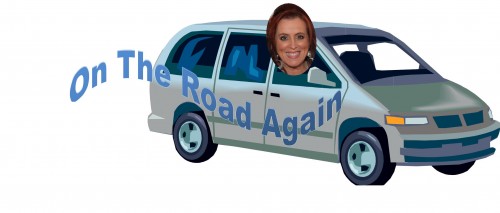 Life On The Road As A Motivational Speaker
Most motivational speakers spend the majority of their time on the road, or in a plane, or a train, or a subway, or a minivan with a car full of luggage and product, a whining kid, a direction-challenged husband,  and a handful of petrified french fries under the seat. Such is the life of a professional speaker. But travel doesn't have to be a hardship if you remember these handy tips.
Make your flight plans at least thirty days out to get the best price.
Check luggage requirements for your airline. You don't want to have to ditch items because you went over the weight limit.
Have all your travel destinations printed on one piece of paper. Yes, I know it's cool to have the app. Yes, it's great to go green. But sometimes phones run out of batteries. Sometimes technology lets you down. I can't count the number of times I have wished I could just pull out one piece of paper with all my destinations, confirmation codes, addresses, and phone numbers.
Have your contact names and numbers written on one piece of paper.  It's a pain in the butt to have to go digging through your files, or your online event software to find that person you're supposed to call upon arrival. Write their name and phone number (after hours phone number) on a piece of paper where you can have it handy.
Research transportation from airport to hotel. Not every hotel offers a free shuttle, and sometimes rental places are actually closed when you get there. Have a plan in advance.
Take the earliest flight out. You never want to take the last flight available because if you miss it, you've messed up your tour. I would rather arrive early and then rest, than miss my flight.
Have a backup plan. In my business I am often driving from one gig to the other with rarely a moment to spare. And often I have the chance to choose between flying or driving. When planning out my trips, I make sure I always have a plan B in case my first plan doesn't come through.
Bring a folder for receipts. You want to save receipts. Don't just stuff them anywhere. Have an envelope with the trip name and date on it. Put them in there.
Bring a lot of five dollar bills for tips and small stuff.
Bring change in case you run into tolls on the highway!!!! Some toll booths don't accept bills. Trust me.
Pack light. Wear the same thing on the way home that you wore on the day you left. Dragging that suitcase will be a colossal pain after a while. Don't forget that hotels allow you to do laundry.
Wear something you could speak in if your luggage gets lost.
Pack comfortable. Comfort beats cute every time on the road and in airports.
Have some handy meals that are light. Airport food is expensive as crap. And not always healthy. I bring protein bars and packs of flavored tuna. Don't forget the spoon!!!!
Have a packing list of items that you always want to have with you.  I actually leave a suitcase half packed all the time, and only swap out the clothes. That way I don't have to rethink it every time I pack.
Grub Hub is a great app for restaurants near you that deliver. Takes the sting out of paying really high room service bills when you're stuck there without a car.
Have "airport" shoes. I always carry around a lightweight little pair of shoes/flip flops to change into after shows or in the airport.
Try to be loyal to one airline. Sometimes it's about choosing the best fare. But those perks are nice when you stay loyal to one airline.
Bring something to do.  I should know this. But there are still many times when I'm sitting on the plane dying for a magazine or a good book to kill the time.
Travel pillows are AWESOME.
And last, but not least, let family and friends know how to reach you. Send itineraries by email.
Kelly Swanson is an award-winning storyteller, motivational speaker, published author and TV personality who is passionate about helping women harness the power of their stories to connect, influence, and get the results they dream of accomplishing. Laughing the whole way, Kelly teaches women how to master the art of connection through the power of strategic storytelling. You can find her on The Fashion Hero show airing Fall of 2017 on Amazon Prime or on her website MotivationalSpeakerKellySwanson.com.
Note: Articles by Kelly may contain affiliate links and may be compensated if you make a purchase after clicking on an affiliate link.