Last updated on January 23rd, 2019 at 10:40 am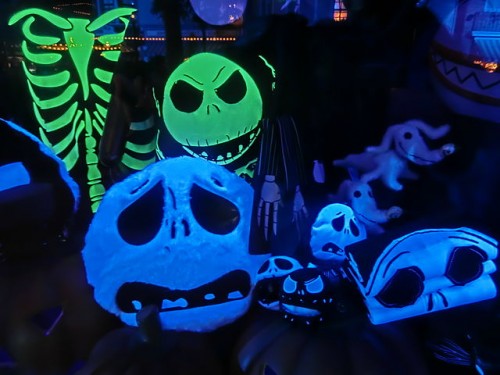 Is Disneyland one of your travel dream bucket list travel destinations? Have you ever thought of visiting Disneyland for Halloween?
If not, and you are a big Disney fan, then you should consider spending Halloween at Disneyland. Most of the summer tourists are gone and fall is one of the best times of the year to visit California.
ANAHEIM, California — Halloween Time at the Disneyland Resort is a one-of-a-kind celebration of chilling, family friendly fun.
Beginning Friday, Sept. 12, through Friday, Oct. 31, park guests can explore their spooky Disney Side with special Halloween transformations of Haunted Mansion and Space Mountain; encounter Disney villains conjured by a magic cauldron; dance to the Mad T Party band and meet Mickey Mouse and his friends in Halloween costumes.
An additional Halloween Time highlight is the separate-ticket, after-hours Mickey's Halloween Party, where adults and children show their Disney Side by dressing in costumes, trick-or-treating at Disneyland Park and enjoying an array of special entertainment, including the exclusive "Halloween Screams" fireworks spectacular.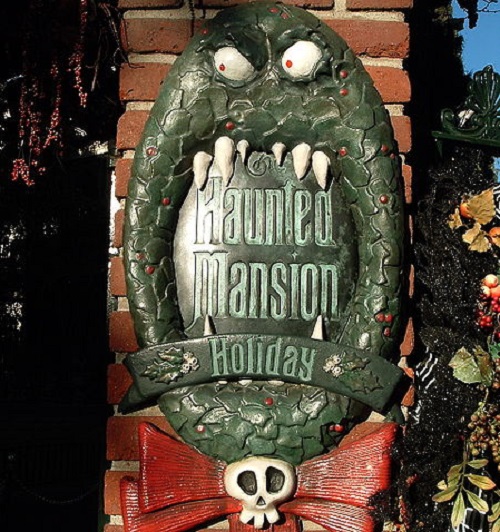 New to Halloween Time at Disneyland this year are the latest twists at Haunted Mansion Holiday and additional entertainment experiences at the Halloween Carnival at Big Thunder Ranch, with more mysterious fun joining the Astounding Cauldron of Magic.
Spooky Space Mountain Ghost Galaxy in Tomorrowland is one of the guest favorites during Halloween Time.
The unique Halloween-themed experience begins as a typical Space Mountain adventure, but suddenly launches voyagers into a haunted section of the universe. Ghosts appear out of the starry darkness and swirling galaxies of Space Mountain, reaching out as if to grab guests as they speed through space.
The exhilarating drops and curves are punctuated by piercing screams, creepy sound effects and haunting music.
Jack Skellington returns to Disneyland to take over the Haunted Mansion and brings Haunted Mansion Holiday back to New Orleans Square. Transformed with a mix of Halloween spookiness and Christmas cheer, Haunted Mansion Holiday is inspired by the classic animated film "Tim Burton's Nightmare Before Christmas."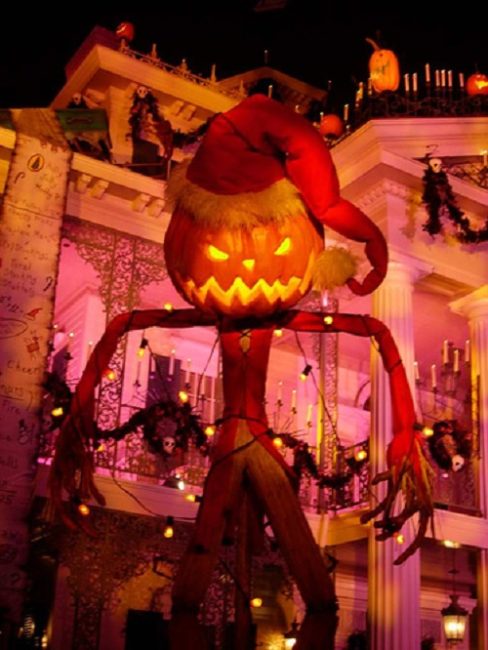 Guests find new surprises within the Mansion every Halloween, including the 2014 Haunted Mansion Holiday gingerbread house. This year's creepy creation adds a little whimsy with a hapless gingerbread zombie who is trapped inside – surrounded by frightening spikes that are very sharp, red-and-white candy canes.
This is the 14th original gingerbread design since Haunted Mansion Holiday debuted in 2001. The design also features opening and closing doors and special lights.
In addition to Haunted Mansion Holiday and Space Mountain Ghost Galaxy:
• In Frontierland, guests discover an exciting, new magic show presented on the Halloween Carnival stage at Big Thunder Ranch. Nearby they also may conjure up a Disney Villain at the "Astounding Cauldron of Magic" sideshow tent at the Halloween Carnival.
• Also at the Halloween Carnival in Big Thunder Ranch, guests encounter favorite Disney characters in Halloween costumes, pumpkin carvers showing their Disney Side with elaborate creations, Halloween decor and activities for youngsters.
• Main Street, U.S.A. in Disneyland transforms to become the Pumpkin Festival, with hundreds of pumpkins on display, no two of them the same.
• Guests age three and up show their Disney Side and live their pirate dreams as they learn the ways of the seven seas at The Pirates League. A part of the Halloween Carnival, The Pirates League offers a variety of pirate transformation options: Jake and the Never Land Pirates, Captain Hook, Ghosted Pirate, Black Beard, Black Eyed Jack, and Empress, created especially for pirate princesses. For The Pirates League reservations call 714-781-STYLE / 714-781-7895.
• Frontierland observes Dia de los Muertos with a traditional skeleton display that will remain through Sunday, Nov. 2.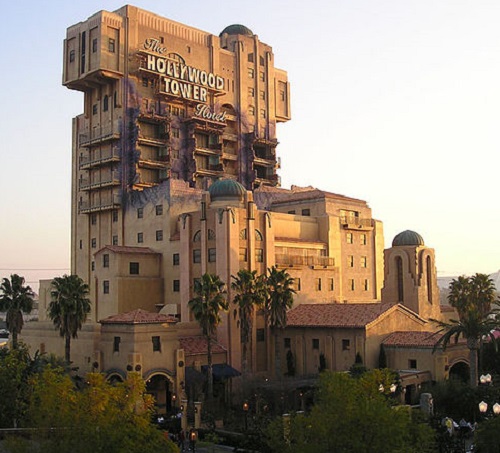 In Disney California Adventure Park, Halloween Time offers frightful fun for guests of all ages, with favorite attractions such as The Twilight Zone™ Tower of Terror, where a "supernatural" event happened on Halloween evening 1939, 75 years ago, forever haunting the building with spine-tingling fun.
Also at Disney California Adventure, the nighttime Mad T Party in Hollywood Land gets some new Halloween spice. Tweedledee and Tweedledum welcome guests as the Mad Hatter offers some devilishly delicious All Hallows Eve fun featuring new Halloween music and a chilling new look for Mad T Party band.
Mickey's Halloween Party, a separate-ticket event* for trick-or-treating families, expands to 14 special, spooky nights in Disneyland. Highlights of Mickey's Halloween Party include:
• "Villains Square." Throughout the evening, the Disney villains arrive in Disneyland Town Square as the "Bad Apple Party Crashers," riding a black horse-drawn carriage accompanied by thunder, fog and special lighting effects. Villains such as Cruella De Vil, the Queen of Hearts, Judge Frollo from "The Hunchback of Notre Dame" and Lady Tremaine from "Cinderella" appear for photos and character greetings, and guests are invited to "Party Like a Villain."
• The opportunity to play in Disneyland for three hours before the party starts.
• Trick or Treating – candy and healthy treats ­– in the ultimate Disney neighborhood.
•The "Halloween Screams" fireworks spectacular, hosted by "Master of Scare-omonies" Jack Skellington (presented exclusively for guests of Mickey's Halloween Party, weather permitting).
• "Mickey's Costume Party" cavalcade featuring some favorite characters, performed twice nightly.
• "Monsters U Dance Party" at Tomorrowland Terrace: Class time is over and the students of Monsters.
• University join Halloween Time guests in a family-friendly frat party with the most popular students from Monsters U, Mike & Sulley.
• The Cadaver Dans, a ghoulish quartet performing Halloween-themed tunes aboard a drifting graveyard-themed raft on the Rivers of America in New Orleans Square and Frontierland.
• Photo locations with popular Disney and Pixar Pals, plus Disney Villains.
• Nearly all the favorite Disneyland rides and attractions, plus Haunted Mansion Holiday and Space Mountain Ghost Galaxy.
• Complimentary parking for one standard-size vehicle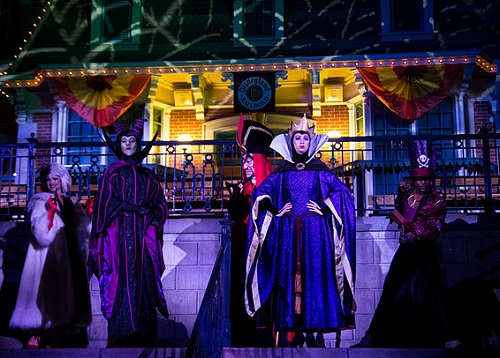 Tickets for Mickey's Halloween Party may be purchased online and, for the first time, on mobile devices at Disneyland.com/party, as well as at the Disneyland Resort main gate and by phone at 714-781-4400.
Guests may check for availability for 14 nights: Friday, Sept. 26; Tuesday, Sept. 30; Friday, Oct. 3; Monday, Oct. 6; Wednesday, Oct. 8; Friday, Oct. 10; Tuesday, Oct. 14; Friday, Oct. 17; Monday, Oct. 20; Wednesday, Oct. 22; Friday, Oct. 24; Monday, Oct. 27; Wednesday, Oct. 29; and Friday, Oct. 31. Online purchase is not available the day of the event.
Tickets purchased in advance are available at a discount on select nights.
Tickets purchased on the day of the event are $70 each. All tickets to Mickey's Halloween Party on Halloween Night, Friday, Oct. 31, are $77 each. Mickey's Halloween Party is a non-smoking event. Smoking will be permitted only in the Esplanade outside the Disneyland Main Entrance.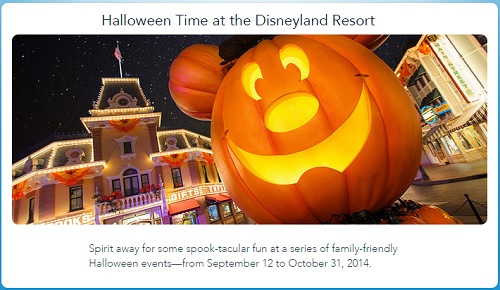 For more information about Halloween Time at Disneyland Resort, see www.Disneyland.com/Halloween. The site will be updated with frightfully fun details.
If you love Halloween and everything Disney then adding a Disneyland Halloween adventure to your bucket list travel destinations is a must!
Enjoy your travel dreams.
Natasha
The Twilight Zone® is a registered trademark of CBS, Inc., and is used with permission pursuant to a license from CBS, Inc. ©Disney/CBS, Inc
About the Disneyland Resort
The Disneyland Resort features two spectacular theme parks – Disneyland (the original Disney theme park) and the newly reimagined Disney California Adventure Park – plus three hotels and the Downtown Disney District, comprised of unique dining, entertainment and shopping experiences. The Resort's hotels are the luxurious, 948-room Disney's Grand Californian Hotel & Spa, which also features 50 two-bedroom equivalent Disney Vacation Club units; the magical 973-room Disneyland Hotel – both AAA Four Diamond properties – and the 481-room Disney's Paradise Pier Hotel with its "day-at-the-beach" fun. For information on attractions and vacations at the Disneyland Resort, visit www.disneyland.com, call (866) 43-DISNEY or contact local travel agents.
*Space is limited, and tickets are available while supplies last. Online purchases unavailable on day of event. Limit eight (8) tickets per person, per event date. Each ticket is valid for admission to the event and parking for one (1) vehicle (larger vehicles may require an additional fee) on the specified event date. Tickets are nonrefundable and may not be sold or transferred for commercial use. Advance purchase savings available on select nights until one day prior to the event date. May not be combined with other discounts. Tickets are valid for admission to the designated party and to the Theme Park beginning at a specified time prior to party commencement. All costumes must adhere to any guidelines as determined solely by Disney. Please choose costumes that are not obstructive, offensive or violent. Guests' eyes must be visible at all times. Offer and event information and activities are subject to restrictions and change without notice. Days and times of operation and all other elements including, but not limited to, operation of attractions, entertainment, services, stores and restaurants, and appearances of Disney Characters are subject to change without notice. Subject to capacity and other restrictions.
SOURCE Disneyland Resort/PRNewswire/Wikimedia Commons
[fbcomments]
Natasha von Geldern is a travel writer, editor, and blogger who is passionate about making the pages of the atlas real by traveling the world. She is a contributor to Travel Wire Asia, Wild Junket Magazine, Yahoo! Total Travel, and Travelbite. You can find her on her travel website and blog, WorldWanderingKiwi.
Note: Articles by Natasha may contain affiliate links and may be compensated if you make a purchase after clicking on an affiliate link.