Last updated on April 8th, 2012 at 08:01 pm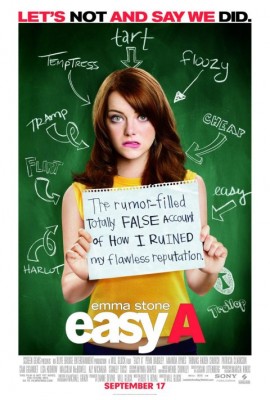 As the dreamer with dreaming of getting my screenplay produced, I feel that no one really knows the impact your words may have on others when you release them into the internet stratosphere. Especially, when those words are the gateway to your screenwriting dreams.
In my last post Hollywood Screenwriter Offers Zombieland Movie Review, this one line must have struck a chord with someone. "Emma Stone "shines" in this movie as a cool butt kicking chick and has a promising future as an actress." One of Ms. Stone's representatives read my review and gave me a compliment for giving her a favorable critique. Wow, someone in the biz is actually reading my words! What a boost to my confidence.
So, when a friend suggested a girls night out to the movies to see "Easy A", I was all for it. Another chance to watch Emma Stone perform her magic. There was four of us, 40 +older going to see a teen comedy. Would we get it? Would we enjoy it just as much as the younger crowd is was geared for?
Here is my review of Easy A –
Easy A
Written by: Bert V Royal
Directed by: Will Gluck
Studio-Sony Pictures/Screen Gem
This hilarious romantic teen comedy written by first-time screenwriter Bert V Royal is bursting with laugh-out loud rapid-fire dialogue and a intelligent savvy heroine you will want to root for. The adults in the audience will be wildly amused with the references to John Hughes so deftly interwoven into the story by director Will Gluck.
A superb supporting cast round out this movie that will be enjoyed by all ages 13 + up. Standouts are Dill (Stanley Tucci) and Rosemary (Patricia Clarkson) are a scream as Olive's funny screwball parents.
It all begins innocently enough when Olive Penderghast (Emma Stone) tells her gossip hungry best friend Rhiannon (Alyson Michalka, of CW's, "Hellcats") a little white lie. She concocts a story that she is going on a date with some college guy (imaginary) so she won't have to endure going on a weekend camping trip with Rhiannon's nudist hippie parents. But on Monday, Rhiannon's wants all the dirty details and badgers her until Olive gives in and announces-
She is no longer a virgin!
The confession is overhead by self-righteously religious Marianne, (Amanda Byrnes) who in turn blabs and the news runs rampant throughout the corridors of Ojai High School. Literally, overnight, Olive has become the class slut.
Olive's troubled gay friend, Brandon (Dan Byrd) of (ABC'S "Cougartown") is constantly being bullied for his sexual orientation and asks for her help. Now that she's already told one white lie, what's one more going to hurt? He wants her to "pretend" to have sex with him at an upcoming party. She agrees, the act is (with great theatrics and overheard by their fellow party goers) consummated and her dirty reputation is sealed.
Relishing her newfound popularity, Olive embraces her inner bad girl and starts wearing skimpy clothes. "The Scarlet Letter" is being studied in her English class and a fellow student of Olive's, a disciple of Marianne, Nina (Mahaley Hessan) suggest she wear an A to signify her wantonly ways. Never one to back down, Olive sews a big red "A" to all of her corsets as a tribute to Hawthorne's sexual outcast, Hester Prynne.
She embarks on a campaign of letting nerds and dweebs "score" with her while she collects "gift cards" and money for her services. Olive believes she is helping these guys with their low self esteem while she gains her own brand of notoriety. That is until she is ostracized from everyone else.
Her troubled conscience gets the best of her and she takes it upon herself to tell her side of the story at a pep rally in a most uniquely, satisfying way.
Emma Stone is a charismatic, intelligent, magnetic comedic force of nature. It will be a pleasure to witness this multi-talented actress's brilliant career unfold. Critics gives an 84% approval rating on the tomatometer, while movie viewers score it a 83% at Rotten Tomatoes.
So keep writing and evoking your passion. You never know who will read your words and the impact it will make.
Have you ever received comments from someone you have written about? Do tell!
Movie trivia – Exciting news for Emily Stone and all her fans! Sony Pictures is looking to cast Emma as a female lead in the next, "Spiderman". She is also be considered for the lead in Jonah Hill's (they co-starred as love interests in "Superbad") in "21 Jump Street" in which he co-wrote and is producing.
Since all three of these movies fall under the umbrella of Sony Pictures, it can be concluded that this studio knows they have a treasure in their midst and they want to keep it that way.
See you at the movies-
Toni
Toni left 8 Women Dream in November of 2010 to work on her screenplay and Club B.

Enjoy this special 8WomenDream Guest Contributor story submitted by new and experienced big dreamers throughout the world, edited and published to capture a dream perspective from different points of view. Do you have a personal dream story to share with 8WomenDream readers? Click here to learn how to submit dream big articles for consideration.
Note: Articles by Guest Post Contributors may contain affiliate links and may be compensated if you make a purchase after clicking on an affiliate link.