Last updated on December 10th, 2010 at 12:00 pm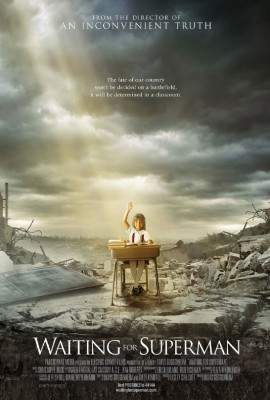 I was a lucky little girl growing up. Anything we dreamed of being seemed within reach. We were always taught that through education, anything was possible. And we had good schools to go to. Top notch teachers, small class sizes and a curriculum that enriched every student with the knowledge needed to pass each grade.
That was the case many years ago. Sadly, today's public school system is lacking in so many ways. And this movie showcases what's wrong with it and how some talented people have discovered some solutions.
WAITING FOR SUPERMAN
"Waiting for Superman" is a gritty expose that reveals the failure of America's public school education and the detrimental affect it has on our nation.
Davis Guggenheim (Academy Award winner for director of "An Inconvenient Truth") narrates this eye opening documentary on our failure to properly educate our children. He expresses the guilt he feels each morning as he drives past three different substandard schools on his way to drop his children off at a private school.
This film follows five inner city students (from LA, NY and Washington D.C.) along their journey in garnering an education that will open doors for them to fulfill their dreams of a career they've been striving for. Unfortunately, the only doors they will be going through are the ones at poorly performing middle and high schools called "Dropout Factories" for their failure to graduate students.
Guggenheim asks us how things have gone so wrong and reveals multiple reasons for it:
A lack of accountability both in the schools and at home.
Mismanagement of state and federal funds.
Too many obstacles to overcome to make cogent educational reform.
Too many tenured teachers that are working at a subpar level.
The formidable teacher unions, NEA and AFT who protect tenured teachers, regardless of their performance.
The "Lemon Dance" that is played out when the teacher's union reassigns underperforming teachers from one school to another. (This reminds me of the Catholic Church who moves priests who abuse children from one parish to another)
We are putting too much money into the prison system. 68% of prisoners are dropouts. It costs $32,00 a year to house a prisoner. Times that by four=$132,000. Imagine using that money by sending a child to a private school @ $8,300 annually for thirteen years=$107,900!
While 1% of lawyers and 2% of doctors lose their job for incompetence, a paltry 1 in 2,500 teachers EVER face firing!
Thankfully, there are people in authority that truly care for the welfare and education of our youth. Michelle Rhee was Washington DC Chancellor until a week ago. She challenged the teacher's union by firing 241 teachers and putting 737 of them on notice to improve within a year or quit.
She favored measuring the quality of a teacher by their students scores. Ms. Rhee believed in merit pay-rewarding teachers whose students were excelling. The unions balked and last week Ms. Rhee resigned. Even though U.S. Education Secretary Arne Duncan declared in a statement called Rhee "a pivotal leader in the school reform movement," the powerful voice of the union triumphed.
The most encouraging player in this movie is educational reformer Geoffrey Canada CEO/President of Harlem Children's Zone, the successful leader of a trio of charter schools. His school attracts the best, most motivated teachers. He has implemented tutoring for those students who need help in a certain subject until they are at school level. Teachers support teachers and there is a lot of parent participation.
When he was little, he believed in Superman and was saddened to learn that "there was no one coming with the power to save us." His mother told him that life was hard and if he wanted to accomplish something important in life, he would have to do it himself.
The movie ends with a heart wrenching scene. Well meaning parents know that the chances of their children succeeding in life is to win one of those precious few spots in a charter school. In their respective gyms, parents and children are at the mercy of a lottery. They pin their hopes and dreams for their children with the roll of a ball (a real crapshoot). As a name is called out, there is sadly one less chance for their loved ones to be accepted, leaving their future in doubt. The anguished looks on the faces of the children whose numbers aren't called will be seared into my brain for a long time.
This Oscar worthy documentary written by screenwriter Billy Kimball places the blame at the feet of a greedy teacher's union who seem to not give a damn about ensuring that every child deserves a solid education.
This film should be seen by everyone who has an interest in education and how that system has miserably failed our children. These same children that will one day be running our country. It should be shown in Congress and the Senate. Maybe then the wheels of change can begin to turn and start to overhaul this broken down system, what we call school.
Do you have any successful schools in your area? What are they doing that makes their schools excel?
See you at the movies –
Toni
Toni' placed her dream to get her screenplay, "Divine Intervention" and reality show, "The Bitter Bus" produced on hold while she works on Club B. Toni left 8 Women dream November 2010 to work on Club B full-time.

Enjoy this special 8WomenDream Guest Contributor story submitted by new and experienced big dreamers throughout the world, edited and published to capture a dream perspective from different points of view. Do you have a personal dream story to share with 8WomenDream readers? Click here to learn how to submit dream big articles for consideration.
Note: Articles by Guest Post Contributors may contain affiliate links and may be compensated if you make a purchase after clicking on an affiliate link.