Last updated on December 10th, 2010 at 12:04 pm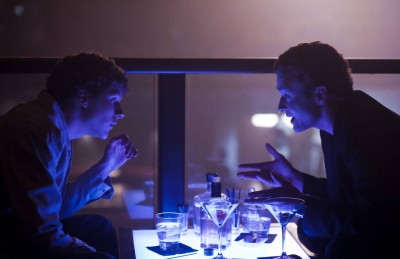 Besides staying connected with your family and friends, Facebook is an invaluable tool for budding screenwriters like me.
If you have a screenwriting dream, Facebook allows you to get involved with different screenwriting groups (Blue Cat Screenwriting, Moving Pictures, Film & Screenplay Contests and United Filmmakers Association) and become "friends" with people in the industry (Dave Trottier, author of "The Screenwriter's Bible" and Blake Snyder's Savethecat). You can be kept current with all the industry biz by following Variety and The Hollywood Reporter too.
Okay, I'll admit it, I spend entirely too much time on Facebook (who else is willing to admit?) playing Word Twist, viewing funny animal videos and keeping up with my 523 "friends". When I heard that Hollywood was releasing a movie about the creation of Facebook, I was intrigued and met some friends and saw it this weekend.
Written by: Aaron Sorkin, loosely based on the book, "The Accidental Billionaire" by Ben Mezrich
Directed by: David Fincher ("Seven", "The Curious Case of Benjamin Button", "Zodiac")
In the opening scene, we are introduced to Mark Zuckerberg (Jesse Eisenberg), a socially inept Harvard sophomore who has just been dumped by his girlfriend Erica Albright (Rooney Mara) In retaliation, Mark posts nasty comments about her on his LiveJournal blog. This seems to further fuel his anger and he hacks into the Harvard's photo archives and retrieves photos of some of the female students.
He creates a website called "FaceSmash" where people can rate the attractiveness of different coeds. The site crashes the university's network and he is reprimanded by the faculty, leaving a trail of angry woman behind.
This website catches the attention of three entitled upperclassmen, the Winklevoss twins, Cameron and Tyler, both parts played by (Armie Hammer-with the help of special effects) and Divya Narendra (Max Minghella). They propose a idea to Mark for him to do the coding for a social networking site called, ConnectU for their elite final club.
He takes that idea and on his own, creates a more expansive network connecting it with all the Ivy League schools and voila, Facebook is born. This juggernaut is financed and promoted by his one true friend and roommate Eduardo Saverin (Andrew Garfield).
Mark falls under the mesmerizing spell of Sean Parker (Justin Timberlake), the opportunist founder of Napster. While Parker exudes uber-confidence with a magnetic personality, Mark lacks self esteem and is socially awkward (showing some Asperger's tendencies). Parker convinces him into taking his enterprise west to the Silicon Valley, the capital of computer technology.
The film flashes back and forth from the first inkling of the idea for Facebook to the two lawsuit depositions brought on by, the Winklevoss twins for stealing their idea and Eduardo for being cut out of nearly all his shares. Eduardo brings an emotional aspect to the film with his warmth and likeability. He invokes sympathy and you began to root for him especially after Mark stabs him in the back after he fails to jump on the Sean Parker train.
Aaron Sorkin has penned an intelligent, witty dialogue driven (at a breakneck pace) screenplay that grabs you and doesn't let you go until the credits began to roll. And even then, you continue to mull this movie over in your head for days.
David Fincher has created a fast paced drama that definitely delivers. He has orchestrated the right pace and rhythm while illiciting top notch performances from his young cast. His visual style is striking. The scene with the Winklevoss twins in the rowboat on the lake was exquisite, like a beautiful painting that totally captivates you.
Trent Reznor, front man for Nine Inch Nails and Atticus Ross have added another incredible layer to this movie with their fantastic score. Their style of music was totally in sync with the Internet theme of the movie.
The ending was poignant as Mark wanted to "reconnect" with Erica by friending her on Facebook. Refresh, refresh, refresh – do you think she accepted his request?
This movie will surely garner serious consideration come award season time:
Best Picture
Best Director – David Fincher
Best Adapted Screenplay – Aaron Sorkin, Jesse Eisenberg (this is the defining moment of his career), Andrew Garfield, Justin Timberlake (he may even sneak in there and grab a few awards)
Cinematography – Jeff Cronenweth.
Since most of us spend a lot of time on Facebook and get so much from it both personally and for networking purposes, aren't you curious how this all started out? I highly recommend you to spend two hours at your local movie theater and see how this phenomenal social networking site came to be, courtesy of one Mark Zuckerberg.
How has Facebook helped you with your dream?
See you at the movies~
Toni
Toni left 8 Women Dream in November of 2010 to work full-time on her screenplay and Club B.

Enjoy this special 8WomenDream Guest Contributor story submitted by new and experienced big dreamers throughout the world, edited and published to capture a dream perspective from different points of view. Do you have a personal dream story to share with 8WomenDream readers? Click here to learn how to submit dream big articles for consideration.
Note: Articles by Guest Post Contributors may contain affiliate links and may be compensated if you make a purchase after clicking on an affiliate link.