Last updated on April 2nd, 2012 at 12:50 pm

When "The Social Network" hits theaters this Friday, my interest in this films success may be a bit different than typical movie goers looking for a story.
In case you haven't noticed, mainstream media now relies heavily on online platforms for research and story lines for the past several year. Top bloggers get book deals and movie deals, like several women here on 8 Women Dream are planning! And the result is that the makers of game changing technology get their story told on the big screen.
I have an interest because I do this for a living – web sites, social media, internet marketing. Facebook has been a large part of that for my business for over 3 years. Last week I mentioned the impact of the right platform for your business and what you are selling. No matter how you look at it, Facebook is one of the largest players.
Why do I care how they got there?
Success stories, no matter when they happened, are part of an entrepreneurs life. The old adage to "not reinvent the wheel" does have merit. of course this doesn't mean you would be copying, duplicating or cloning the "thing" they were successful at. It means you pay attention to the success they had and how they got there.
Here's my example of this theory in action:
Build my e-commerce site (no problem) and get a ton of traffic (not so easy)
Hop onto Etsy.com and use their existing platform to market what they are good at (somewhere in the middle)
For those who have no idea what I'm talking about, Etsy.com is an outlet for handmade goods and handmade craft supplies that has been around since 2005. I've used several online selling systems, and Etsy is not the easiest to use, but they are the largest community with artists around the globe represented and now For Your Adornment is represented.

The social network you choose depends on the best way to get to your market and where that market is handing out.
If you haven't already guessed, my audience can be found on Facebook too: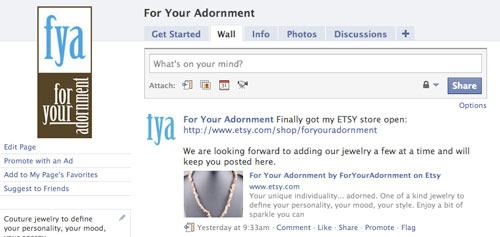 Wondering where your audience is? if you aren't sure, I'll be sharing some demographic information on the social network arena in the next few weeks.
Now go socialize
~ Heather

Heather Montgomery is a fitness writer, triathlete, and serial entrepreneur who is devoted to sharing what she has learned about becoming a triathlete after age 40. She uses her Metabolic Training Certification to help other women struggling to get fit in mid-life. She lives and trains in Santa Rosa, California, the new home of the Ironman triathlon. You can find her biking the Sonoma County wine trails.
Note: Articles by Heather may contain affiliate links and will be compensated if you make a purchase after clicking on an affiliate link.