Last updated on January 30th, 2012 at 09:56 am
Have you already bought your ticket to see The Social Network?  It's the film that tells the story of how Facebook was born. The poster uses this tag line: "You don't make 500 million friends without making a few enemies."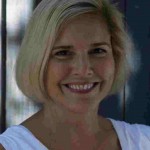 For many of us, Facebook was the first portal for sharing our dreams online. I can remember when e-mail felt scary to me. Facebook was terrifying. Blogging? Forget it. Now I use these tools every day.
If you've been thinking about taking your dream on-line, I hope "The Social Contract" educate and inspire you.  (Try not to worry too much about lawsuits!)
As a former reporter/blogger for a New York Times regional newspaper I know a few tricks on finding and keeping readers. (Mainly, begging everyone to repost to their own Facebook friends.) But what few people know about my background — all journalism training aside — is who really taught me how to reach out online.
I confess.
My little dog Whiskey taught me to blog.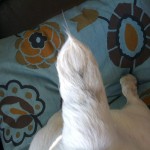 About three years ago, before I had ever blogged for work, I decided to create a personal blog using the free platform WordPress.com. My idea was to post a fresh photo of Whiskey each day with a few lines of comment. Really, I did it for a friend of mine who was in deep puppy lust for our little charmer. He IS pretty photogenic and she was demanding fresh photos of him just about every day.
My friend (who was 23 or 24 at the time and was born blogging) and I spent an entire Saturday sitting side-by-side on my couch as she coached me to use WordPress.com. It was hard at first, but I recommend it whole-heartedly as a beginners dream platform. I named my website Shot of Whiskey, because we didn't drink until we got that dog; plus he's a licker.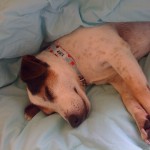 Predictably at first every post was a nightmare of clicks, corrections, double-checks and more clicks. I lost things I posted. I struggled with the website's (very simple) terminology including the difference between a page and a post. Some photos were tiny, others gigantic until I gained more confidence in cropping and posting.
Some days I absolutely dreaded putting up a post. I swore a lot. (Anytime I'm on a learning curve, I swear.) But slowly, I got my blogging legs under me. I always enjoyed taking the photos, even though I was only using my cell phone and the quality wasn't always very good. It didn't matter much, because Whiskey pretty much looks like living stuffed animal.
I told a few friends about my silly hobby website. Before I knew it my ten visitors became 20, then 50 a day. I had enough material up that if someone (like me) was crazy about Jack Russell terriers, they might spend ten or fifteen minutes on the site.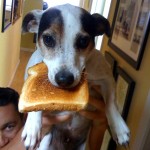 The term "puppy porn" was tossed around by my visitors.
It was a safe place to experiment. I wondered: what if I started sending the web site address to dog clubs? I'd look up the club's website, identify the leadership and I'd email them — I thought you might enjoy this website…
Here's what I didn't realize then: When I sent one link to one club, it was forwarded to its members and EACH MEMBER forwarded it on to others. One day some darling dog lover (I love you whoever you where) forwarded the link to the largest Jack Russell Terrier club in Great Britain and my six-month-old tribute to my 14-year-old dog racked up over 20,000 hits in a matter of days. TOO BAD WE WEREN'T SELLING ANYTHING! Imagine if IÂ had a button for bumper stickers! Toaster magnets!
That crazy spike of visitor activity taught me that you can build an lively website if you focus on something about which you are passionate. I happened to think my "dog husband" was the cutest chimp in the world. I wanted to share that with the world and guess what? The world was receptive!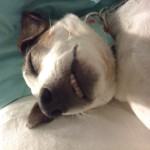 For what Whiskey taught me about blogging I will be forever grateful. First, he proved that honest passions are always of interest to others. He taught me that you don't have to be perfect from day one; the main thing is to try. He also taught me that you can never use enough photos. Finally, don't be afraid to be yourself; in my case, silly.
My personal hobby blog also taught me the ropes of posting and responding to readers. I learned to always be welcoming, positive and thankful. When I began blogging as a newspaper reporter I had a lot of confidence that I could set the right tone and sustain a lot of activity. I was rewarded with a Top Ten blog within three months  of its debut. I arrived at 8WomenDream as a very confident blogger.
And it all started with my dog Whiskey.
We may not have made 500 million online friends but we did make a lot of people smile. Pretty sure we didn't make any enemies – and no lawsuits. The site has gone dormant and that's okay with Whiskey. At his age, he'd rather sleep than pose for puppy cheesecake anyway.
If after watching The Social Network at your local movie theater you find yourself dreaming about creating a website, Whiskey and I would encourage you to take a chance. If we could do it, you can too.
Rayne Wolfe's dream is to write her first book Confessions of an Undutiful Daughter by the end of 2011. She completed her dream journey May of 2011 on 8WD after a year living her dream. You can find her at Toxic Mom Toolkit on Facebook.

Enjoy this special 8WomenDream Guest Contributor story submitted by new and experienced big dreamers throughout the world, edited and published to capture a dream perspective from different points of view. Do you have a personal dream story to share with 8WomenDream readers? Click here to learn how to submit dream big articles for consideration.
Note: Articles by Guest Post Contributors may contain affiliate links and may be compensated if you make a purchase after clicking on an affiliate link.