Last updated on April 1st, 2012 at 12:00 pm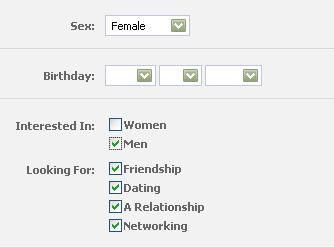 Are any of you planning to see the movie, The Social Network with a date this weekend? Do you dream of falling in love again like I do?
As the movie The Social Network begins playing in theaters this weekend, more is becoming public about the reason why Facebook came to be in the first place. Isn't it interesting that a social network based on sharing your life is very quiet about its life?
While attending Harvard, Mark Zuckerberg wrote Facemash, the predecessor to Facebook. It was created as a University version of Hot or Not – a rating site that allows users to rate the attractiveness of photos of women.
It's a dating woman's worst nightmare.
Can you imagine ending up on the "not" list? Who would invent such an awful site?
Facemash has evolved into Facebook, and with such a 19-year-old-ivy-league-I-can't-respect-you-pretty-girl-not-so-humble beginnings – can it be a place to find dates if you are over 50?
Maybe not.
Can social networks bring two people together? Or is all the mystery and sexiness removed when someone is describing giving themselves having a facial at 10pm on a Saturday night while watching The Princess Bride?
I just cleaned the litter box, now I'm trimming my toenails, while drinking orange juice in my mismatched pjs while the dog farts in the corner . . ."
Is such exposure good for dating?
You might be able to use Facebook to find that you have common interests, hobbies, similar likes and political views. But I'm not so sure that a deep, caring relationship can be built on the fact that we both love dark chocolate on a rainy day, our favorite movie is The Princess Bride and we've both "liked" Frank Sinatra.
Do I even want my relationship life to publicly happen on Facebook, where the man I date watches my relationship status, while I watch his to see who changes theirs first? He just Liked everything I did today – does that mean he Likes me, or he's clicking the Likes on all his friends Walls? He's online, but hasn't answered my chat request . . . so does that mean . . . ? . . .
Can you hear that?
It's me screaming while I run away from Facebook.
I don't think dating relationships should be so publicly displayed on a social site. I've seen the walls of people who have suddenly changed their relationship status from "In a relationship" to "Single" only to see the onslaught of friends posting "What happened?" "Are you okay?"
No I'm not. He just decided to "Like" the "men who want their women to grow underarm hair" fan page and I can't live with that.
Shudder.
I don't like telling family and friends in person when a relationship has ended , let alone, answer that awful question in print on my Facebook Wall. Maybe the relationship status should stay private until asked.
Or better yet, maybe I should just be introduced to someone through friends and keep doing what I've been doing.
And leave Facebook for my interaction with family and friends. I do plan on enjoying the movie based on the story. Maybe it will explain why Facebook is the way it is.
What do you think?
Have you met someone on Facebook? Have you seen the movie The Social Network?
Veronica
Veronica left 8 Women Dream in December 2010 after successfully completing 2 dreams.

Enjoy this special 8WomenDream Guest Contributor story submitted by new and experienced big dreamers throughout the world, edited and published to capture a dream perspective from different points of view. Do you have a personal dream story to share with 8WomenDream readers? Click here to learn how to submit dream big articles for consideration.
Note: Articles by Guest Post Contributors may contain affiliate links and may be compensated if you make a purchase after clicking on an affiliate link.