Last updated on January 22nd, 2019 at 02:56 pm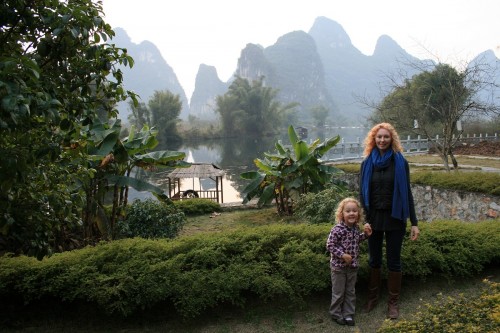 I've been bouncing around the world for the past 17 years, in the process travelling in over 49 countries (yes I'm counting)! This has been a mix of long term travel and ex-pat living since I left New Zealand to live in London at the age of 25. I told my family at the time that I thought I'd be away for about a year.
But I already knew that was not going to be the case.
Given my life now I find it ironic that I didn't leave New Zealand for the first TWENTY years of my life. I guess I've been making up for lost time ever since.
Living my London travel dream expanded my horizons in many ways – meeting new people, experiencing a rich culture, and grasping the travel opportunities available from this international hub.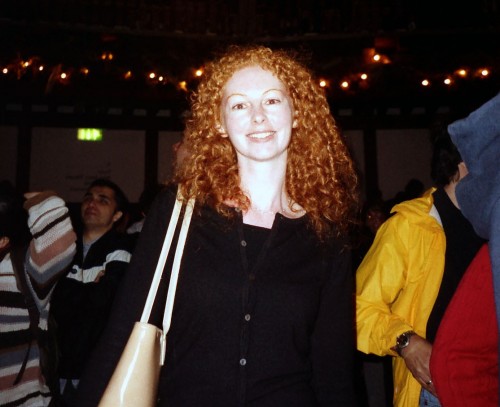 World travel writing dreams
The writing dream and the travel dream began to grow side by side during those years. Looking back over my journals I can see the twin preoccupations building long before I consciously started to put them together.
As I travelled more and more I wrote more and more. It slowly became a necessity for me to describe what I was seeing; to find the little details that would reveal a greater whole about each place I traveled.
Putting together the dreams of travel and writing remained a secret dream for a long time. In 2003 I set off on a round-the-world trip, visiting south-east Asia and southern Africa. Ten countries in six months.
The trip was an escape from falling into the wrong career path. After completing my law degree I got a job and started a career as a tax law specialist. Obviously this wasn't something I'd dreamed of doing but it was a job. I learned to write, to structure, to edit legal opinion. I felt slowly more crushed and stultified by the work and particularly by the corporate environment.
It was sitting in a café in Bangkok midway through that six month trip that I resolved to enrol in a journalism course and pursue a career change. I would leave behind a secure and well-paid job and pursue my dream.
Deep down, where I wanted this to lead me to was a career in travel writing. Yes I wanted to travel and be paid to write about travel. How many people have that dream and how many achieve it? Travel journalism is a highly competitive (not to mention poorly paid) career path. Who was I kidding?
So, sitting there at the plastic table in Bangkok, I wrote that I wanted a job where I got to write about interesting things (i.e., not about tax law). I went back to the corporate world, saved money and applied for a visa to live and work in the United Kingdom.
Stepping out to achieve my world travel dream
In 2007 I finally quit my job, achieved my dream of a post-graduate diploma in journalism from the London School of Journalism and looked for work. The first job I got was as an online correspondent, writing news stories for websites. It was interesting sometimes, certainly more interesting than tax, and it was a start.
Six months later I was the editor of a travel website run by my employer company! I had convinced them my passion for travel and writing skills were perfect for the job. I was travelling, writing, editing, commissioning and loving every moment. The travel writing dream I had barely even acknowledge to myself had become a reality!
This spoke volumes to me of the power of dreaming big and of stepping out to achieve that dream.
Here's a photo of me on a travel writing press trip to Philadelphia, beside the Liberty Bell: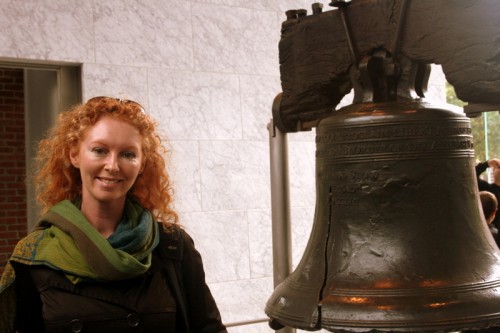 Moving forward with my world travel dream
Last year, my family and I moved back to England from Melbourne, Australia, because our work lives also encompass world travel.
My husband had a job opportunity that took us to Australia for two years while I became a freelance writer and editor, specializing in travel. I launched my own travel blog site worldwanderingkiwi.com in August 2011 and continue to work hard to drive performance and quality while sharing travel stories that give people the itch to make travel a priority in their lives.
One of the most rewarding, and unexpected, benefits about writing on a travel blog has been connecting with so many interesting and supportive people in the travel industry.
Travel blogging came naturally to me because I live and breathe travel.  I am always looking for the new, the not-yet-experienced places to explore. Sometimes it's just outside your back door.  And here is the thing about dreaming that you need to consider: I would be writing about travel if it was never going to make me a cent.  Your dream has to call to you regardless of the money factor.  You are called to do it in spite of any money involved.
I strongly believe that the future of travel inspiration, research, planning and booking is going to be 100% online. More and more people turn to travel blogs rather than guidebooks when researching travel, searching for an authentic voice about destinations so they can tweak their travel plans to fit their lifestyles, beliefs and personal preferences. This year, I hope that my writings have helped inspire you to travel, or at least, create a travel bucket list.
Create a world travel bucket list!
Of course, I have plenty of yet-to-be-fulfilled world travel dreams:  taking the Trans Siberian railway; trekking in Chile's Torres del Paine national park; watching an opera at La Scala in Milan. My travel bucket list goes on and on.  The most important place to start your travel dreams is by creating a bucket list and mapping out where you'd like to go.  Don't worry about the "how." Just get it out of your daydreams on to something you can touch and interact with so your dreams begin to take form.
The easiest way to create your own travel bucket list is to find a World travel map that you like, securely fasten it to a wall, get creative with colored push pins or colored markers, and begin to map out your dream destinations.
Awesome-maps.com has a bucket list travel map section with these really cool travel maps for editing and planning your destinations: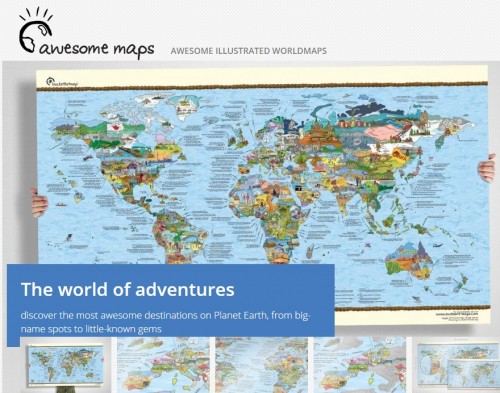 You can also start a Pinterest travel board and pin all your destinations as well as how you will get there, where you will stay and what you will need for each place. If you are a Smartphone junkie there's the 1,000 Places to See Before You Die app for travel bucket lists.
However you are thinking of your travel dreams for the coming year, do something for the new year that gets your bucket list out of your head and on the something you can begin to work with so you can make your world travel dreams a reality like I have.
Your world travel dreams aren't getting any younger …
Natasha von Geldern
Go travel! Wander the World!
[fbcomments]
Natasha von Geldern is a travel writer, editor, and blogger who is passionate about making the pages of the atlas real by traveling the world. She is a contributor to Travel Wire Asia, Wild Junket Magazine, Yahoo! Total Travel, and Travelbite. You can find her on her travel website and blog, WorldWanderingKiwi.
Note: Articles by Natasha may contain affiliate links and may be compensated if you make a purchase after clicking on an affiliate link.