Last updated on December 10th, 2010 at 12:12 pm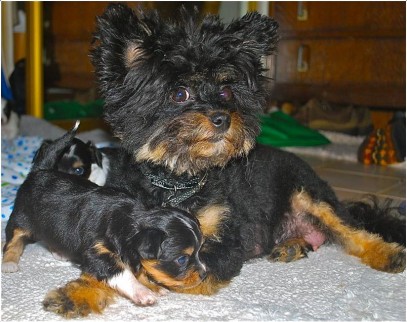 When I last left you on last week's post, Laurie and I found ourselves in a pickle.
A big ass-ed one.
A quick recap of our mission was covered in How Goldie Hawn Helped Birth A Bitch And Inspire A Screenwriter –
We were getting our screenplay into Goldie Hawn's hands during a signing of her book, Goldie: A Lotus Grows in the Mud at the Book Passage Bookstore in Corte Madera, California, and
We were tending to Louis, Laurie's cock-a-poo-who is about to have a puppy in our car at the parking lot of said Book Passage Bookstore in Corte Madera, California, and
At the last minute, I inherit the job of selling Goldie on our screenplay who ends up shaking her head and informing me that she is not able to accept any screenplays unless they are submitted by an agent, and
Feeling dejected, I rush out to the car to the miracle of birth – puppy style. Louis has had her puppy. Laurie opens the two doors to her car to cool herself off, and
People begin to mingle outside curious about what is going behind the steamy car windows.
This is about where I left off last week . . .
Then she appears.
No – not Goldie Hawn – a middle aged mentally ill woman. She hobbles up to the car, takes a cursory peek at the puppy and begins to tell us her tales of woe. You see, her knees are shot and she needs both of them operated on. She has no health insurance.
Blah blah blah blah blah.
In her muddled mind, she thinks we maybe able to help.
We want to show Goldie (known animal lover) the newborn girl puppy that we've just named after her. It will be a supreme honor to us if she would accept it as a gift . . .
You see where we're going here.
Goldie and her entourage emerge from the bookstore and are heading our way. Fans stop Goldie for autographs and a mother asks her if she would take a photo with her daughters. Goldie graciously accommodates everyone.
Our crazy woman who hasn't stopped her knee diatribe becomes agitated when she realizes Goldie Hawn is nearby. She won't go away now.
Blah blah blah bad knee blah blah trying to get me blah blah blah health blah.
Doubt overtakes us. We don't want to be shut down a second time. Why bug Goldie Hawn anymore? Plus she will now have to contend with this crazy lady and her tale of blah blah blah blah. Couple this with the fact that we should get Louis back home with the pup.
If you picked (B) in last weeks post then you are correct.
We bailed. We gave up.
The dream must not have been important enough for us to pursue.
Shit! All that work and nothing to speak of.
Well, except for a new puppy.
Yeah right – if you believe we gave up – then I've got some lush land in the Mojave Desert I'd like to unload on I mean sell you.
The crazy lady tells Goldie her sad, sob story. Goldie Hawn is a gracious person. Laurie, in trying to help Goldie be free of this crazy woman and get her attention over to us calls out,
Goldie, would you like to see a puppy that was just born?
Her security perks up and her assistant isn't too hip to all this.
Laurie lifts up the puppy (you can relax security people – it's not a ruse) and with heels clicking, Goldie makes a beeline to us. We can tell Goldie wants to hold her in a big, bad way. Laurie warns her the puppy is covered in afterbirth.
This doesn't matter a lick to Goldie Hawn. She takes the puppy out of Laurie's hands, pulls her close to her face and begins to softly coo,
Precious, precious spirit . . .

oblivious to the goo dripping down the sides of her hands.
She is completely mesmerized by this creature.
Laurie tells her it will be a honor if Goldie accepts the puppy as a gift from us. She says,
I don't know what Kirk will say, we have so many dogs already.
Goldie asks about the breed and Laurie informs her that the pup is a cock-a-poo-pom. She smiles, "You know, Kate (her daughter) has cock-a-poos!"
I love all this first name basis stuff with famous people.
She tells us, she is going to be in the Bay Area for the next few days, so she will call Kurt and get back to us about taking the puppy. She says,
Wait – let me give you my phone number!
Say what?
We're dumbstruck. Her assistant immediately busts in, shoves a card into my hand and abruptly says, "This is where you can get in touch with her."
Rats!
The assistant then hurries Goldie off to their sports car for the next engagement.
We were able to slip a copy of the screenplay to her driver. You didn't think we'd give up that easily did you?
Ultimately, Goldie liked the screenplay, but she just didn't love it so she passed.
As for the puppy – she ended up declining that offer too. Kurt said, "Three big dogs are enough!" The puppy – now known as Stinkie – is 5, and is living a leisurely life with Laurie's family.
I am blessed to have one of Stinkie's puppies – my Diablo.
What did we learn? The big t-word: tenaciousness. You got to admit we had a few obstacles thrown in our way. You've got to say to yourself, how much do I really want this and what am I willing to overcome to make it happen?
Because we did get to meet the joy that was Rowan and Martin's Laugh-In.
Proving you just never know.
And what are you going to risk to try and get your dream out into the world this week?
Toni
Toni left 8 Women Dream in November of 2010 to focus on Club B and its screenplay.

Enjoy this special 8WomenDream Guest Contributor story submitted by new and experienced big dreamers throughout the world, edited and published to capture a dream perspective from different points of view. Do you have a personal dream story to share with 8WomenDream readers? Click here to learn how to submit dream big articles for consideration.
Note: Articles by Guest Post Contributors may contain affiliate links and may be compensated if you make a purchase after clicking on an affiliate link.