Last updated on November 14th, 2019 at 09:58 pm
Today's motivational picture quote is by Tanner Christensen of Creative Something at creativesomething.net where he shares creative ideas and inspiration.
His motivational picture quote is called, "Creativity Takes No Excuses" and we've also thrown in our own 8 Women Dream version called, "Dreaming Takes No Excuses."
Dreaming requires creativity too — that's why it can sometimes be difficult to motivate yourself to work on your big dream.
Working on a dream requires that you transcend traditional ideas, rules, patterns, and relationships to create a meaningful new life. You must fight against natural urges to stagnate, resist, quit, give-up, or never start.
Your dream should be something you cannot imagine ignoring, so you are called to work on it  — then be brave enough to take it to the next level, then the next … and the next… this is why we often come up with "excuses" for not working on our dreams.
The levels can be scary and rock our world.
CREATIVITY TAKES NO EXCUSES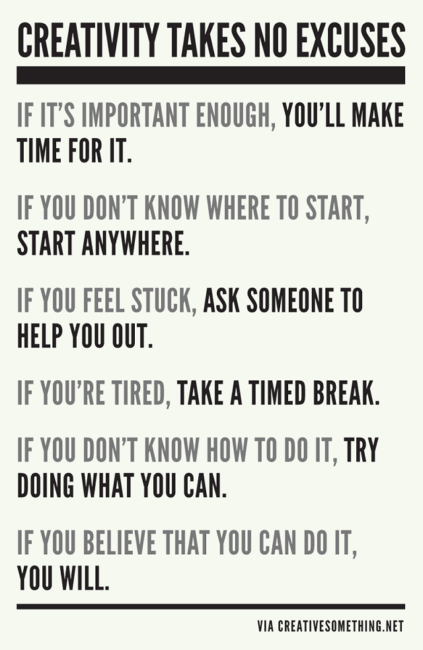 What would your dream version of this "no excuses" image look like?
We've created one about dreaming to help you think about all the excuses you might be saying to yourself about why your dream isn't working, or why you can't work on it today.
DREAMING TAKES NO EXCUSES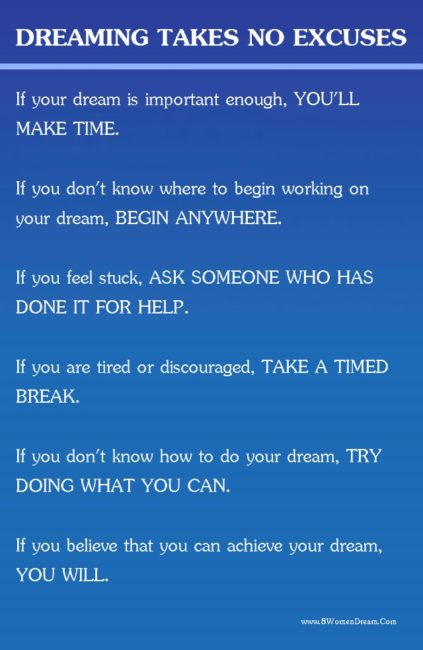 How important is your dream to you?
Catherine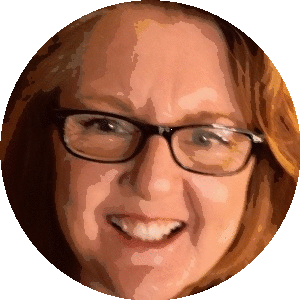 Catherine Hughes is the founder, content director and editor-at-large of 8WomenDream. She is passionate about helping women step out of their own way and strike out into a world waiting for their special talents. She's a published author and a former award-winning mom blogger. Catherine has helped companies both large and small create engaging web content, social media narratives, and unique blogging platforms. She claims to be a redhead, but don't hold that against her.
Note: Articles by Catherine may contain affiliate links and may be compensated if you make a purchase after clicking on an affiliate link.