Last updated on July 26th, 2022 at 12:12 pm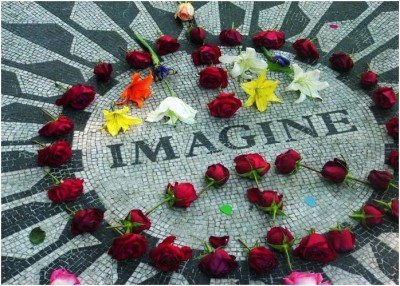 It was a perfect spring day in New York City, cherry blossoms in bloom, sunny, in the 70s, and breezy. We sat on a bench at the edge of Central Park, just a block or two from the legendary Dakota Building where Yoko Ono still lives and where visionary songwriter, poet, and prophet of peace John Lennon lost his life.
We'd walked past posters for sale with "IMAGINE all the people living life in peace" on them, beautiful reminders of his legacy. We wound our way past countless parents pushing newborns and toddlers, wide eyes peeking out of strollers, dogs on leashes, kids on scooters, joggers, and rollerbladers, and found benches where we could sit down and enjoy the views.
New York was teeming with life, and gorgeous, and I was in love with all the babies, the puppies, all the people of every color and dressed in all styles, the spring blossoms. It was New York as I love it most, just one vibrant community out enjoying the beauty of the city in the park.
A Taste of Passion
My friend Alexander, a tall and handsome young man with hazel eyes and a whoosh of dark hair, who lives on 56th near 9th and often hosts my best friend Stephanie and me when we head to the city, had treated us all to passion fruit donuts from an Italian donut shop. We sat and nibbled on the soft powdered sugar-covered dough and golden custard, taking in all the liveliness around us.
I watched a lovely blond woman dressed in pink and green, wearing giant shades, explain the latest tattoo on her wrist to a white-haired woman who looked like she was probably her grandmother. I watched a father lift up his little boy of maybe four or five months old high into the air until he giggled and giggled.
Another Turn Around this Planet
I felt so grateful just to be here in New York, alive, celebrating another birthday.
My friends were treating me to a New York City weekend, full of sunshine, strolls around the city, some late-night clubbing and dancing, and lots of fine dining. I was thankful just to be part of this tapestry of a New York City Sunday, happy to be surrounded by people who love me, and grateful for the gift of being reminded of John Lennon's vision.
That for a long time has been the central intention I have held in my heart when I make a wish–a planet that will live in peace. I believe it is still possible. "You may say that I'm a dreamer, but I'm not the only one…"
I feel that shift happening, that sense of awakening, as more and more people "wake up" to the interconnectedness of life, to the fact that we are all one human family. It feels like an exciting time to be alive on this planet.
Celebrating a Birthday with a Green NYC Meal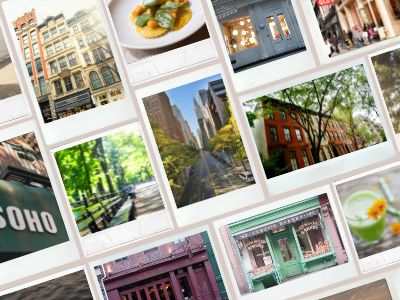 On Saturday night, we'd headed out to dinner at one of New York City's top vegan restaurants. We arrived early for our 9:45 reservation and sat at the bar. The restaurant had glossy black surfaces, ambient lighting, illuminated pictures of vegetables on the wall–asparagus art, an artichoke–and a handsome Matthew McConaughey lookalike in suspenders as a bar-keep.
I opted for the "Green Goddess," a green juice with kale, celery, apples, and ginger. Alexander ordered Prosecco and I watched the tiny bubbles fizz up to the surface. Stephanie had a virgin strawberry drink and her boyfriend Jon ordered an oatmeal stout.
Soon our table near the window was ready. We ordered a few appetizers including spinach ravioli filled with cashew cream, topped with sundried tomatoes, and oozing garlic. So delicious. And a warm kale salad with french lentils and tomatillos.
The chef had sent out a complimentary appetizer, which was four oversized spoonfuls of a quinoa salad with cranberries and cilantro cream on top.
Bubbly for the Birthday Girl
I was going to skip alcohol for the night, but broke down and ordered a Prosecco. It felt right for my birthday night. I chose a Moroccan chickpea cake for my entree, served over spinach with red pepper-coconut curry, date-apricot-ginger chutney, and toasted almonds. Spicy.
Stephanie had the live tomato-zucchini lasagna, with cashew cheese, marinated wild mushrooms, tomato sauce, and basil-pine nut pesto. Alexander ordered the lemony seitan piccata, with creamed spinach, grilled potato cake, oyster mushrooms, and lemon-caper sauce. Jon had grilled barbecued seitan with veggies which were one of the evening's specials.
All the dishes were delicious, savory, and filling. I love eating vegan, which I do about 90% of the time now, and this restaurant was not only vegan but organic. How lucky we are to have such good-for-the-earth and good-for-us options.
Since it was my birthday, we opted for desserts too. I had ginger ice cream over fresh berries with ginger crumble and nibbled on Stephanie and Alexander's heavenly vegan cannoli that was plated with a dark chocolate sauce. Jon had a divine chocolate creation filled with peanut butter mousse.
Stuffed and happy, we left the restaurant at about 11:30 pm to catch the subway and find somewhere to go dancing.
Secret Bars and Dancing Birthday Girls
Alexander took us to a hidden basement bar, underneath the Mercer Hotel. You had to be let in a separate door, after charming the bouncer so he'd let us in. Then, we had to take an elevator and wander down a few hallways to find a red door with a white M on it. The bar was in a wine cellar, with little cavelike sections where you could take a seat, and dim lighting.
We settled into a little table in the corner and were served drinks by a lovely olive-skinned petite brunette in a short gold tunic. The whole scene was surreal and felt like something out of a movie. We got up and threw it down to the DJ for a while, which always makes this birthday girl happy (dancing is one of the activities in life that brings me the most joy).
Finally, we'd had enough of the caves, and we headed back upstairs to the bright neon lights of the New York City streets after midnight.
Some More Touring
Alexander took us over to the meat-packing district to check out some more clubs, but the lines were impossibly long and we opted to just plunk ourselves down in a pizzeria instead for some veggie slices. After that it was time to head home–we'd all hit a wall, at about 2 a.m., and I was ready to kick off my red shiny stilettos.
It was a successful birthday night, and now I needed rest. We crashed and woke up again around noon. Oops! At that point, the spring air of the city was calling us, so we headed out to Central Park, and then to brunch on 57th.
I loved that we ended up near the John Lennon landmark, and near the Imagine posters. It felt right to this peacenik to spend time in that energy.
My Birthday Wish
In this next spin around the planet, here are my birthday wishes:
May we all find peace in our hearts, and extend that peace outwards to others.
May we consciously make choices, in how we live and consume, that are good for Mother Earth.
May we find ways to be even more loving to ourselves and others.
May we focus on what truly matters in life – LOVE – as we walk the journey of living our dreams.
May we help create a better world for the coming generations.
May we remember each day to take some time to simply be, and to breathe.
May we live our lives as a stand for love and peace.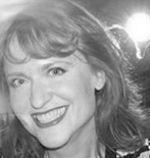 Lisa P. Graham is an inspirational writer, life coach, TED motivational speaker, and globe-trotter whose passion is to help others to find happiness and meaning in their daily lives. A political activist at heart, Lisa would like to empower more women to run for political office as a way to create positive change in the world. You can find her on her website or watch her TEDx speech on YouTube.
Note: Articles by Lisa may contain affiliate links and may be compensated if you make a purchase after clicking on an affiliate link.