Last updated on March 3rd, 2010 at 11:23 pm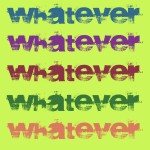 As the date of our trip to New York City gets closer, I start to wonder if I missed the boat with my daughter as far as her age. She was so different last year. Hormones have hit her and hit her hard and fast.
It makes me think back to when I was that age, and the trips I had to endure with my parents. I wasn't a happy camper on some of those adventures. How is this going to be any different with my daughter when all I get these days is moody attitude?
We don't speak about the trip much because I know she won't be excited about it until the morning we leave. And we need to get through volleyball season, grade issues and 8th grade graduation, (that, she is very excited about). Plus, anything that doesn't involve friends isn't a topic of discussion around here.
Here is a list of pros and cons about taking a teenager on vacation. If you have any great pros that help you deal with this situation, I'd love to hear them to help keep me motivated and excited about taking this trip to New York City with my 13 year old daughter!
PROS
1. By 13 they are old enough to remember the adventure (that could be a con too, but let's not go there)
2. Seeing other parts of the country or world is a great way to get them out of their "self-centeredness" for a while.
3. They might actually have fun and learn something.
4. They are old enough to participate in more activities.
5. You get them all to yourself!
6. Taking them without the whole family will be less stressful. Less arguing and more casual.
7. Remember that they are still your child even though it doesn't feel like it at times, and you want to give them a great adventure that hopefully someday they will appreciate;)
CONS
1. You might get a lot of attitude.
2. You might hear "Why are we doing this" too much.
3. You might hear "Whatever" too much.
4. They don't worship the ground you walk on, or think that everything you say is right.
5. You can't hold their hand across town.
6. You might not be able to talk them in to going to the stores you want, that's just not cool enough.
7. They might not have as much fun as you know that they are capable of having, (or admit that they are)
The best thing for us to do is relax and have fun. We'll see.
Til next time –
Kim.
(Kim has already accomplished her first big dream by traveling to New York with her teenage daughter June of 2009. She lost 20 pounds and overcame her intense dislike (do we say fear?) of flying to accomplish that dream. She rotated off the blog in February 2010, but still hangs out with 8 Women Dream.  You can find her in the comments section)

Enjoy this special 8WomenDream Guest Contributor story submitted by new and experienced big dreamers throughout the world, edited and published to capture a dream perspective from different points of view. Do you have a personal dream story to share with 8WomenDream readers? Click here to learn how to submit dream big articles for consideration.
Note: Articles by Guest Post Contributors may contain affiliate links and may be compensated if you make a purchase after clicking on an affiliate link.