Last updated on February 25th, 2023 at 01:42 pm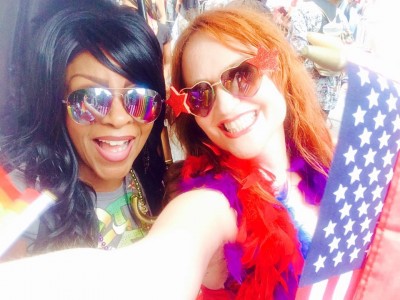 This past weekend, I got to advance my activist dream and march in one of the most historic and significant parades in our country's history–the New York City Pride March that happened to fall two days after the Supreme Court decided that gay marriage is legal in the United States.
The first gay pride march was held on June 28, 1970,  a year before I was born. This past weekend's march was supposed to be the most important gay pride parade, globally, aside from that first one.
I believe it! I felt it! I marched in it!
And I experienced such pure joy and happiness in feeling all the waves of love emanating from the crowds, brightly dressed in rainbow colors. I have never been around such a diverse crowd before, and never been around so many thousands of incredibly happy people all at once.
It was magical!
New York City Pride March–PRIDE In The Name of Love
More than one million people came out for PRIDE, and a few million marched globally in parades in other major cities. I knew I had to be a part of it. I decided to attend at the last minute, after hearing the marriage decision on Friday. This was just too momentous of an occasion for me to miss it, especially considering that I only live 2.5 hours from New York City.
I bought an Amtrak ticket to take the 2.5-hour train ride, along the Hudson River. It's a lovely ride, and Amtrak has free Wifi and electrical outlets, which meant I could charge my phone and download my old photos on the way there to free up space to take hundreds of pictures of PRIDE.
And snap away I did!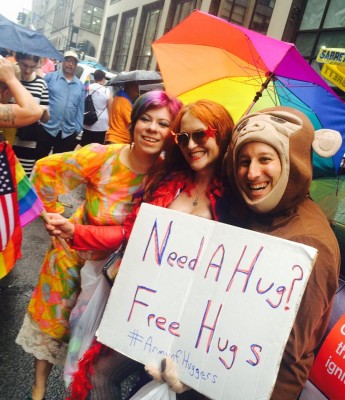 Dressed To the Nines in Rainbows at the New York City Pride March
There are few things I love more than a good parade, or than dressing up! It's ideal when I can do both.
Two weekends ago I had the sheer joy and delight of getting to be a Mermaid in the Coney Island Mermaid Parade. This frankly was even better, because millions of people around the world were simultaneously celebrating the victory of marriage equality across the United States.
I have never been around such a diverse, happy crowd. Everyone was dressed in rainbows and just radiating pure joy. I hoped to march in the parade, vs. just spectating. I found a group that was kind enough to adopt me–a Jewish group for gay marriage.
But while waiting for the parade to actually start, I literally bumped into a dear activist friend from the Albany, New York area where I live–backing up to give someone space, and stumbling only my friend when I did. My friend Kelly and her wife Melinda were there to celebrate with the New York State Teachers Union.
I joined them marching in the parade with NYSUT, and even got to dance on the float. For a natural performer and professional dancer like me, getting to not only march in the NYCPRIDE parade but to twerk, body roll and get down on a float in my first time at PRIDE, as an LGBTQ ally, was a magical part of an activist's dream day.
With NYC Pride, I Twerked It and I Worked Tt
And I was even able to pose with an attractive New York City police officer!
Everything was coming up rainbows. I feel so blessed to have been a part of the New York City Pride March history. And I celebrate that everyone in the United States can now marry the person he or she loves.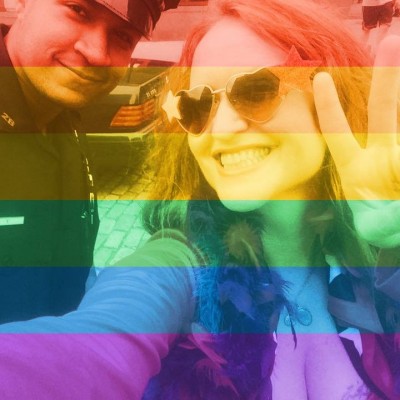 Gay marriage to me is simply a civil rights and equal rights issue. And it was time to declare that "love is love is love"–and it's for everyone.
Love is love, people. Live and let love.
The joy was palpable. I have literally never been to a public event that was so filled with joy, love, and rainbows, and my heart could have exploded from all the love.
The activists who worked hard for this result must have been over-the-moon happy about what they have accomplished in the name of love. Fighting for the right cause and seeing the results of your hard-fought efforts is an activist's dream-come-true.
Next, on my big dream to-do list is I have to find my cause!
Love,
Lisa
Support the pride: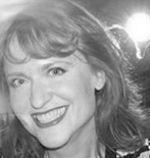 Lisa P. Graham is an inspirational writer, life coach, TED motivational speaker, and globe-trotter whose passion is to help others to find happiness and meaning in their daily lives. A political activist at heart, Lisa would like to empower more women to run for political office as a way to create positive change in the world. You can find her on her website or watch her TEDx speech on YouTube.
Note: Articles by Lisa may contain affiliate links and may be compensated if you make a purchase after clicking on an affiliate link.