Last updated on March 8th, 2019 at 10:36 am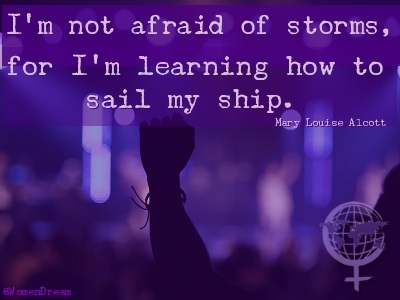 It's International Women's Day, dreamers. What are you doing today to move your dream forward?
Your sisters are waiting…
Following a decade in which the women's movement had succeeded in making 'women's liberation' a household term, the United Nations General Assembly proclaimed 1975 International Women's Year. (Source: NAA.gov)
That year, the United Nations (UN) began celebrating International Women's Day on March 8. Only two years later, in December 1977 the General Assembly adopted a resolution proclaiming a "United Nations Day for Women's Rights and International Peace to be observed on any day of the year by the Member States, in accordance with their historical and national traditions." (Source: iwd.uchicago.edu).
8 Trending Tweets about International Women's Day:
1. "How will you #PressForProgress for #IWD2018 and beyond? Take action right now and join the global movement to accelerate women's equality: https://www.internationalwomensday.com/PressforProgress." – Women's Day @womensday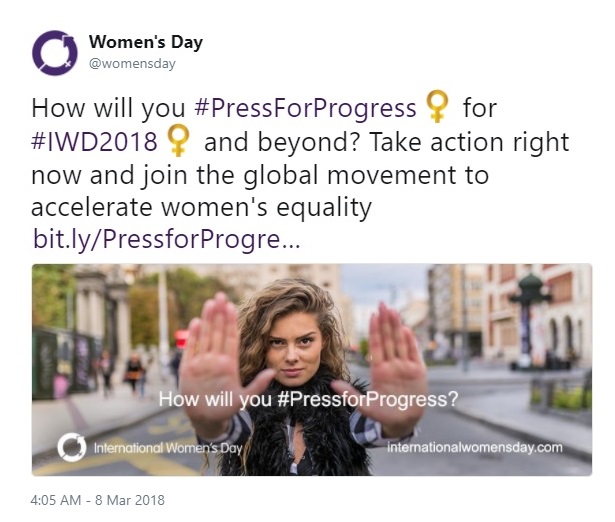 2. "It's #InternationalWomensDay. There was a time not long ago that women couldn't vote, or open credit cards without their husband's signature, or compete in the Olympics, or do their jobs without being harassed. That time is up." – Ellen DeGeneres @TheEllenShow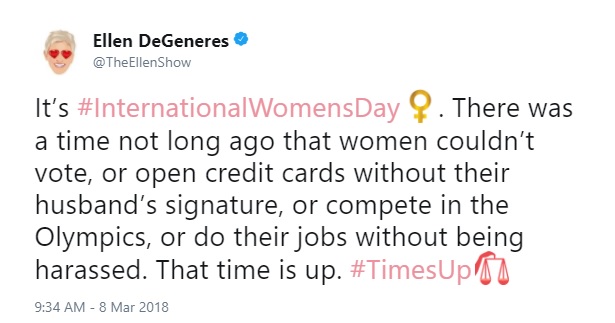 3. "I live for strong women making big changes in their communities, workplaces, and all over the world. What an incredible impact we can make together when we support one another. Lucky to know you, work alongside you, and admire you from afar. Here's to you. #InternationalWomensDay." – Elizabeth Banks @ElizabethBanks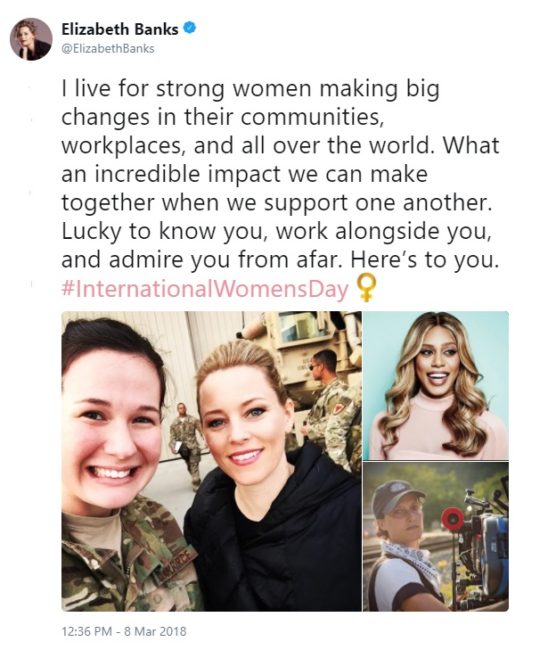 4. "Meet some of the inspiring @WomenNASA, whose #STEM careers have advanced space exploration: https://women.nasa.gov #InternationalWomensDay." – NASA @NASA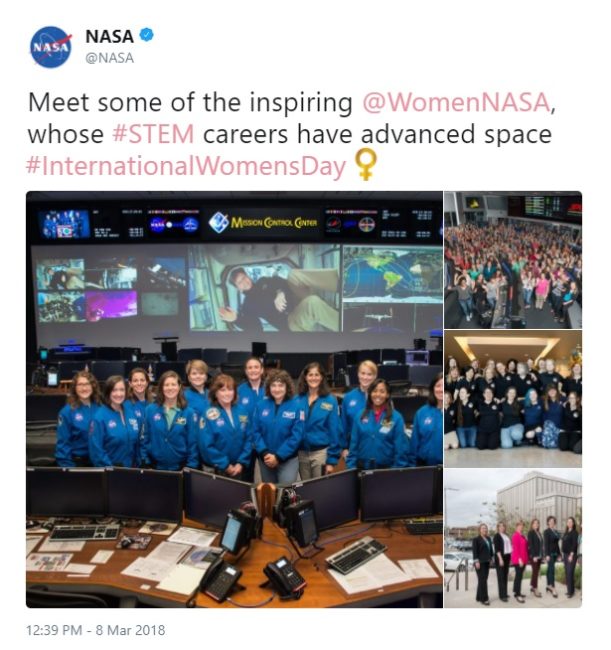 5. "Spanish women marked #InternationalWomensDay with the first-ever full day strike and dozens of protests across the country against wage gap and gender violence." – Resistance Girl @LaChristie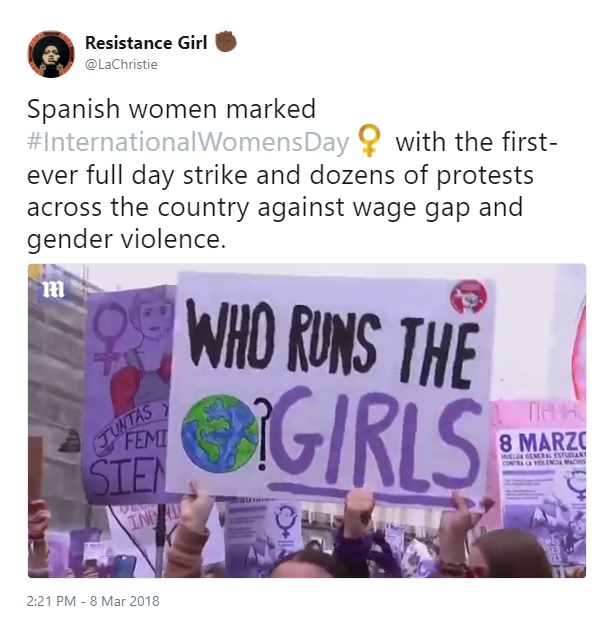 6. "'I'm dreaming the hardest.' In 1955 Marilyn Monroe became the second woman to form her own production company, Marilyn Monroe Productions Inc. Today we celebrate women who have dared to dream, create, and achieve. #InternationalWomensDay." – Marilyn Monroe @MarilynMonroe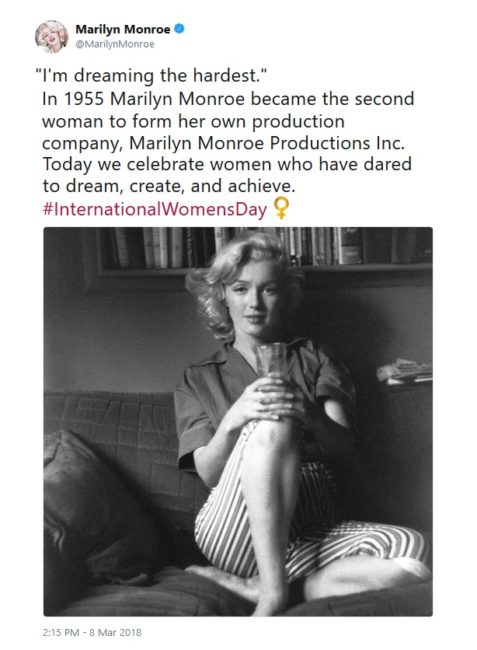 7. "I teamed up with @Refinery29 to mark #InternationalWomensDay and to talk about my passionate commitment to empowering girls around the world through education. This will continue to be a core part of my work at the @ObamaFoundation." – Michelle Obama @MichelleObama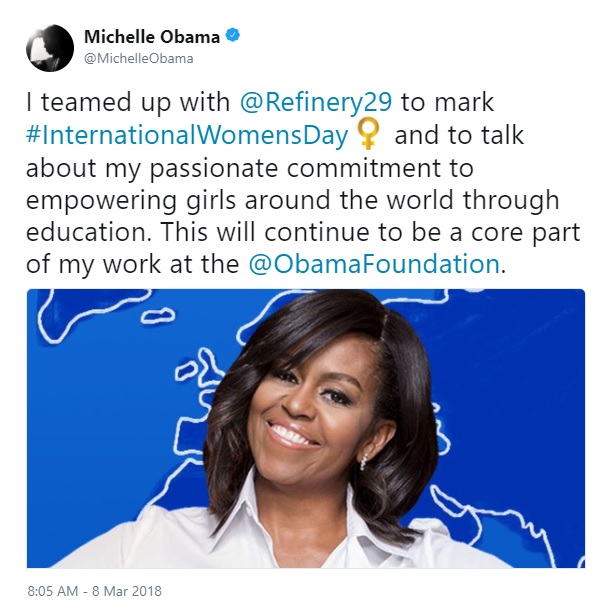 8. "I believe being a female is a balance of femininity and strength ? Grace and bravery. Happy #internationalwomensday ?#internationalwomensday2018." – Bethany Hamilton @bethanyhamilton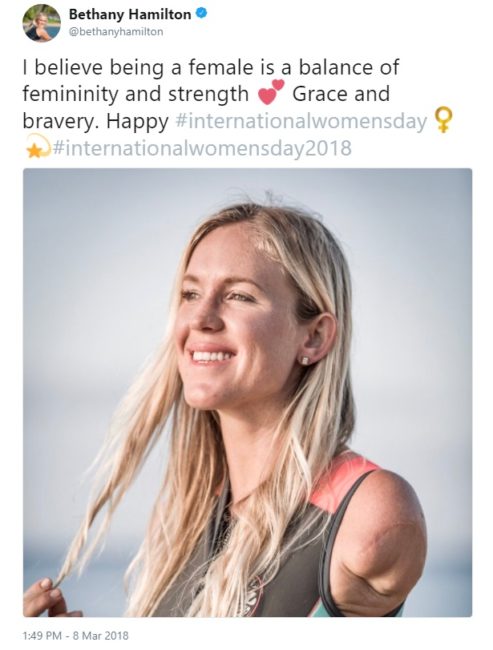 To see more inspirational Tweets for International Women's Day, visit https://twitter.com/hashtag/InternationalWomensDay, https://twitter.com/hashtag/IWD2018, and https://twitter.com/hashtag/internationalwomensday2018.
As a final shout-out to International Women's Day, here are 8 more Tweets:
9. "'Happy International #WomensDay!' #TimeIsNow to support each other, believe in each other & encourage each other to speak up for rights & gender equality! http://www.unwomen.org/en/news/in-focus/international-womens-day #IWD2018." – UN Women @UN_Women
10. "Tens of thousands of women marched tonight in Istanbul. Right now this photo is my only hope for my country. #InternationalWomenDay2018 #IWD2018." – Ali Bilgic @alibilgic
11. "So excited to be at the @UN today on #IWD2018 to talk with activists & leaders about women's rights! @ElizabethArden #TogetherWeMarchOn @TIMESUPNOW #TimesUp. Happy International Women's Day everyone!" – Reese Witherspoon @RWitherspoon
12. On #InternationalWomensDay, we recognize trailblazers like the North Country's own Elizabeth Cady Stanton. As the youngest woman ever elected to Congress, I certainly would not be here today without the dedication of activists like Elizabeth." – Rep. Elise Stefanik @RepStefanik
13. "For #InternationalWomensDay, CPJ's @jactivism spoke with 5 women journalists based in #SouthAfrica, #France, #India, the US, and #Yemen about their experiences and the threats and attacks received both for their religious and ethnic backgrounds, and their reporting: https://cpj.org/blog/2018/03/on-international-womens-day-cpj-looks-at-threats-w.php." – CPJ @pressfreedom
14. "Female Movers and Shakers. Meet 10 women who defied statistics by either heading large companies or making their mark for them from strategic positions. #InternationalWomensDay www.Mexico.mx/en/articles/female-movers-and-shakers." – México @mexico
15. "Thanks, Google NYC for the special day with these STRONG, SMART, and BOLD girls from @girlsincnyc. Women warriors in the making! Perfect way to spend #InternationalWomensDay #WrinkleInTime." – Oprah Winfrey @Oprah
16. "In honor of #InternationalWomensDay, I want to celebrate some of the women and girls who inspire me every day. These women resist inequality, insist on a better world, persist against all odds, and enlist others in our shared fights." – Hillary Clinton – @HillaryClinton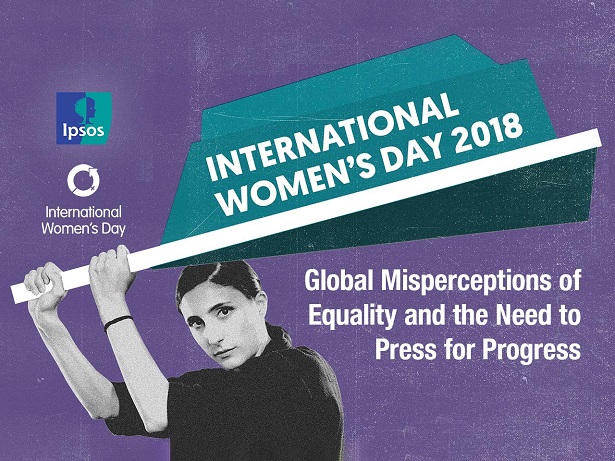 To further mark International Women's Day, and in the wake of the #MeToo campaign, a new global study by global market research and a consulting firm, Ipsos, in collaboration with International Women's Day across 27 countries highlights the level of concern people around the world have about a number of women's equality issues.
In the United States, the study findings show:
• Much like the rest of the world, Americans agree that sexual harassment (36%) is the biggest issue facing women and girls today. Sexual violence and equal pay come in as the second biggest concerns with 28% agreeing that these are among the most important issues for women.
• American people were relatively accurate when asked to estimate how many of every 100 women have experienced sexual harassment in their adult lives: 60% of women in the United States say they have experienced sexual harassment in their adult lives, yet the average guess among Americans is that 57% of women have. However, men tended to greatly underestimate the prevalence (49%).
• Half of all respondents in the study still think that reports of sexual harassment are ignored – though in the US this falls to 38%. Three in four Americans (78%) support a zero-tolerance policy on sexual harassment.
• Americans hugely overestimate the pace of change in pay and economic equality. In the US, people think economic equality will be achieved within 50 years by 2068, however, it has been estimated that economic equality will take 167 years longer (2117). Americans estimate equal pay will be achieved in their country in 2028, however, the predicted year is 2059 – 31 years later.
• Americans also overestimate women's representation in business leadership, believing that 18% of CEOs in the largest 500 companies around the world are women when representation is actually one-sixth of the estimate (3%).
• Seven of ten Americans (70%) say that achieving equality among genders is important to them. When asked if things would work better if more women held positions with responsibilities in government and companies, 61% of Americans agreed.
• Close to half of all participants in the study think things have gone far enough when it comes to giving women equal rights (45%). Americans, however, are not so complacent – with only 35% saying things have gone far enough, and 53% disagreeing.
According to The Global Gender Gap Report 2017, the Global Gender Gap Index reveals that all countries can do more to close their gender gap. Across the Index, there are only seven countries that have closed 80% of the gap or more. In addition, there are 61 countries that have closed between 70% and 80% of their gender gap. A further 67 countries have closed between 60% and 70%, while nine countries have closed between 50% and 60%. In 2017, no country had closed less than 50% of their overall gender gap. For more results and study methodology details, visit www.IPSOS.com/en-us/new-polls/International-Womens-Day-global-misperceptions-of-equality-and-the-need-to-Press-for-Progress. (SOURCE: Ipsos – Anne Farrer, anne.farrer@ipsos.com, 778.373.5006).
According to Merriam-Webster 'Feminism' was the top search on March 8, 2018, as International Women's Day drove interest in the word.
How did you honor International Women's Day?
Catherine Hughes is the founder, content director and editor-at-large of 8WomenDream. She is passionate about helping women step out of their own way and strike out into a world waiting for their special talents. She's a published author and a former award-winning mom blogger. Catherine has helped companies both large and small create engaging web content, social media narratives, and unique blogging platforms. She claims to be a redhead, but don't hold that against her.
Note: Articles by Catherine may contain affiliate links and 8WD will be compensated if you make a purchase after clicking on an affiliate link.