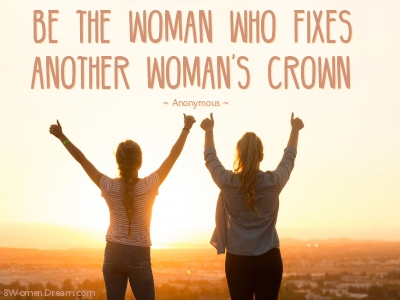 It's not much fun writing about the topic of workplace jealousy mainly because I have been guilty of letting envy thwart my big dream.  Yes, even as a motivational speaker, and professional encourager, I struggle with envy and coveting other women's dream success.
And I know I'm not the only one who gets jealous of other women.
Jealousy crosses industry lines; it has no color, no age, no size–I can't exactly explain why. Why are women wired to compare ourselves to others? Why does our success have to be judged in relation to someone else's? I don't know. But the conversation needs to change.
There is a theory that because women are relatively new to the workplace in large numbers and we've struggled for fair pay that women become jealous when there is a perceived threat to a scarcity of financial resources. Somewhere subconsciously women worry that there's only a finite amount of monetary success to be garnered and another woman's economic success can threaten our ability to become financially successful.
Here's the truth:
Are there women more successful than you? You bet.
Are there women who are smarter than you? Of course.
Who makes more money? Um, duh!
Who are skinnier? Not a difficult one, Ace. Let's not forget that I'm a "famous" plus-sized model.
On the scale of "who is better than whom" we're all pretty much in the middle, with Celine Dion and Oprah being the top and Mama June being the bottom. Too harsh? Well, you write in another name then. Let's simply agree that we're not all superstars. So what? Yeah. I said it. So what? So you're not the rock star in your industry. Okay, so maybe you don't make the most money or command the highest pay. So what? You are still in control of your happiness.
When you engage in workplace jealousy by spending your valuable time looking around to see who is doing "it" better, or who seems better doing it–you are not happy! That's the cold hard truth. Envy hurts you. Not the other woman. You are the one suffering. And you shouldn't be. It's such a waste of time and energy. Resentment is an excellent excuse for allowing yourself to be distracted from working on changing your life.
I know. I get it. But you know what? I want to be happy. There. I said it. I don't want to live my life feeling like a second class citizen–I want to feel like a million bucks–I want to walk into a room and feel like I belong. And the only one who can write that happy story is me.
Today I write a new story.
Every time I catch myself turning around and comparing myself to another woman in the spotlight, I will stop and say, "Wait! This negative story I'm saying to myself doesn't serve me, jealousy doesn't serve me, and her success doesn't impact my ability to be a success. Her moment in the spotlight does not mean I won't have mine. She doesn't rob me of going after my dream. Her success does not get in the way of my dreams."
Did you hear me? Her success does not get in the way of my dreams. Let's let go of the other women we are jealous of out in the world. They don't matter.
Encourage them. Be happy for them. You may not feel it. But choose to be supportive. When one woman succeeds, all women rise together. Instead of feeling less than, or being jealous–be happy for other women. Because one day, it will be you at the top. And you will have earned your place in the spotlight.
Who knows, you may already be there, and you don't even know it. And some woman out there is looking at you, wondering, "why not me?"
Let's stop being jealous of other women while working on your big dream or when you are working on your art or when you are working out at the gym and while we are going about living our lives. Let's stop it already.
We're better than this way of thinking; besides, we have dreams of our own we need to focus on achieving.
Kelly Swanson
Kelly Swanson is an award-winning storyteller, motivational speaker, published author and TV personality who is passionate about helping women harness the power of their stories to connect, influence, and get the results they dream of accomplishing. Laughing the whole way, Kelly teaches women how to master the art of connection through the power of strategic storytelling. You can find her on The Fashion Hero show airing Fall of 2017 on Amazon Prime or on her website MotivationalSpeakerKellySwanson.com.
Note: Articles by Kelly may contain affiliate links and may be compensated if you make a purchase after clicking on an affiliate link.