Last updated on July 13th, 2019 at 11:33 am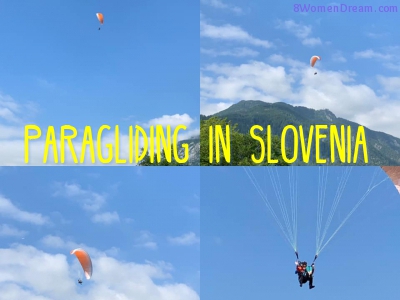 Hello, all you world travel dreamers!
When I was growing up, my sister and I were put to bed with promises of "tomorrow is a big day, not a little day" when something fun was planned. It set forth a feeling of anticipation and, I suspect, backfired as often as it succeeded in getting me and my sister to settle down and go to sleep.
Although every single day of my current world travel dream has been a big day, today was a huge day. One that everyone on this trip will carry as a part of our top bucket list stories, written here in Slovenia, in this incredible place, among incredible people.
This morning, my travel companions and I awoke early–we even set the alarm.
If you knew me personally, then you'd know I'm only a moderately functional human in the morning, and today was no different in that respect. I took every last second getting my shit together and finishing up packing to get to the car on time, but I didn't.
Granted, I had to wear a hat because I ran out of time, but the hat ends up working to my advantage. I pretend I planned to wear a hat.
We are out the door by 8:00 a.m., leaving our lodging keys behind, never to return to our cute little rooms in Bohinj, Slovenia where the windows remain shut through the sweltering days and the night's dive-bombing bugs. It perplexes me why there are no window screens in Europe. I don't know anyone who enjoys bug-bombs in the night, but I've digressed.
We arrive at our paragliding adventure destination promptly at 8:10 a.m., obviously, I'm not in charge since "on time" is not in my DNA.
The next hour passes quickly–our group separates into pairings with my boyfriend, Zack and I to paraglide first, with the balance of our group to follow. We hop onto the tram and ride it partway up the mountainside. We jump off and scoot over to the ski lift operating in the summertime to ferret visitors, hikers, explorers, and bikers who are about to take a running leap off the top of the mountain at 3,300 feet and paraglide back down.
As we hike the final stretch in the quiet morning mist, it's utterly calm, except for Zack's pilot. He has more energy and zest for life than anyone I've ever known. He's firing off instructions in a conversational tone the entire ride up the mountain. He speaks in a way that completely sinks in, yet is so simple, it surpasses the language barrier.
His paragliding instructions boil down to this:
"When we tell you to run; you run, don't stop until we tell you to sit, then you sit! Just don't stop running."
Great. The last time I ran was at the London Heathrow airport trying to catch my plane to Zagreb, Croatia. I miss the flight. However, my gut tells me my chances of running, all-out, off the edge of the mountain are pretty good. I'm not likely to miss the edge.
Fall on my face? Chances are high on an average day, but today my pilot has thrown caution to the wind and is strapped to my clumsy, spaz-gene laden body. He is running with me. I'm pretty good at the "trip and fall" too.
Zack's pilot senses my inability to run at a pace faster or more effective, if even less attractive, than David Hasselhoff filming Baywatch. He steps in front of me, grabs onto my chest straps. I think he's checking to see if I'm fully harnessed at this point. He says, "I'm going to help you. Let's run!"
Luckily, I have my wits about me not to start immediately running to make sure Zack is filming me–you know, priorities.
Zack says, "Ready" and the three of us run. The next thing I know, I'm soaring through the sky having the most peaceful, calm experience I've had since we visited the Grand Tetons National Park in Wyoming for the 2017 Total Solar Eclipse.
Takeoff!
The first few minutes of flight are misty, but it's like a hug. It just wraps you. Then you're breaking through into the sunlight, and it's stunning beauty as far as your eyes can see. I don't know if there are enough words that I can find to describe the utter peace that washes over you in the air. It's relaxing and exhilarating at the same time. I now understand why people get into these types of sports.
I'm altogether hooked.
My pilot, (who has a complicated Slovenian name that I can't understand or retain so forgive the omission. He deserves far better from me. He will forever be a part of my story) tells me the previous day he had no tandems after 2:00 p.m. He traveled to the highest jump spot and drifts for three to four hours in the sky.
Zack's pilot, Jerry (which I think is probably a nickname he's given himself to make it easier for people, like us, who are unfamiliar with the language, or maybe he likes to be called Jerry) tells Zack he's drifted for ten hours at one time. Naturally, my first thought is, "but how do you pee?" I'm pretty sure he has it figured out. How? I don't want to know.
To land, you lift your feet–that's it.
My instructions for landing are conveyed to me about fifteen seconds before touch down. As soon as we put down and I'm unclipped, I try to get up from the ground. I must have looked like a flailing turtle on my back because the next thing I know my pilot scoops me up under my arms to help me to my feet. It must be painful for him to watch me roll around in the dirt. Once I'm finally stable, I turn to him and exclaim, "I'm hugging you!" and I do just that.
This lovely stranger provided me with an experience of a lifetime, and hopefully, it is the first of many paragliding experiences to come.
Zack lands shortly after me. "Jerry" and my pilot repack their parachutes, and off they go with the next travelers waiting to fly. As we watch the next couple descend, I reflect on how amazing it feels to fly. It's thrilling to see others experience the same sensations as I watch from below. The adventure is so emotion-evoking for everyone that once all of us are on the ground, group hugs abound. It was a powerful trip that I hope to have again and again and again! Absolutely. Incredible.
After that mind-altering affair, it was time for lunch.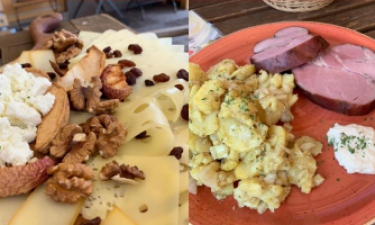 We learn that "dried meat" is ham and they serve it with horseradish. A pretty powerful one too. We then stop in Bled for some Bled Cream Cake. We clean our plates, as we've done many times throughout this world travel adventure, especially when it comes to the desserts.
Next, we drive to a small village nestled in the Alps. While en route we stop to see a waterfall.
The stroll to view the falls is an actual hike. I am grateful not to have to make this trek in Birkenstock sandals. I wouldn't have made it. I probably would pitch myself right over the edge of a sheer cliff had I tried walking in anything less than my hiking shoes from home.
Who wants to bite the big one falling off a cliff hiking, mere hours after running–and I use the term loosely–off the side of a mountain? Not this girl.
The path is quite steep in some parts and pretty treacherous for the most part. There's a lot of crazy, dizzying drop-offs next to tracks twisted with roots that make you feel like you are in a Qbert game. Oddly enough, I feel safer sitting under a parachute at 3,300+ feet in the air than on my feet at some places on this hike.
The walk ends at a beautiful waterfall–the silver lining to a precarious hike is always a dazzling view–that you can walk behind, which I partly attempt, but it is too ice cold.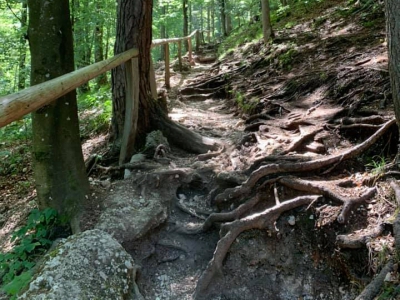 While I enjoy not being sprayed by frigid waters, a hiker shares a tip that there is another waterfall above this one. So, up we go. This path is more treacherous–no handrails–anywhere. It has a stairwell, we nickname, "Sweet Carolina." I was leading the group at this point, so I was first to see the waterfall and "Sweet Carolina" is exactly what comes out of my mouth.
Some of the treads have a 2-foot lift, while others have 4-foot. They are unsettling to look at, especially knowing you have to navigate back down.
The reward at the top is both stunning and unique waterfalls that we never would see had we not clamored our way up. Oddly, traveling back down was almost as tricky. The downhill parts of the hike are usually my favorite, except when I'm thinking about the uphill that will inevitably come.
Today is all uphill there and all downhill back.
As we head to our next stop, the road we are traveling takes us suddenly to Italy. Yes, Italy. The border is like the Slovenia/Austria border except the sign says we're crossing into Italy–not Austria. The "detour" is a lot like Austria, in that the road we are on meanders through, then loops you back into Slovenia. There is a clear architectural difference between the two countries, even with the homes only a few kilometers away from each other on either side of the border.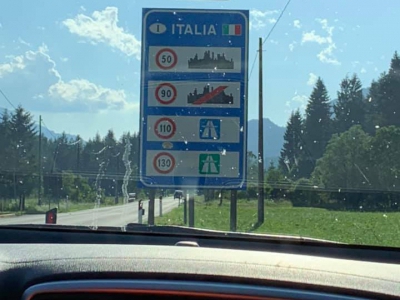 Apparently, I am too wrapped up seeing Italy to take photographs of the moment.
It's another honorable mention excursion to add to our trip. It doesn't quite qualify as "having been to Italy," but the experience is more than an airport layover.
The drive through both Italy and Slovenia unveils unforgettable views of the Julian Alps.
A mere photo cannot convey the sheer magnitude and allure of the mountains. Some of the more impressive views are impossible to photograph; they can be seen from the road, but there aren't turnouts available to stop.
The peaks are nothing short of glorious.
I'm exhausted now, so I'll leave all of you world travel dreamers with these words from my paraglide pilot (in his heavily-accented, broken English)—
"You know, yesterday I go up there to that mountain, our highest spot and I fly alone. Is beautiful, I love it. Today, today, I have a tandem. I fly with you. Is beautiful. I love it. Do you know what I learn? Always fly!"
So, my travel friends … always fly!
Tracie Backman
Tracie Backman is a former cubicle worker who is just beginning to live and write about her world travel adventures starting at mid-life. A comedian at heart, you'll often find her enjoying a glass of wine with family and friends in the Northern California wine country.

Enjoy this special 8WomenDream Guest Contributor story submitted by new and experienced big dreamers throughout the world, edited and published to capture a dream perspective from different points-of-view. Do you have a personal dream story to share with 8WomenDream readers? Click here to learn how to submit dream big articles for consideration.
Note: Articles by Guest Post Contributors may contain affiliate links and 8WD will be compensated if you make a purchase after clicking on an affiliate link.