Last updated on August 20th, 2019 at 05:51 pm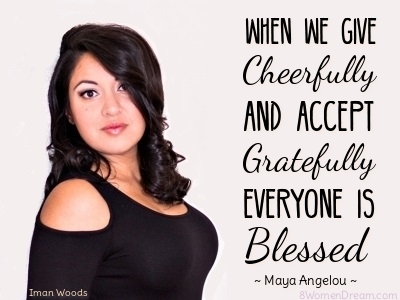 Compassionate may not be the first adjective that comes to mind when you think of professional photographers, but when you consider portrait photography, it's the most important attribute a photographer can possess beyond their photography talent.
Why is compassion an essential quality? And what does compassion have to do with empowerment photography for women?
Compassion is a feeling of sincere sympathy and sorrow for another who is suffering, accompanied by a strong desire to alleviate the suffering. And to be compassionate means having or showing compassion.
If my dream is to empower women to love and accept their bodies as they are and show them through portrait photography how beautiful is their uniqueness and individuality, then as a photographer, I need to start from a place of compassion.
And frankly, it's not difficult for me to feel compassionate towards my clients because I, too, recognize the body image battles they wrestle within today's society. I am subjected to the same media advertising, the same clothing industry, the same television, and movie images. I, too, have struggled with weight and self-esteem issues.
When I step behind the camera, I feel for my clients who struggle to relax in front of the lens. I know what is going through their minds and how to soften their feelings of "am I good enough to deserve this photoshoot?"
It saddens me that we've created a society where so many people feel bad about how they look. How do you show up in the world when you don't love the person you see in the mirror?
And it's not unusual for me to experience burnout as a single mom running several businesses while liking the person I see reflected back to me in the mirror. When I start negatively judging myself, I know that I need to take a break and allow myself some "pamper me" time so that I can continue to give back to my clients.
My self-esteem "well" needs to be filled so that I can offer compassion to other women experiencing low self-esteem and bring out the true beauty that lies hidden under their image insecurities.
Recently, I took a night off with friends to recharge my batteries and pamper myself. To my great surprise, my friends turned the tables on me and made me feel unexpectedly beautiful. We had planned a girls night out, but we decided instead to hang out at my photography studio and listen to music. It sounded fun to stay in, dress up, sing, and dance the night away.
At the beginning of my photography career, my girlfriends and I would do our hair and makeup and experiment with different photos to our heart's content. This playing around resulted in unexpected failures and even better-unexpected ART.
Some of my favorite pictures and paintings were born during a playtime photoshoot.
I truly believe if you can transport your heart to the place where you are one with the creative process (where you are compassionately open to both failure and success) you can discover so much about your work and yourself. You'll fall in love with the process and the resulting artwork.
It's magical to find the place where you happily lose time.
Once we arrived at my photography studio for the evening, my dear friends, Lyndie and Brittany insisted that I get dolled up and be photographed too. I'd planned on letting them take a photo or two of me, and I would shoot the majority of them before we danced around the studio playing like young girls.
They insisted that I be the center of attention. I warned them that they were dealing with a perfectionist and that it might get frustrating to be ordered around. I directed them on how to hold the camera and help me pose. They were patient, kind, and loving. Most importantly, they were compassionate.
And there was so much laughter.
It's been so long since I was part of a photoshoot that was purely for fun. This photography session was not for my portfolio; it wasn't for my website; it was to feel beautiful. To be on the receiving end of women compassionately cheering you on, telling you you're stunning, making you believe you're as beautiful as you wish you'd understand.
The experience made me a better sense of why compassion in photography matters and how what I'm trying to do with my dream is valuable to women.
It's also difficult to describe how therapeutic it is to see photos of myself where I'm much smaller than my previous 250 pounds.
To see me and think, "Dang! I'm fit! And pretty!" Those five little words are precious and powerful. And I said to them in my head. Which means my heart knows it's true.
It's a gift to be able to experience the same roller coaster of emotions, that my female client's experience. It reminds me to step back, take a breath, and be fully present when my clients are experiencing doubts about being photographed. I understand because I, too, feel what they feel.
It was also unexpected to be on the receiving end of my friend's compassionate support. It completely erased my artistic burnout.
I've never been so happy to miss going out dancing at a club. Considering how much I love a night out dancing, that's saying something. These girls were able to empower an empowerment photographer.
That's no small feat.
Coupled with a photographer's lesson in compassion.
Iman Woods

Iman Woods is an American artist who specializes in pin-up photography. Through a unique and therapeutic process, she's spent over a decade in perfecting, Iman helps women undo the damage from a negative self-image and unrealistic beauty industry expectations. She helps women embrace their own style of beauty and see themselves in a new light. You can find her on her website, ImanWoods[dot]com.
Note: Articles by Iman may contain affiliate links and may be compensated if you make a purchase after clicking on an affiliate link.