Last updated on November 23rd, 2012 at 02:37 pm

I'm Iman Woods and I'm a photographer.  My dream is for everyone reading this blog to BELIEVE without a doubt that we are beautiful and worthy of the lives we choose.
So much pain and suffering in our world would disappear if we stopped passing our shame, anger and feared inadequacies onto others.
I want to change how we talk to ourselves and each other.
But I'm working against centuries of human nature seeking flawless perfection. I'm working against the fashion industry who seeks models so thin they share sizes with a very small portion of the population. Here is an ABC News article about how now models meet the criteria for anorexia and that size 6 is "plus" sized. Even though the average woman is a 12-14.
"Twenty years ago, the average fashion model weighed 8 percent less than the average woman. Today, she weighs 23 percent less…"
We're bombarded by advertisements as much 5,000 times per day.
These ads make us feel inadequate so that we'll buy their magic fix. How many times have you bought a featured beauty or weight loss product with disappointing results?
Magazines with airbrushed covers tout fast weight loss.
Here's a Messy Nessy Chic article with realistic before shots and Photoshop Failure afters.
Tabloid magazines (strategically placed in super markets) humiliate celebrities for gaining weight and celebrate dangerous weight loss like get-rich-quick schemes.
I'm working against Barbie dolls with proportions no human could ever attain. See Barbie's body and features sketched on a real beauty.
I'm working against the children who teased you in elementary school for being unique. It is estimated that 160,000 children miss school every day due to fear of attack or intimidation by other students. Source: National Education Association.  I'm working against the families and friends that taught your tormentors how to tease.
I'm working against the inner negative dialogue many of us record and play over and over far more than replaying the affirming things.
In the face of all that, some days my dream seems impossible. There are moments I am overwhelmed with sadness that we might lose this battle.
There are models who in their pursuit of perfection starve themselves to death. There are teenagers bullied for looking different, acting different or even more core to their hearts their sexuality who kill themselves over the abuse.
On the days that I am saddened and question my own power to make a difference, I remind myself that change starts small.
So I talk. A lot. I probably drive my friends family nuts while screaming at the television during mascara ads. THOSE ARE FALSE LASHES! NO mascara could ever look like that! FALSE ADVERTISING!
I talk about beauty, retouching, women's rights, GLBT rights, size discrimination, standing up to bullies… Because it all feeds into self-esteem and how we see ourselves. I work with women to help them embrace their flaws and celebrate their God-given uniqueness.
You may be asking, "But what can I do?"
Talk. Share. Search for inner beauty in yourself and those around you as much as you seek to better your exterior. What might happen if you tried affirming yourself and others with the same effort of your daily workout?
QUESTION the too-good-to-be-true weight loss and beauty products. Read/write reviews and force manufacturers to create QUALITY products by not buying or returning the ones with false claims.
Take care of your body, mind AND soul. Exercise, eat right, indulge sometimes and find what feeds your soul. For every minute you work out, plan time to discover what makes time fly.  For me it's being creative and giving women the gift of a new self-image. Seeing a woman near tears as she accepts every inch of herself while she stands in lingerie in my studio fuels me like nothing else.
People learn from those around them. Politics, religion and self-worth are behaviors and opinions we learn from people we respect. It starts as early as communication does.
You can NOT teach your child that they are beautiful if you are constantly on a diet and demeaning your own appearance. You can say it until you're blue in the face. But I promise, they won't believe you unless you practice being loving and accepting of your own beauty. And it will take lifelong practice. Like brushing your teeth. Do it every day until it gets easier and becomes habit.
Here's a great blog where a mother does just that.
Let people photograph you! Even photographers have to be reminded how important documenting EVERY life is.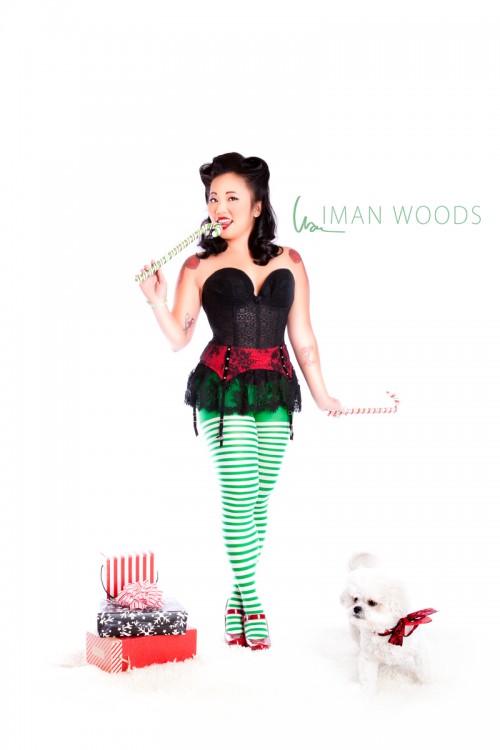 Practice random acts of kindness. We get so caught up in our busy digital worlds, dealing with work and much larger social circles. The Internet exposes us to more crime worldwide and often things seem hopeless.
You will get lost in the noise and negativity if you can't bring yourself back to a selfless place. Whether its a friend in need or a stranger in the grocery line who's card gets declined, show someone kindness. It always pays dividends in your heart.
Every morning look in the mirror and find ONE thing to praise. It can be a physical attribute or an inner aspect. Maybe you've been complimented on your smile or you are great in crisis because you calmly put others first. Practice being loving and not derogatory to yourself.
We have a studio rule at Iman Woods Creative: While you're here you're not allowed to say ANYTHING negative about yourself.
This is monumentally hard for some people. But if you can take a break from the negative body image self-talk for one hour or six hours, how GOOD do you think that will feel? It's like a vacation from the worst bully around! Then maybe you can go days, weeks, hopefully months! You'll be a better mother, friend, partner if you're not constantly telling yourself how much you suck.
Studies show seeing various body sizes makes you feel more positively about the sizes we are. See Jezebel's article about how seeing body diversity actually makes you more comfortable with body diversity.
Fashion designers have been ignoring a huge market. Plus size girls want to look great too!
"Plus-size sales are poised to jump 5.2% annually in the next five years while overall apparel sales will climb a modest 2.7%, according to research firm IbisWorld. The category is expected to hit $9.7 billion by 2017, up from an estimated $7.5 billion this year and $6.6 billion in 2009."
The more you visit websites and read magazines that have various body types and the more you speak up about the ones that don't, the faster we can change the world.
My website features all real women, of all sizes and backgrounds who ALL look fabulous. A few designers embracing the plus sized world: Stop Staring, HM, Bettie Page Clothing and Lucky Brand.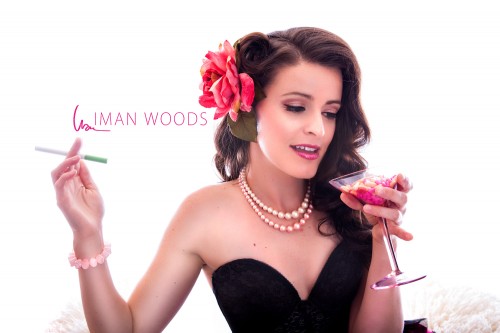 We're being brainwashed to accept smaller and smaller sizes as ideal beauty:
"Some of today's plus size models are wearing the same size as models Christie Brinkley, Paulina Porizkova and Cindy Crawford at the height of their fame in the 1990s. Zharkova, 28, wears a size 14."
We CAN change this. A survey of 30 women we've worked with showed a lasting (from their photo shoot to now) improvement of their self-esteem by 46% with some feeling as much as 90% better.
It's taken hard work daily to question the not-good-enough thoughts but they prove that we can change. When you work hard to change a core aspect of your life, the positive effects enhance everything.
What would the world look like if our next generation felt better about themselves? What if instead of expending energy questioning themselves they sought out solutions to the world's problems?
I believe that world is possible… With your help.
Iman

Iman Woods is an American artist who specializes in pin-up photography. Through a unique and therapeutic process, she's spent over a decade in perfecting, Iman helps women undo the damage from a negative self-image and unrealistic beauty industry expectations. She helps women embrace their own style of beauty and see themselves in a new light. You can find her on her website, ImanWoods[dot]com.
Note: Articles by Iman may contain affiliate links and may be compensated if you make a purchase after clicking on an affiliate link.