Last updated on November 11th, 2019 at 12:30 pm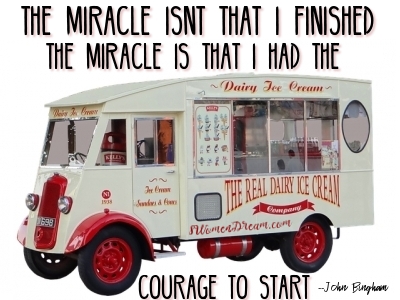 The warm days have officially started, and it's easy for me to think about not conditioning outdoors when it's my running training day.
However, when you participate in a triathlon or any marathon for that matter, there's no guarantee that the weather will be perfect.
Chances are high; if you succeed in your big dream to be a triathlete, you will eventually find yourself racing in hot and humid locations where your performance can be negatively impacted.
Training in weather or terrain that makes you feel uncomfortable will only make you a stronger athlete.
And to be honest, when it's warm, I don't feel like going for my training run. When I find myself grumbling about a workout run, I remind myself of the times when I was a child, and I'd hear the ice cream truck entering my neighborhood in the suburbs of Santa Rosa, California. I'd drop my toys, or whatever I was immersed, to race for pocket change and bolt out the front door with my feet flying through the air to catch the ice cream man before he passed my street.
Then I ask myself why I am not showing the same childlike enthusiasm for training for my triathlete dream.
Maybe my child-like enthusiasm stemmed from the uncertainty of getting to see an ice cream truck since they didn't drive a regular route you could count on. Buying ice cream from a truck on the street was considered a real treat, and you knew that if you didn't catch that truck, it might be weeks before you'd get another chance at devouring a Neopolitan ice cream sandwich.
My favorite part of hearing the music in the distance emanating from the truck's load speakers–sounding like a large Jack-In-The-Box music box–was trying to figure out where the truck was headed by the tinkling sound bouncing off the neighborhood a few blocks away. Then there was the mad scramble to find a mom (any mom) with purse change in the hope that you'd be able to buy your favorite ice cream treat.
Running down the street to catch the ice cream man was thrilling–like a race against time, your friends, a fleeting moment. You raced to be first in line and be the hero-kid who stopped the truck for the neighborhood. The satisfaction in eating the ice cream wasn't limited to enjoying the sweet, creamy flavors, but the gratification in knowing you succeeded in achieving a goal that required a certain amount of chance.
How far and how fast am I willing to run for my dream?
It's a fallacy to think that you will always be enthusiastic about working on your dream goal. Humans are creatures of habit, and it's simply too easy to slip back into old patterns of inaction when you are trying to create change in your life.
Research has shown that motivation waxes and wanes over time, so it's not unusual to procrastinate or look for reasons not to work on your dream goals. Doing nothing is easy! I choose to counteract my demotivating feelings by routinely taking stock of the progress I've made thus far, like how many miles I can now run or how far I can ride on a bicycle without my butt going numb! I also ignore my ultimate triathlon dream of racing in Kona Hawaii's Ironman World Championship. I focus on where I am with my fitness goals right now and what I can work on today to improve.
Gabriele Oettingen, a professor of social psychology at New York University on motivation–
What we find in our research is that if you elaborate on the fulfillment of the desired future, and you fantasize about this desired future—then, if you indulge and indulge in these fantasies—when setbacks come you actually are less prepared and less motivated. The more positive, the more idealized you think your future to be, the less energized you are. The more positive these fantasies are about succeeding and fulfilling their wishes, the less successful they are in terms of putting in the necessary effort and the success they have." (Source: Science Magazine)
It's better to work on the little difficulties you face in achieving your dream. If you think about when I was a child, and I wanted my Neopolitan ice cream, I wasn't focusing on the ice cream per se, but the obstacles to getting the ice cream; like being able to find the truck, getting money, getting money fast enough, and being able to catch the truck to make it stop.
By focusing on conquering the hurdles that could stop me from eating my favorite ice cream, I was successful at catching the truck most of the time. When I failed, it was because I couldn't get anyone to give me change, or I wasn't able to locate the truck within the neighborhood where I was allowed to play. These hurdles were not in my control, so I vowed to be better prepared "next time."
Going after your dreams works much in the same way.
If I am not feeling motivated to go for a run in this heat, then I need to look at why I am looking for an excuse not to go put on my running shoes. Maybe I need to call a friend who will tell me to get my butt out the door, or perhaps it's as simple as putting on my shoes and tying my hair back. Sometimes just starting something creates the motivation you need to complete a task you are putting off. I can also tell myself that if it's too hot, I can stop and walk–I don't have to go as far. Usually, I find that once I start running, I feel better, and my excitement over my triathlete dream returns.
It's really that simple. But sometimes it would be great if I really was running after an ice cream truck.
Heather Montgomery

Heather Montgomery is a fitness writer, triathlete, and serial entrepreneur who is devoted to sharing what she has learned about becoming a triathlete after age 40. She uses her Metabolic Training Certification to help other women struggling to get fit in mid-life. She lives and trains in Santa Rosa, California, the new home of the Ironman triathlon. You can find her biking the Sonoma County wine trails.
Note: Articles by Heather may contain affiliate links and will be compensated if you make a purchase after clicking on an affiliate link.