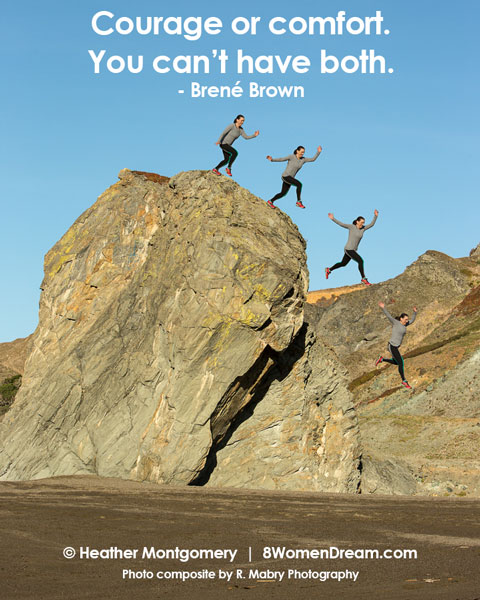 There is something to be said about going all in. Truly committing to making fitness goals. There is a shift in perspective that you have to take the chance to experience. The truth is that most of us won't make that final decision and commit.
All good ideas start with a spark.
With our own health and fitness goals, those ideas can be overwhelming. Rarely is the spark to commit to fitness one thing. There is a pile of ideas and feelings we can point to as to why we want to find fitness in our lives. Sometimes just knowing how long the path to health will take, keeps us from starting with that first step.
My commitment to making fitness goals came after I'd already lost 60 pounds.
I was on my way to my weight loss goals and was committed to continue. I started wondering what was going to happen next. The challenge of watching the weight come off, the body fat numbers drop, the measurements go down: There was challenge in that progress that kept me committed.
Eventually that progress was going to stop and new challenges would have to take their place. At the time I didn't know what that would be, and wouldn't have imagined the results.
Triathlon seemed like a crazy idea just 16 months ago. There are days I still think its a crazy idea. Many of my friends have asked me why I chose this sport.
The short answer? I didn't want to only run and do weight training. Those are the tools that led me to my total weight loss of over 80 pounds.
These types of exercises are my comfort zone, my known quantity.
I could have easily kept on keeping on with my regular running and going to the gym, but I know myself, and eventually I would get bored. The same old routine leads to lack of interest, and when your goals are no longer interesting, your desire to stay committed to them disappears.
There are only two options regarding commitment. You're either in or out. There is no such thing as life in-between.
– Pat Riley, Hall of Fame basketball coach
Breaking up workouts to focus on three distinct sports with swimming, cycling and running gave me a whole band of new challenges. When I first brought my goals to light here on 8 Women Dream with my post "How To Jump Into Your Next Dream Challenge" I had none of the tools needed to accomplish the goal of participating in a triathlon.

You don't need everything to be in your hands to get started either.
Are the only pair of sneakers you own a decade old in the back of your closet? Put them on and go for a walk. The closest thing to workout clothes are your college sweats? Great! Grab them every morning for a week and get moving. It's a start, and starting is better than waiting to start.
The beginning of amazing results is not the airbrushed cover shot of that fitness magazine at the grocery store. It's the no-makeup, just rolled out of bed, I'm-amazed-my-shoes-match, go-getter that I see most mornings for 6 a.m. boot camp. You get up, you get it done, and you see results.
How to start making fitness goals your reality.
Every one has a place they are starting, and this is where I want you to be. Your starting point. Where you are, right now, in all of life's messy glory.
Now create an image in your mind of the positive results of all your hard work. You in your future fit body. Keep that image in your mind.
Now let the negative aspects of reality creep in.
Seriously, letting reality be a part of making fitness goals will help you succeed. You'll notice I mentioned letting them creep in, not run your goals over with a bulldozer.
Let the fact that you are busy, work, raise children, volunteer, and save the world creep into your thoughts. Know that your future fitness depends on your accepting that the reality of your life will make room for your fitness.
This is when you can place realistic time frames to your positive results.
You've got an image of yourself fit, and now you have a realistic time frame, right? Write it down.
Be specific about the goal and timeline. If you need an example, mine currently looks something like this:
I will train 6-8 hours a week to be prepared to compete in an Olympic distance triathlon in June 2014.
What you do with this written fitness goal is up to you. It is something just for you. Stick it in a drawer somewhere, tape it on your bathroom mirror, or use it as a bookmark. The act of writing it down is what plants it in your subconscious.
The reality of making fitness goals? If you don't make them, they can't come true.
We are in a world of wants, and there are only a few things that will personally motivate each of us to pursue them. I can't make your fitness goals for you, and if I did, there would be no incentive for you to completely commit to them.
Your fitness goals are yours to make. And I would love to see them in the comments!
Go get your fit on – Heather
Resources:
If you'd like to know more about the technique of contrast thinking and the impact it can have on your results, read more in this article:

Heather Montgomery is a fitness writer, triathlete, and serial entrepreneur who is devoted to sharing what she has learned about becoming a triathlete after age 40. She uses her Metabolic Training Certification to help other women struggling to get fit in mid-life. She lives and trains in Santa Rosa, California, the new home of the Ironman triathlon. You can find her biking the Sonoma County wine trails.
Note: Articles by Heather may contain affiliate links and will be compensated if you make a purchase after clicking on an affiliate link.