Last updated on October 3rd, 2023 at 11:47 am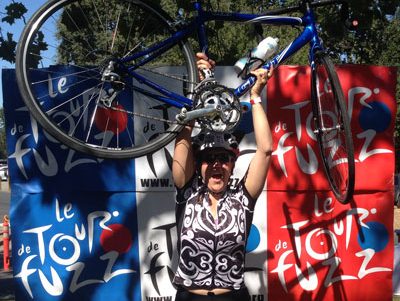 Middle age for women can be a remarkable milestone in our lives, filled with new opportunities to go after the big dreams we've set aside and the chance to embrace a healthier and more active lifestyle.
With the right mindset, guidance, and commitment, achieving fitness goals after age 40 is entirely possible.
Personally, I've lost over 100 pounds and began training to compete in marathons and triathlons.
Here are my 11 tips to help women over age 40 meet new fitness goals and live healthier lives.
• First and Foremost: Consult with a Healthcare Professional
Before embarking on any fitness journey, consulting with a healthcare professional is crucial. They can assess your current health, address any underlying medical conditions, and offer personalized advice on safely pursuing new fitness goals.
• Second: Set Realistic Goals
Setting achievable and realistic fitness goals is essential. Start with small, manageable objectives, and gradually work your way up. This approach not only prevents frustration but also promotes long-term success.
• Third: Prioritize Strength Training
Strength training is especially beneficial for women over age 40. It helps maintain bone density, prevent muscle loss, and increase metabolism. Begin with light weights and gradually progress as your strength improves.
• Forth: Incorporate Cardiovascular Exercise
Cardiovascular exercises like walking, swimming, or cycling are crucial for heart health. Aim for at least 150 minutes of moderate-intensity cardio weekly to boost your cardiovascular fitness.
• Fifth: Flexibility and Balance Training
Flexibility and balance are essential for preventing injuries and maintaining an active lifestyle. Practices like yoga and tai chi can improve both flexibility and balance while promoting relaxation.
• Sixth: Nutrition Matters
A balanced diet plays a significant role in achieving fitness goals. Focus on nutrient-dense foods like fruits, vegetables, lean proteins, and whole grains. Stay hydrated, and consider consulting a registered dietitian for personalized nutrition guidance.
• Seventh: Adequate Rest and Recovery
Listen to your body and allow for adequate rest and recovery. Overexertion can lead to injuries and setbacks. Incorporate rest days into your fitness routine and prioritize sleep for optimal recovery.
• Eigth: Stay Consistent
Consistency is key to long-term success. Create a schedule that fits your lifestyle and stick to it. Even on busy days, find opportunities to stay active, even if it's just a short walk.
• Ninth: Find a Support System
Having a support system can make a significant difference in your fitness journey. My support system is my wonderful husband, who encourages me. I also recommend joining a fitness class, finding a workout buddy, or seeking encouragement from others who share your same fitness goals.
• Tenth: Mindset Matters
Maintain a positive mindset throughout your fitness journey. Embrace challenges as opportunities for growth, and celebrate your achievements, no matter how small they may seem. You walked ten minutes more than you did yesterday? Congratulate yourself. All exercise is great exercise.
• Eleventh: Regular Health Check-ups
Continue to schedule regular health check-ups to monitor your progress and make any necessary adjustments to your fitness and wellness plan.
Entering the second half of life provides a unique opportunity to prioritize health and well-being. By being committed to your fitness goals, women over the age of 40 can lead healthier, more active lives. Investing in your health and embracing a more vibrant and fulfilling future is never too late.
I'm living proof of that!

Heather Montgomery is a fitness writer, triathlete, and serial entrepreneur who is devoted to sharing what she has learned about becoming a triathlete after age 40. She uses her Metabolic Training Certification to help other women struggling to get fit in mid-life. She lives and trains in Santa Rosa, California, the new home of the Ironman triathlon. You can find her biking the Sonoma County wine trails.
Note: Articles by Heather may contain affiliate links and will be compensated if you make a purchase after clicking on an affiliate link.