Last updated on January 22nd, 2019 at 02:08 pm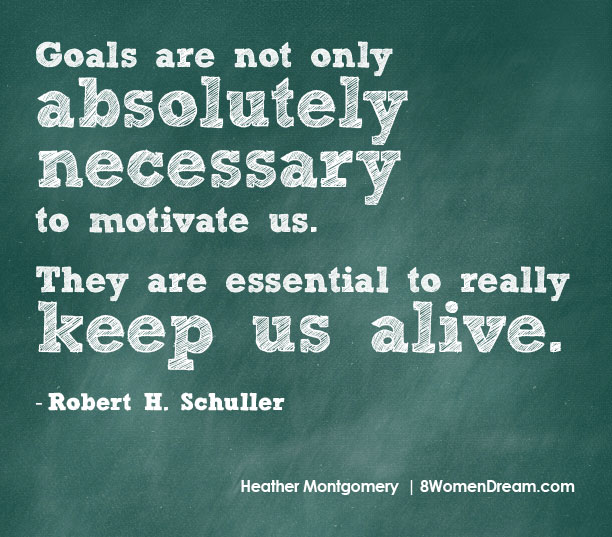 You started your year off right by setting fitness goals for success. How are your they looking now? I suck at keeping any big goals realistic, especially when it comes to health and fitness goals.
Setting fitness goals don't have to be boring.
Taking on any new fitness goals can be a spark of inspiration. There's that rush when we feel like we can take anything on. Ask anyone you know who make New Year resolutions and you might find big and lofty goals.
I want you to take on your goals with gusto, just make them more specific.
Ok, setting fitness goals need to be realistic and specific.
I know that sounds boring. I just want you to avoid making any of your goals read like this one:
I am going to lose weight and workout!
You know I am in your corner with all your fitness goals. I'm the one cheering you on like a hyper jack russell terrier with every healthy decistion you make this year. Even as the first quarter of 2015 is behind us.
Let me ask you this first:
What does "lose weight" mean to you?
What so you  mean when you say you will "workout"?
You can line up 100 women of all shapes, sizes, ages, and fitness levels and get 100 unique answers to these questions. Here's where the specific comes into the conversation, and it's going to get personal.
For YOU fellow fitness dreamer, what does getting in shape look and feel like to you? Not your friend, or sister, or the opinion in the latest fitness article. YOU.
Will you feel healthy if you go down a dress size?
How about when you can run a whole mile without walking?
When you think of working out, do you imagine hours of sweating on a treadmill?
Or do you picture the zen surroundings of a yoga class?
Do your fitness goals a favor. Pick just one.
There are a lot of moving parts to any big life change, and fitness falls into that category. Life has a way of putting up obstacles and barriers just when our motivation and excitement hits a high level to try something new.
This is why choosing one thing at a time will make a difference.
Let's take fitting workouts into your day. When you choose one thing, and make it a priority, awesome things fall into place.
You will find the time to find that class that makes you feel energized. Go out for a long run that lets you clear your head and start with a fresh perspective. Discover that yoga teacher that understands you sit for a living and just aren't as bendy as you used to be.
This is what keeps excitement around your goals. It's what will make you wanting to keep going back, week after week.
You have the "what" of setting fitness goals. Now pick "by when".
Knowing when you want to those fitness goals achieved is a big key to goal setting that all dreamers will attest to. All my fellow 8 Women Dreamers know having a deadline, narrowing down a time frame, makes a huge difference in your dream success.
This is when reality can be a bummer. Setting realistic fitness goals may not sound flashy and sexy, but you will feel the difference as you work on them.
Here's another great example of a setting fitness goals that DON'T work:
I plan to lose 4 dress sizes in 3 months.
This looks like an amazing plan. Unfortunately it is not setting you up for success.
A few realities to keep in mind for this example:
Ideal weight loss is 1-2 pounds a week. In 12 weeks you can safely lose 12-24 pounds.
Each dress size equals 10 pounds. Seriously! I didn't believe this until I experienced this for myself. Do the math: 4 dress sizes equals 40 pounds.
I want you to dream big! I also want you to succeed. Add a drop of reality while setting fitness goals and I will be here to watch you take them on.
How do you do that? Work back from your goal date to really understand the work needed to reach your goal.
I think that was the most frustrating part of my own weight loss dream. Keep the numbers realistic.
This is what I wanted as my first weight loss goal: Lose 50 pounds in 3 months.
If I tried to hit that goal, I would have been sick and disappointed. I know that losing more than 2 pounds a week is asking for trouble. Sticking to this unrealistic goal would have set me up for disappointment.
What's your next realistic fitness goal? Share in the comments so we can pat each other on back. Or help kick that goal back into gear.
Heather Montgomery
Go get your fit on
P.S. – Need to break down all the steps for setting fitness goals? Read more in my post "The Top 8 Objectives To Goal Setting". The concepts will stick no matter what your fitness goals are in the next few month.
[fbcomments]

Heather Montgomery is a fitness writer, triathlete, and serial entrepreneur who is devoted to sharing what she has learned about becoming a triathlete after age 40. She uses her Metabolic Training Certification to help other women struggling to get fit in mid-life. She lives and trains in Santa Rosa, California, the new home of the Ironman triathlon. You can find her biking the Sonoma County wine trails.
Note: Articles by Heather may contain affiliate links and will be compensated if you make a purchase after clicking on an affiliate link.