Last updated on April 2nd, 2012 at 11:02 am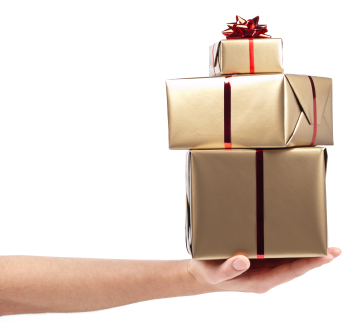 Your resident product reviewer has been busy! The holidays are almost here and the much promised dream gift guide is here. There are perfect solutions for every dreamer on your list, whether they are dreaming of getting in shape, catching up on their reading, or need that reminder to keep dreaming.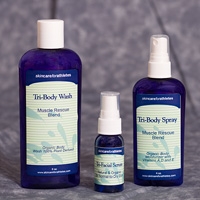 Do you or someone you know workout a lot? The skin care offered by the Skin Care for Athletes crew offers some incredible options to keep your skin in optimal shape – just like your workouts do. One of their lines, the Muscle Rescue Blend was generously provided by Taylor Sparks, Principal Goddess for my review along with her enthusiastic congrats on my weight loss at just over 50# so far.
I've had the chance to use the Muscle Rescue Blend for over 3 weeks now and the effects are wonderful. The body wash has a mild scent and I have noticed less soreness after workouts. I was a bit wary of the Tri-Body spray based on it's initial scent in the bottle. Once it's on, the scent is super mild, the moisturizing is amazing, and it gave me super soft skin.
Another great benefit? The body wash works perfectly as a shave gel! Find out more about their skin care gift collections here.
Discount code: Be sure to use code FREE CYBER11 to receive free shipping on all orders through December 16th!
The Muscle Rescue Blend is a soothing and uplifting blend that has anti-fungal and anti-inflammatory properties. The Tri-Body Spray is deeply nourishing and conditioning with Organic Aloe Vera Gel, Sunflower and Shea Nut Oils and an essential oil blend of Eucalyptus, Rosemary Peppermint and Orange.  The 3-in-1 Tri-Body Wash will hydrate the skin and makes an excellent foot and body soak with its antiseptic and antimicrobial properties.
Fitbit puts your fitness goals within reach

Whether you are sick of me posting about my weight loss and fitness goals or not, Fitbit is the tool that a big part in getting me there. Nothing like a beautifully designed product that you can have a love/hate relationship with.
Not enough steps today? Fine, Ill get on the treadmill. That bread has how many calories? Fine, I'll eat a pile of steamed broccoli.
Yeah. It's working for me and it would make an amazing holiday fitness gift.

One of the recent products sent our way was Ouidad, a product specifically to help manage curly hair. That would not be me with my board-straight "won't take a curl" hair.
Luckily, I have a curly redhead at my disposal that was willing to test it out. Our very own Catherine gave me the lowdown after using the products for a month.
Did Ouidad Shampoo and Conditioner help with your hair issues?
I had no friz, no matter what. The products flattened the friz down without sacrificing body and offering volume that is still workable.
How would you recommend improving the product?
The product itself – great. But a quick note on the packaging for those of us who can't see without glasses in the shower, there has to be some way to make the shampoo and conditioner bottles more different. I kept picking up the wrong one!
Be sure to consider one of Ouidad's Gift Sets for the curly haired girl in your life.
Daily dream reminders
I'll be picking your brain in another post today about how you can help 8 Women Dream support your dream. So for now, a pretty reminder necklace would be perfect for that dreamer in your life who wouldn't mind a gentle reminder of why they go after their dreams.
And for those dreamers who may need something a little more in-your-face about saving up for that dream, this bank puts a photo of the goal and saving for it together.
Hey, these days every penny counts. What photo would you put in your dream bank?
Enjoy your holiday shopping – Heather
Disclaimer: A sample of  the Tri-Body products were provided to me by Skin Care for Athletes. Any opinions expressed are my own, and opinions are based solely on my experience with the Skin Care for Athletes products reviewed.

Heather Montgomery is a fitness writer, triathlete, and serial entrepreneur who is devoted to sharing what she has learned about becoming a triathlete after age 40. She uses her Metabolic Training Certification to help other women struggling to get fit in mid-life. She lives and trains in Santa Rosa, California, the new home of the Ironman triathlon. You can find her biking the Sonoma County wine trails.
Note: Articles by Heather may contain affiliate links and will be compensated if you make a purchase after clicking on an affiliate link.