Last updated on January 22nd, 2019 at 02:56 pm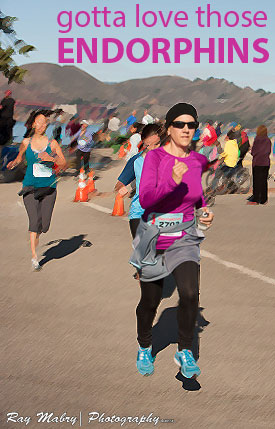 Your friends and loved ones may be grabbing their sneakers early in the morning and running off the to the gym. You know they are dedicated to their fitness goals, but what holiday gift would they need?
Here are a few of my favorite classics and a few new items that me and most of my fitness pals love. Hopefully this holiday gift guide will make finding a present for the fitness buff in your life a little easier.
Fitness Buff Holiday Gift Guide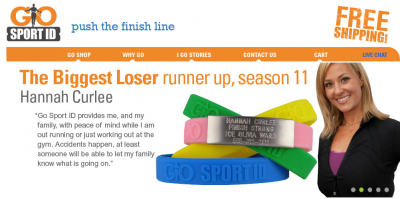 This is on my personal gift list! The more I am running on the road, the more close calls I've had of cars that just don't see me. The Go Sport ID gives your fitness buff an easy way to keep emergency information on them without the bulk of ID, and offers important information in case an emergency does happen.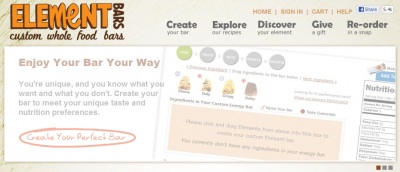 Our ingredients are carefully hand-picked for quality and kept as nature intended — delicious in taste and naturally nutritious. Create your own (freshly baked) energy bar by choosing from all natural and organic ingredients so you can enjoy your bar your way.
I have tried Element Bars a few times. Several of their  recipes that are ready to go, and their custom bars. My custom bar is titled "HANDS OFF" – just to remind my family exactly who these bars belong to! It's a crunchy bar with cherry, whey protein and almonds that I love and use for an pre-workout boost. Make a unique holiday gift with a custom bar for your fitness nut.
Ask my friends and family what my temperature is lately and they will most likely say "Frozen!". This is the time of year that I rarely venture out with less than 2 layers and live in thermals 24/7. Keeping warm even while working out is so important to not only making your workout safe, but comfortable!
The Super.Natural Sport Base Layer would be a perfect holiday gift no matter what climate that fitness buff of yours is working out in. Made from merino wool and polyester, it also will keep them warm and dry.
My new favorite running pal is the Nathan Sprint Handheld Bottle Carrier. For under $20 this holiday gift will keep you hydrated without weighing you down on your run. The hand strap is super comfortable that requires  no grip needed since it slips over your hand and thumb. I really recommend the race cap – you can bounce all over the place and no leaks!

Until I got my own fitness armband, I was holding my phone during my runs in my sweaty hands, gripping tight and trying not to drop the expensive thing.
And no ladies, your sports bra is not an ideal environment for your smart phone either. I hadn't realized how much that was changing my the way I ran by holding my phone until I strapped on my arm instead. So much better! A great holiday gift.
This is the way to loosen up after a workout, with two different densities to provide relief on pressure-points. Use it like a foam roller and specific muscles can be targeted for your own personal almost-like-a-spa treatment.
This is the kind of hurts-in-a-good-way help we need to keep us working out at top form.
7. Spa or Massage Gift Certificate
In my humble opinion, everyone who works out can benefit from massage as a holiday gift. Not everyone is a fan of getting a massage, but this is an excellent way to help the fitness nut in your life with their recovery care. A massage is an excellent way to work out those tight knots that crop up after training or a big event. Need help finding a spa? Try Spa Finder @ www.spafinder.com to search for services in your area.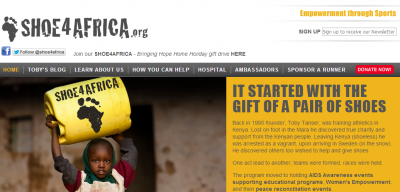 If you have running shoes that have a good 100 miles left in them, this is a wonderful way to offer them up to help someone in Africa keep healthy.
Send a pair of running shoes you know that has at least another 100-miles of running still left in their life so they can be properly used for the health & fitness programs we promote. Please do not send shoes you are about to chuck away because you deem them useless!

Running shoes PREVENT hookworm and promote a person to adopt a more healthy lifestyle. We don't want to just hand out shoes; we hold races so people EARN shoes. Empowerment not charity.
Fitness is a gift in itself
As your health and fitness dreamer, I can confirm that supporting someone in their health goals is so important. Encouragement in a class workout, thumbs up to a racer running by, and positive feedback about the work we are doing to stay healthy are wonderful.
What gifts can you add to the list for the fitness focused in your life?
Go get your fit on for the holidays!
– Heather Montgomery
[fbcomments]

Heather Montgomery is a fitness writer, triathlete, and serial entrepreneur who is devoted to sharing what she has learned about becoming a triathlete after age 40. She uses her Metabolic Training Certification to help other women struggling to get fit in mid-life. She lives and trains in Santa Rosa, California, the new home of the Ironman triathlon. You can find her biking the Sonoma County wine trails.
Note: Articles by Heather may contain affiliate links and will be compensated if you make a purchase after clicking on an affiliate link.