Last updated on December 8th, 2013 at 11:16 pm
The trees are red, gold and orange, in the most glorious season in New England. Autumn is the dream season and it is spectacular.
I've been hiking and visited farms, and driven down the Mass Pike, enjoying all the best of the season.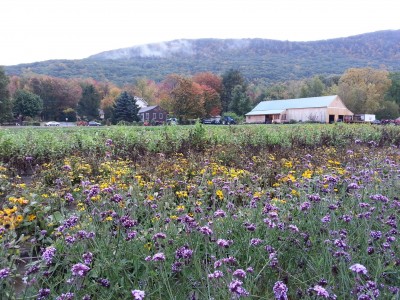 Autumn Adventures
I visited Mountain View Farm in Easthampton, MA yesterday. I was there to pick up a CSA (community supported agriculture) farm share for my mom.
This time, the farm yield included sweet potatoes, white potatoes, beets, scallions, red lettuce, dinosaur kale, collard greens, tatsoi, mizuna. The farms also offer an option to pick vegetables or flowers as part of the farm share.
I decided to pick some flowers.
It had been drizzling, but while I was out in the fields picking orange, fuschia, and purple flowers, the skies opened up.
Suddenly, it was pouring. For an autumn day, the air temperature was warm, so the rain didn't feel cold to me.
Luckily, I happened to be wearing a hat over my pigtails. So I decided to stay out there and to finish picking the flowers, assembling my autumn bouquet, while I got soaked.
I finished picking about a dozen flowers, then took shelter in the main barn where the farm share is distributed. Other CSA participants were hanging out there, waiting for the rain to pass.
I've also loved the quote: "Life is not about waiting for the storm to pass but learning to dance in the rain." Yesterday was one of those days!
When the rain was just a bit lighter I headed back outside again. It felt surprisingly nice being out in the rain.
Hiking The Cliffs
Last weekend I spent time hiking in New York. It was a foggy day, yet the colors were still incredibly vibrant.
I hiked the Indian Ladder trail at Thacher Park in Voorheesville, NY. The winding paths were carpeted in gold leaves.
The trails are along the cliffs, and the views are amazing. The trees were red, green, gold and orange.
I took pictures as I walked of the spectacular colors, edged by the fog that was rolling in as I hiked.
By the time I left the valley was blanketed in fog.
They closed the park down early, since the views were obscured.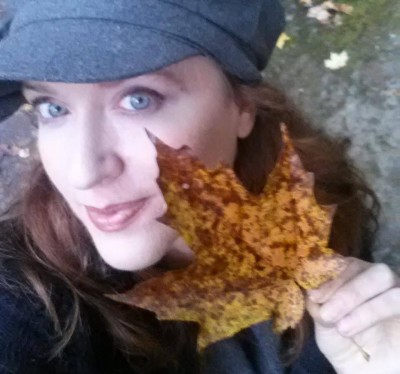 Dream Season
Hiking and visiting a farm in New York and New England during this season guarantees being surrounded by beauty. It's truly heavenly to be in the middle of these landscapes during this season.
I think of it as "dream season" because the trees are ablaze, and everything is transforming and changing.
In my experience, living my dreams has been like this. It's a process of transformation, shifting into becoming the person you want to be as you walk the path of your dreams.
And the passion of living our dreams can set us on fire. I find that when I'm in motion in living my dreams, I have so much energy.
I love a season that is blazing with color, and that represents a time of change and transformation.
The Last Quarter
We've also officially moved into the last quarter of the year, which for me reinforces it that it is dream season. It's time to move on any dreams that we've committed to for the year that may not have manifested yet.
It's time to update our last quarter goals and ensure that we're moving forward.
How are you doing on your goals for 2013? Have you updated your last quarter goals for the year?
Here are some fun suggested ways to do a goal check-in during this dream season.
1. Revisit your 2013 goals. What have you hoped to do or create this year? Now is a good time to review those goals, or think about them for the first time if you've been too busy "doing" to check in on your goals. What would make 2013 spectacular for you?
2. Identify three primary goals where you most want to make progress. What are those three things that if you could achieve them this year would make the greatest difference for you?
3. Take those three goals for 2013 and break them down into smaller steps. The important thing is to be in motion, and identifying smaller steps within a goal can help it to feel less overwhelming. Come up with as many mini "turtle steps" as you can.
4. Think about the type of person who would achieve these three goals: who do you have to be to create what you want to create? Make a list of those qualities. Then act from that space. Imagine that you already are the person who has achieved what you want to achieve, and do what that person would do!
5. Take the time to envision your success. One sure way to help ensure your success is to spend just a few minutes a day seeing yourself succeeding. This technique is used by Olympic athletes and movie stars. They envision themselves succeeding long before the day of victory ever comes. You can do this too as  a way to make your dreams come true.
Wishing you success with all of your goals and dreams, and hoping this dream season will be a time when you can really accelerate and move forward with what is most important to you. Start moving on those turtle steps, taking at least one tiny step a day towards your greatest dreams.
Here's to you succeeding in this dream season!