Last updated on December 6th, 2012 at 10:42 pm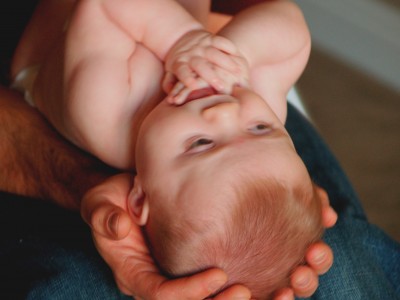 It wasn't long after my 40th birthday that I was in the doctor's office for my annual check up.
Sitting there in that all-too-sexy backless gown, we had the typical small talk about my low blood pressure, plateaued weight loss efforts, lingering emotional depression and lower back stress.
Basic stuff.
Normally I can't wait to get out of there – but in honor of my birthday, I hit him with this –
Doctor, sometimes I feel like I could care less about sex – since my divorce it's the farthest thing from my mind — I have absolutely no intimacy feelings at all. Will I ever get that back? I mean – is that normal?
His response?
Yeah, that's normal. But the mistake you can make is thinking that the intimacy feelings will automatically show up for you before you want to have sex. You have to approach it the opposite way. The more sex you have, the more times you can orgasm, the more intimate you will feel and then your libido will bounce back — (he pauses to check my age) Yeah, don't worry about it – you're still somewhat young."
So while he's updating my chart, my own inner-dialog starts:
"More orgasms? Uh, right – how's that gonna happen? I'm divorced. I may never have sex again! Oh my God – what if I forget how to do…that?"
And like he was right there inside my mind – without looking up from my chart, he says
So you want me to leave you alone here the room for about 10 minutes? I can turn the lights down if that helps…"
Flash forward a few years. I'm still "somewhat young."
And a few months ago, I started to feel like I could care less if I ever picked up my camera again. It was the farthest thing from my mind. I couldn't get excited about. I didn't want shoot anything, or research any events for my meet-up photo group.
I realized my photography libido was gone.
I panicked a little bit. Is this just me? Does it happen to other people? How was I gonna get that feeling back?
I tried abstinence.
Thinking that 'absence will make the heart grow fonder' I literally put the camera down on purpose, vowing not to use it until I felt excited about it again. Maybe if I left my camera alone for a while would it create some sort of craving for it – like
"My God I cant believe how much I missed this!"
A month later, I still felt disconnected and uninspired. I worried that maybe my love for photography was gone. It was the strangest, loneliest feeling I've ever had.
Come to find out I was approaching this all wrong.
What I should have done was kept my camera with me as much as possible. Schedule more meetup events for the group. Push myself to take photos even if I didn't feel like it – knowing now (thanks to the Doc) that the more I did, the more I would want to do.
Thanks to a good friend and fellow photographer, Alison Fraser, I got to go along with her last weekend to a baby photo shoot. I was able to help her out, try something new and most importantly – get the camera back in my hands, creating images again.
The strategy worked. It was fun, exciting and just a little unnerving – and the photography libido is back.
On the path towards your photography dreams it may be natural to lose excitement every once in a while. DON'T panic!
Have faith that you are on track, take a little break from it if you have to but get the camera back in your hands as soon as possible.
Until next photo,
Rem
Remy's dream is creating opportunities for photography showings and public displays of her work.

Enjoy this special 8WomenDream Guest Contributor story submitted by new and experienced big dreamers throughout the world, edited and published to capture a dream perspective from different points of view. Do you have a personal dream story to share with 8WomenDream readers? Click here to learn how to submit dream big articles for consideration.
Note: Articles by Guest Post Contributors may contain affiliate links and may be compensated if you make a purchase after clicking on an affiliate link.