Last updated on December 6th, 2012 at 10:27 pm
What helped me regain my lost passion for photography?  Tagging along on a baby photo shoot with another photographer. I got my hands back on my camera and shooting again.
From that outing, I put together a list for you photography dreamers on managing baby photography.
8 Tips on How to Manage a Successful Baby Photo Shoot –
1. Have a conversation ahead of time and make a plan.
Listen to the parents about what they want and prepare them for how the session will work. If they want shots of a sleeping angel, set their appointment around a natural nap time, not when they are fully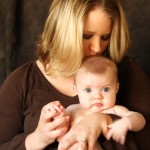 rested and ready to explore.
2. Keep the room warm.
Little babies need to be cozy and relaxed. Small space heaters work well if you have them. Dress yourself in layers and wear your hair up to stay cool if you have to.
3. Have nice soft cuddly things to lay on.
Soft fleece blankets, stuffed animals and lambs-wool pillows all make great accents for texture, too. The baby will love laying on these things, and may stay happy for you just a little bit longer.
4. Move fast.
A baby shoot is much different than other kinds of photography.
Depending on their age and how they are feeling in that moment, you could have a matter of minutes before they start to lose it. Knowing your plan well will help you keep the shoot moving, even if the unexpected happens.
5. Have a binky-break strategy.
There will be natural breaks in the action to change out lenses or adjust for lighting. Have something of theirs close by that will keep them calm and distracted. Don't worry if the baby needs to eat, hold a toy or crawl around a bit. Just go with it.
6. Be prepared for baby-type situations.
If you remove diapers, anticipate peeing. Crying and discomfort may induce burping and spit up. They may never look up at your camera, no matter how much you squeak the little toy frog. Have some baby wipes, a little cup of water, towels, their own teething ring and a favorite toy nearby.
7. Anticipate equipment needs.
This is a no-brainer. Make sure you have extra batteries, all of your lenses cleaned and out of your bag, props like drop cloths and stuffed animals organized but out of your way. Have a clock in plain view, and keep your cell phone off.
8. Don't force it.
Most importantly – stay calm. Don't pressure the baby to perform. Capturing them in their natural state will be more appealing than a forced or startled look. Use your calm soothing "inside" voice at all times, and smile at them – even if they don't smile back.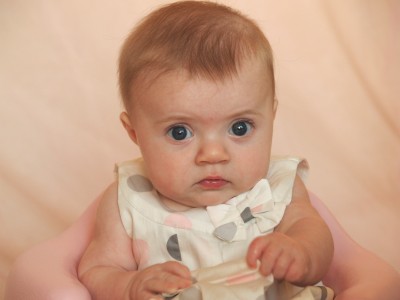 Try not to feel bad when you fall off your dream path.
It happens to all of us.
And when you do fall off track, enjoy the reconnection process to your dreams.
Have the confidence in knowing that every now and then you may need a break, but that your dreams will always be there, waiting for you. I promise.
Do you have any stories to share about successful photography shoots or experiences that re-connected you to your dream?
Rem
Remy's dream is creating opportunities for photography showings and public displays of her work.

Enjoy this special 8WomenDream Guest Contributor story submitted by new and experienced big dreamers throughout the world, edited and published to capture a dream perspective from different points of view. Do you have a personal dream story to share with 8WomenDream readers? Click here to learn how to submit dream big articles for consideration.
Note: Articles by Guest Post Contributors may contain affiliate links and may be compensated if you make a purchase after clicking on an affiliate link.