Last updated on March 5th, 2014 at 10:55 pm
There is no happiness that is a match for the bliss of falling madly, head-over-heels in love. I feel like the luckiest girl in the world to be finding happiness through love right now.
This past weekend, I had my first romantic getaway with my sweetheart, and it was absolutely magical. My boyfriend Byron (nicknamed Rafa) and I headed to the Jersey shore to stay at my parents' beach house.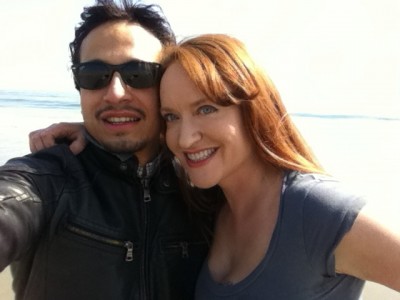 The Beach in Winter!
While it was not exactly "beach weather," we still got to walk along the beautiful shores of the Atlantic Ocean, and to enjoy some adventures on the boardwalk. Since the beaches are not crowded in March, we had the whole ocean and panoramic views practically to ourselves.
Rafa and I drove to New Jersey from New York Friday night, leaving late after one of my belly dancing performances. My romantic man bought me a single rose and brought it to my show.
We had decided to leave Friday night so that we'd have two full days at my parents' condo. We weren't able to take off until around 10 at night after my show, and ended up finally arriving in Longport, New Jersey at 4 a.m.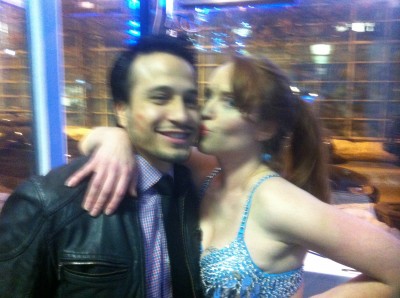 And the Magic Begins!
Byron took Monday off work so that we could relax and enjoy our time on the Jersey shore. Unfortunately, we found out that a giant snowstorm would be headed our way Monday morning, so we only had until Sunday night before we would have to drive home to upstate New York.
We knew we had to savor every moment of our time together on our first romantic getaway, which coincided with our one-month anniversary. Several of our dates up to this point had also very happily included Byron's beautiful son Gianluca, who is three years old.
This would be our first time to get a few days to ourselves, with no interruptions. We committed to staying off Facebook, which honestly is like a form of crack to me usually (I affectionately call it "Crackbook").
We wanted to stay as "unplugged" as possible so we could really just enjoy being together, and also work on our goals and dreams for our lives together.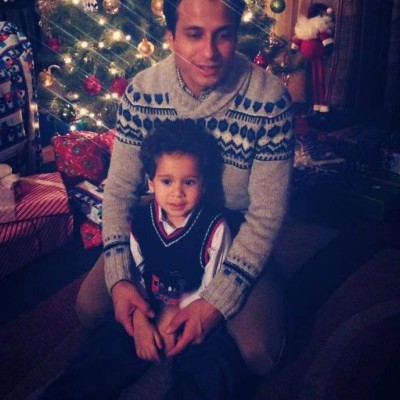 No Time Like the Present
It was lovely to be able to sleep in Saturday and then head out to enjoy a sunny day. We made the beach our first stop, parking the car half a block from the ocean.
Byron was so excited to be back by the water. Like me, he loves the ocean. We ran around, took pictures, wrote our love in the sand. And we collected shells.
I took off my shoes, rolled up my jeans, and ran down to the ocean. The water was freezing (I later found out it was 28 degrees) but felt amazing.
I felt so young, happy, alive and madly in love.
To the Boardwalk! 
We headed to Ocean City, New Jersey next, to walk on the boardwalk. Ocean City is a "dry island" (no alcohol allowed) which is very family-friendly.
Since it was off-season, some of the fun family-friendly attractions, like the amusement park rides and miniature golf, were closed. Byron and I are both adventurous and otherwise probably would have hopped on the ferris wheel and roller coasters.
We agreed that we need to bring Gianluca back here sometime soon, once the rides are open, and to have a fun family day here together.
We walked down the boardwalk as sunset approached, holding hands, popping into boardwalk shops that were open just to browse, and to find some gifts for Byron's mom and his beautiful son.
I picked out some dark chocolate caramels with sea salt for Byron's mom, since she is a chocoholic like we both are. And we found a number of small gifts for Gianluca, including a beautiful picture frame for a photo of father and son that said, "You are the best thing about me."
Byron and I also bought a picture frame for ourselves that said, "You make my dreams come true."
Fitting in A Bit of Regular Life
I had a few hours worth of work to finish still after a busy week, so Byron kindly let me steal a few precious hours of our time together to do that Saturday evening. We found a little pizza place in Ocean City, and he read while I focused on doing my work.
Then I was done, and could finally shut off my computer and phone for once, and just be with my love. When you really love someone, truly, madly, deeply, there is no better gift than some time alone together.
We wanted to celebrate our great fortune in finding each other.
Meeting the Family 
Sunday was a relaxed day; we made a big breakfast, worked on our dreams and goals together, cleaned up the condo to get ready to go home.
I did not know it yet, but I would get to meet Byron's whole family on Monday: his beautiful Mom, Grandmom and two brothers.
We both had taken the day off on Monday, and since we drove back to New York Sunday night, we had time free Monday. We picked up his son at 11 a.m. that morning from his son's mother's house, and then headed to Byron's Grandmom's house.
I got to spend a whole day just getting to know the family and playing with Gianluca, which was a little slice of Heaven. I got to thank Byron's Mom for raising such an amazing son, who turned into the most wonderful man I've ever met.
They welcomed me with open arms, and we made plans to all vacation together sometime on the Jersey shore. Byron's Mom said I am welcome in their home anytime.
I really felt like I was meeting my new family, and they felt the same. It was a regular love-fest, and a beautiful mutual admiration society.
Byron and I took Gianluca home after dark, and gave the boy a bubble bath. While Gianluca was in the tub, his father serenaded me with Spanish love songs.
I have never felt happier or more in love.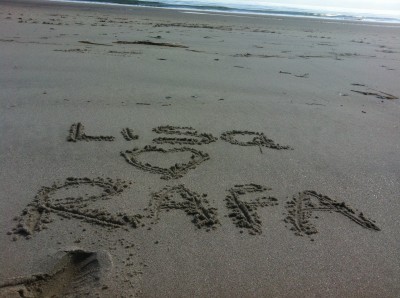 A Sense of Certainty
Wherever life takes us next and whatever happens next, there is a sense of certainty that Byron and I will be in it, together. There is no better gift.
I really believe we are all born to love, and that our time on Earth is like a school in which we learn, day by day, lesson by lesson, how to better love ourselves and others and God's magical Earth.
In the end, everything falls away except love. We do not take our possessions or our accomplishments or our money to the grave with us.
But we live on in the hearts of those we love. I am so thankful to be a woman in love, happier than ever, enjoying the greatest gift I've been offered yet in this lifetime.
I wish this happiness and bliss for everyone! I hope you find yourself falling truly, madly, deeply in love – with life, with love, with yourself, with this world.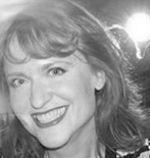 Lisa P. Graham is an inspirational writer, life coach, TED motivational speaker, and globe-trotter whose passion is to help others to find happiness and meaning in their daily lives. A political activist at heart, Lisa would like to empower more women to run for political office as a way to create positive change in the world. You can find her on her website or watch her TEDx speech on YouTube.
Note: Articles by Lisa may contain affiliate links and may be compensated if you make a purchase after clicking on an affiliate link.