Last updated on November 6th, 2019 at 01:59 am
It's that time of year again–time to think about next year and the goals you want to set so that you become a successful motivational speaker.
The best way to set goals is to first sit down and do a personal inventory of where you actually are with your dream. You may want to become a motivational speaker, but you've only talked in front of less than a dozen people, or maybe you've talked in front of some groups, but you haven't figured out what your "message" should be.
Remember that dream achievement is a process – a journey – and it's a journey that needs a road map. Setting goals is the easiest way to map out your journey and stay the course.
Here are My 8 Goals to Become a Successful Motivational Speaker This Year –
1. Join Toastmasters or a public speaking group.
All public speakers need a place to practice with a professional public speaking group. Public speaking groups are is an inexpensive way to improve your public speaking skills and test your message on a small group of people. It's also a great way to get the word out about your public speaking abilities. Companies looking for conference speakers often contact public speaking groups for speaker recommendations.
2. Decide what your message is.
Just like blogging, public speaking success requires a distinct niche message. Don't try to be a public speaker who talks about everything and anything and the same is especially true if the motivational sector is your public speaking choice. What kind of motivation are you offering? To girls? Women? Men? Business? What is the purpose of your motivational message?
3. Write a short book.
The best way to move your public speaking career forward is to create a book around your niche topic. Most conferences want public speakers who have a published book. Consider putting together a small book on your message topic. People like to have a physical representation of your message to take home with them and review later. Provide them with a take-away.  Also create a newsletter that people can sign up for on your website where you can email them on your niche subject.
4. Register with public speaking bureaus. Here's an example list —
5. Design your agreement and your terms for speaking along with your pre-program questionnaire.
Professionals have contracts and pre-program questionnaires ready to fax to potential speaking engagement coordinators.  Some great contract examples are here on the Be A Speaker website and here in an Ezine Article.  Here's a great pre-program questionnaire example.  If you haven't already, create a Speaker One-Sheet.
6. Create a professional website or blog.
A simple website or blog covering information about you as a public speaker is one of the best ways to secure public speaking engagements. Authority Publishing has the following great recommendations for what should be on your public speaking site –
Summarize your areas of expertise and what you have to offer.
Presentation title and description (What you speak about and for how long).
Testimonials from past speaking engagements.
List of past clients.
Video of a past presentations (A must in order to be booked by speaker's bureaus).
Fees and booking information.
Contact information.
A printable version of your Speaker One-Sheet.
An attractive, professional photo of yourself.
Links to your PowerPoint presentations from past speeches.
7. Speak for free at local community organizations and schools.
Small community organizations are always looking for speakers to offer their members. Contact local volunteer community organisations and let them know that you are available to speak for free. This is a great way to test your message and practice speaking in front of professionals. Make sure to list these events on your website.
8. Create a public speaking rolling suitcase.
Begin to collect everything you will need to have with you when you travel to events. You should have plenty of professional business cards, copies of your book, ways to purchase your book (do you only accept cash or check?), your marketing materials, pens and paper, a way for people to sign up for your mailing list to receive newsletters from you, extra computer batteries, Internet cables, extension cords, tablecloth, bottled water, mints, aspirin, antacid, and anything else you think you might need for speaking events.  Creating a checklist of the items will also help you remember when you need to replenish your suitcase stock.
Completing each one of these 8 goals next year will take you one step closer to your public speaking dream. Set a time-frame for each one and write a contract to yourself, promising to complete them within a certain period of time.
These are a few of my personal goals for the coming year. What are yours?
Who knows. Maybe I'll find myself speaking with you on a motivational speaker's tour next year!
Just pursue it –
Sue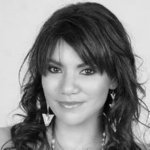 Sue Levy is the founder of the South African Just Pursue It Blog and Inspirational Women Initiative. She's a motivational writer and media designer, who is obsessed with everything inspirational with a hint of geek. She thrives on teaching women how to be brave and take big chances on themselves. You can find Sue on her Twitter page @Sue_Levy.
Note: Articles by Sue may contain affiliate links and may be compensated if you make a purchase after clicking on an affiliate link.