Last updated on May 17th, 2012 at 07:51 am
For Halloween, I thought I would blog about something that sounds a little shocking, maybe even frightening at first – Arizona wineries.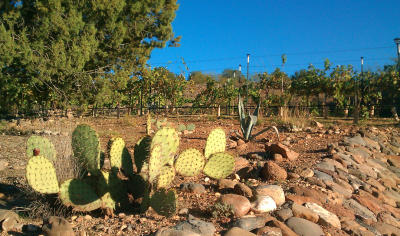 At first, I didn't believe it either. But then I remembered what one of my college friends, the "Cabernet King of California," told me: He said that all 50 states have wineries.
And they do. I can easily say this and Arizona is no exception. I've been to wineries in Alaska, Iowa and Michigan. I grew up in – don't laugh – Missouri wine country. (Ever had a Norton? It's our state grape, and it's amazing.) Missouri wine country is worthy of its own post to prove the naysayers wrong. So, if you are still laughing, I will just tell you that this Midwestern wine country I speak of was the first German settlement west of the Mississippi River. The Germans settled there because it reminded them of their home in the Rhineland.
Watch this romantic video of the German wine country to get a taste of what I am talking about —
Arizona Wineries 
This past weekend, I was in Sedona, Arizona, and decided to venture out for some Halloween kicks to the old mining ghost town of Jerome, Arizona. It's now a thriving artist community and tourist town, which is harder to find a parking spot in than Cape Cod, Mass.
Jerome is home to about 350 residents who live 5,000 feet above sea level. The town is carved out into three levels with one winding street that connects them all – that's the same switchback road you take to climb into the town on car.
This haunted setting is where my Arizona wine country adventure began.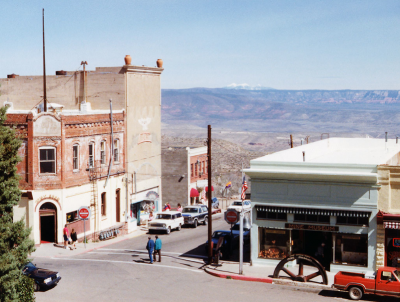 Photograph © Andrew Dunn, 1992.
Within this steep town, you can find three notable wineries, each has a tasting room in the town.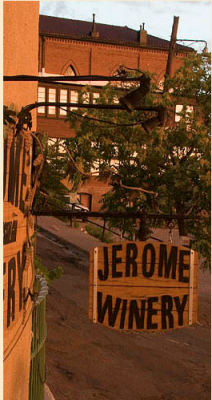 Photo: www.jeromewinery.com
Northern Arizona Wineries
In addition to the three wineries in Jerome, there are 11 other wineries just in Northern Arizona. Pair that with the state's three other wine regions, and you have a plethora of unique wineries you never thought possible.
After wine tasting in Jerome, my designated driver took the switchback road out of the mile-high town and headed toward Sedona.
I have been to that breath-taking red-rock country quite a few times. Home to new agers, outdoor enthusiasts, the wealthy and Ted Danson alike, you can do just as much hiking as you can do pricey shopping and psychic readings. (They also have wine tasting rooms there.)
This trip to Sedona had to be different for me. Before me and my party headed into that land of red painted desert, energy vortexes and soaring table mesas and sculpted buttes, we took a detour to see if vineyards can co-exist with lizards and agave cacti in the high desert of Arizona.
They can – and beautifully so.
The wine area near Sedona we stumbled into was Page Springs, Arizona. There are three wineries with vineyards there. We didn't have time for all of them because I fell in love with the first one we pulled into.
Page Springs Cellars, a place that has matched great local wine making while taking ambiance notes from Coppola in Napa and Matanzas Creek in Glen Ellen.
Bocce Court in front next to slightly sloping vines of grenache.
Gently flowing creek in the back of the property with two decks over looking it and more rolling hills of vineyards.
Palm trees next to weeping willows that stroke the vines.
A modernly crafted tasting room stocked with fine Arizona wines, masterpieces of photographic art of the surrounding scenes and leather couches for sitting and sipping.
And, possibly best of all, a small canvas tent tucked beneath the syrah vines where you can get a massage. I seriously imagine a portion of heaven to look and feel like this.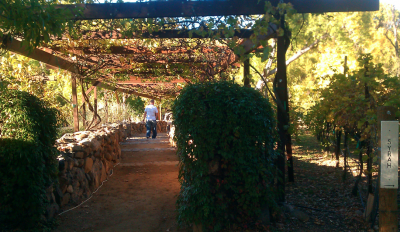 This is only the beginning of my wine country travel through Arizona. Stay tuned for more in Part II.
Where in the world do you like to wine travel?

Enjoy this special 8WomenDream Guest Contributor story submitted by new and experienced big dreamers throughout the world, edited and published to capture a dream perspective from different points of view. Do you have a personal dream story to share with 8WomenDream readers? Click here to learn how to submit dream big articles for consideration.
Note: Articles by Guest Post Contributors may contain affiliate links and may be compensated if you make a purchase after clicking on an affiliate link.