Last updated on November 18th, 2012 at 02:17 am
The results from my wine country travel poll are in. I asked you which American wine country region I should travel to first in my quest to visit various American appellations.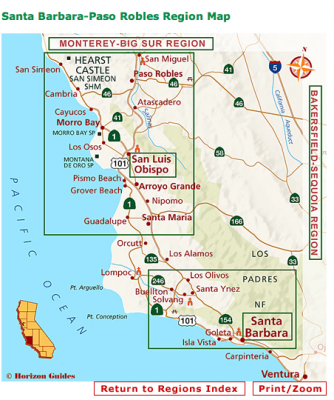 This map is courtesy of Free Maps and Guides
I started with the popular and well-known California wine regions in my first poll-the-audience question about my dream. In that instance, I asked you:
What wine country should I travel to first?
The possible choices were:
Napa Valley
Santa Barbara/Paso Robles
Monterey Country/Santa Cruz
Sonoma County
Other–to which Shellie Croft, a former dreamer here and wine aficionado, replied New Zealand
Shellie's reading my mind–California wine dreamin' aside, my ultimate dream would be to go back to New Zealand.
I went in 2009 and fell in love. Back then I had the amateur wanderlust–you know what I mean, when you first visit a place and you tell yourself you want to experience EVERYTHING. Yes, everything. And then you drive yourself crazy setting too high of expectations that don't get meet. The only thing you do meet is an exhausted version of yourself at the end of your trip.
At least I do, or I have.
That was my New Zealand trip. I wanted to see it all. I wanted to be blown away so I took 15 days to travel to the north and south islands of the country in a campervan. I drove a ton of miles and still had to cut my itinerary in half. Long story short, there's a lot left that I desire from New Zealand.
Despite the over-zealous agenda of my New Zealand trip, I still made time to smell the vines and sip the wines while watching the sheep graze on a hillside next to a winery that looked westward towards the Southern Alps and eastward towards the Pacific Ocean. (Last time I checked, this winery was for sale. OK, so that would be my ultimate, out-of-this-world dream–to buy this winery.)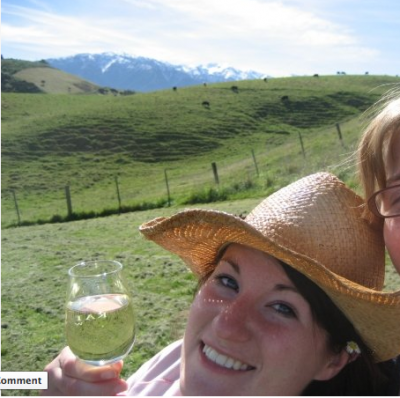 For now, I will get back to my California winery travel dream.
For some day later, I will dream of getting back to New Zealand someday to purely devour the South Island beauty, hikes, mountains and wineries.
And the Winner Is …
So who came out on top from my California wine country travel poll? Santa Barbara and Paso Robles. This is good. Really good. I have been to Santa Barbara before, but never to any wineries around there. When I lived in San Francisco, locals kept encouraging me to go to Paso Robles to experience an up-and-coming wine region that's less expensive and less pretentious than *other* wine countries in California.
My first thought was that these regions aren't close, are they? Close enough, I learned. My second thought was that this might be the perfect start to a California wine trip–start in the southern part of the state and work my way sipping up the coast.
Paso Robles Wine Country
All I honestly know about this region is that I like the J.Lohr Estates Seven Oaks Cabernet Sauvignon that one of my roommates buys anytime he is inviting a lady over for dinner and trying to impress her with his culinary skills. If the date doesn't end well, there's plenty of the Seven Oaks for me to happily polish off.
That little bit of personal research isn't enough to know about Paso Robles. So upon further reading, I discovered the region is:
Made up of large and small, family-run wineries alike
More relaxed, therefore: "Wearing a cowboy hat doesn't seem out of place here …" from California Winery Advisor.
Home to over 40 varieties of grapes
"Cabernet Sauvignon, Merlot, Syrah and Zinfandel make up 72% of the regions 26,000 acres of vineyards." from California Winery Advisor.
Santa Barbara Wine Country
Let's see … I know Oprah has a house here. It's a super fancy place to visit. And I once attended a friend's photography show at a gallery here. Oh, and one more important thing–the weather is amazing.
On a more serious note, if I visited, I could easily get lost in Santa Barbara's 100 wineries. So many choices, where should I start. This is where you, smart reader, come in and I ask another question to get some help from you.
What Santa Barbara and Paso Robles wineries and sights would you suggest I visit?
Happy Monday Off, even if only in our heads!
Katie

Enjoy this special 8WomenDream Guest Contributor story submitted by new and experienced big dreamers throughout the world, edited and published to capture a dream perspective from different points of view. Do you have a personal dream story to share with 8WomenDream readers? Click here to learn how to submit dream big articles for consideration.
Note: Articles by Guest Post Contributors may contain affiliate links and may be compensated if you make a purchase after clicking on an affiliate link.