Last updated on October 25th, 2019 at 12:53 am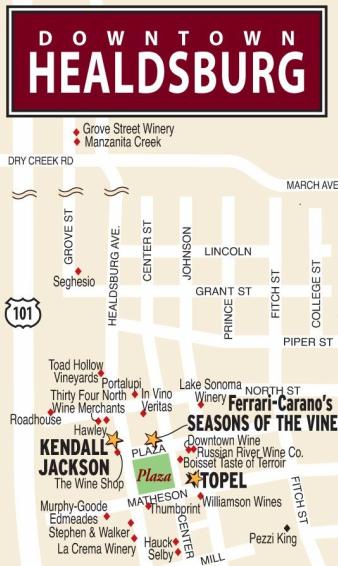 I have been writing about my world travel dream to visit wineries, and my first trip is now a reality. By asking you, the lovely audience, survey questions to help me narrow down where I should travel, I have figured out my itinerary.
I will be traveling to the North Coast of California in Sonoma County–with a possible extension to Anderson Valley.
In last week's survey question, which asked, "Which town/city should I visit in Sonoma County?" One destination came out on top.
It is Healdsburg, California. (Petaluma, California came in second. I have never been there before, and it's on the way to Healdsburg, so I might have to make Petaluma the second extension of my wine travel trip.)
One of the best parts about asking questions about where I should go is being able to get great and immediate advice back from people who have either visited or live in the Northern California wine region.
It's been a shining example of how your big dream can be accelerated when you allow other people to help you.
All of this interaction is exactly what I hoped for by putting my big dream out into the world.
The feedback and support not only takes my dream closer to reality, but it ensures that I am getting plenty of experienced advice so that I pursue the best dream path possible.
Sonoma County California Wine Travel 
Instead of visiting Healdsburg, one reader suggested I check out Santa Rosa, CA, and here's why:
Santa Rosa! One, because it's my home town, but the wineries on Westside and Eastside road, heading to Windsor through the Russian River Valley are the most beautiful. 
Another reader made a solid suggestion for a winery I should visit:
You should make an appointment with A.Rafanelli winery who does private tours of the family winery. They have some of the best Merlot see: ARafanelliwinery.com. The tour is wonderful and the wine is amazing and can only be purchased at the winery.
Experienced tips make this wine travel dream to a whole new level.
8 Sonoma County wineries on my travel bucket list
The Korbel story is more than a chapter in Sonoma County history. It is the saga of two enterprising families with pioneer spirits and old-world resourcefulness who envisioned the great opportunities emerging from the development of 19th-century America. There's a museum on-site, a brunch restaurant, beautiful gardens, and Korbel sparkling wines have been served at six United States presidential inaugurations! (Source: Korbel)
The Hop Kiln tasting room offers a fascinating glimpse into Sonoma's past. They invite you to stay awhile, selling picnic fare to enjoy on the benches overlooking their tranquil pond. The ducks, too, are given a place to relax — a replica of the Hop Kiln building floats in the middle of the water. (Source: SFCronicle)
Rodney Strong's winery story began in Sonoma County over 50 years ago, when a celebrated American dancer named Rod Strong settled in Sonoma County to pursue a second lifelong creative passion: winemaking. Rodney Strong Vineyards was the 13th winery bonded in the newly discovered Sonoma County wine industry. Through the years, Rodney Strong Vineyards has earned the reputation for critically acclaimed Single Vineyard and Reserve wines, stand out Estate releases, and best-in-class Sonoma County varietal wines. (Source: Rodney Strong)
4. Alderbrook*
Alderbrook is best known for its Zinfandel wine using grapes exclusively from the Dry Creek Valley AVA. The winery was founded in 1982, and they originally produced only white wines. The winery is known for its spacious picnic grounds. In fall and winter, the winery is best known for its roaring fire in the tasting room fireplace to dry you off from dodging the Sonoma County rainy season.
Dry Creek Vineyard was the first new winery established in the Dry Creek Valley after Prohibition. It was founder David Stare's vision to plant Sauvignon Blanc that firmly cemented the winery's legacy as one of California's most notable wineries. While visiting the winery, you can enjoy a snack paired with Dry Creek Vineyard wines on their beautiful picnic grounds, start a game of bocce, or take part in one of several educational wine tasting options that the winery offers (Source: Dry Creek Vineyard)
Since the early 1900s, the Rafanelli family has been growing grapes and making wine in the Dry Creek Valley. Four generations later, they are still keeping with the tradition, growing premium grapes and producing world-class wines. The winery is small, and is family-owned and operated, production is limited, with the focus on quality, not quantity. The family prides itself on producing consistently exceptional wines year in and year out, specializing in some of the most exceptional Zinfandel, Cabernet Sauvignon, and most notably their famous Merlot. Their wines are barrel-aged in an underground wine cave that visitors are escorted through for a fascinating tour. You have to make reservations to be allowed on the property. (Source: A. Rafanelli Winery)
Do I need to explain why? Francis Ford Coppola produces forty wines on-site in their state-of-the-art winemaking facility in Geyserville. There's a restaurant serving cuisine made to pair perfectly with their wines, a swimming pool for visitors, and a museum–you can guess what's showcased in it. I HAVE to see this place! (Source: Francis Ford Copella Winery)
I am told that no wine country experience could be complete without a stroll through Kendal Jackson's Wine Estate and Gardens. You are invited to indulge your senses and delight your palate with their food and farm-to-table wine pairings. There's private garden tours & Tasting, a Bocce ball court, picnic spots, and their lovely wines. (Source: K-J Wines)
In the 1800s, cuttings from the Spanish Franciscan mission's grapevines were used to start new vineyards throughout the northern California territory. Throughout the 1840s, mission and non-mission winegrapes began taking root throughout present-day Sonoma County wine regions: Alexander Valley, Glen Ellen, Dry Creek Valley, and Sonoma Valley–thus the Sonoma County wine country was born. (Source: Sonoma County Winegrowers)
I plan to see it and take it all in!
Katie Eigel
Katie Eigel is a St. Louis-based footloose and fancy freelance writer. Her stories and writings have appeared on public relations and marketing firm Edelman Digital's client's websites and Vayner Media. She currently considers herself a "wine geek in training." When she's not writing, you'll probably find her sipping wine with her husband and dear friends.
*This page has been updated to remove the link to the Alderbrook Winery website as the winery was sold and closed in 2014.

Enjoy this special 8WomenDream Guest Contributor story submitted by new and experienced big dreamers throughout the world, edited and published to capture a dream perspective from different points of view. Do you have a personal dream story to share with 8WomenDream readers? Click here to learn how to submit dream big articles for consideration.
Note: Articles by Guest Post Contributors may contain affiliate links and may be compensated if you make a purchase after clicking on an affiliate link.