Last updated on June 21st, 2012 at 08:55 pm
In last week's post about the wine AVAs of California, I asked you to help me re-plan my wine trip by starting with the question, "What county in the North Coast AVA should I visit for my wine travel trip?"
This week, we have a winner and an official destination for my California Wine Travel dream.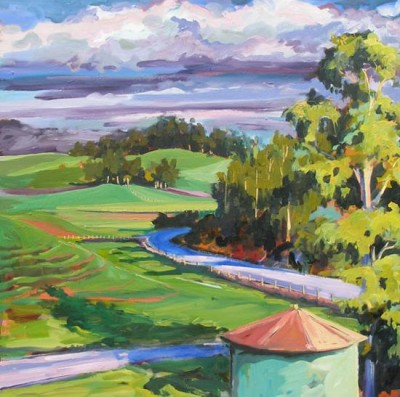 Sonoma Winter Series 3 by former dreamer Wendy Brayton
And the Winner Is  … Sonoma County!
It's probably worth mentioning that a distance runner-up wine country candidate with 20% of the votes went to Mendocino County. Not that I was trying to hold a "wine-off" contest with anyone, but Napa County didn't even get one vote. That was a little surprising to me.
Either way, it's off to Sonoma County I go!
But exactly where to is this week's survey question. I know there are a lot of savvy readers out there who are far well-versed in wine and travel then myself. Part of my dream is to learn from the best–this would be you. That's why I incorporate the survey questions into my dream quest. I do it because I value your opinion. I want you to help me make this wine travel trip come to life in the best way possible so we can all have it as a basis for when anyone of us wants to travel to the same places.
Sonoma County Advice from 8WD
Even with Sonoma County winning the battle, I received some great guidance and feedback from fellow dreamers in the comments section. Here they are, and I am seriously considering all of the ideas, especially Shellie's. If you didn't know, Shellie has worked in the Napa Valley in the wine industry before. I consider her a "dream mate" teammate in my process.
From Shellie
I love Anderson Valley, Katie! As you enjoy the super delicious wines, you are driving through the MOST spectacular scenery, and then whoa, through the redwoods and pop out at spectacular CA coast. This is what I did on my days off when I lived and worked in Napa wineries:)
Note: Anderson Valley is in Mendocino County, which took second in my survey last week. After searching at some places and pictures, Shellie has me sold on venturing up there–in addition to Sonoma County. 
If you REALLY want to make it a travel adventure, check the local tide chart, and if it's a minus tide, there's an amazing spot called Todd's Point in Ft. Bragg where my dad and I go abalone diving (you don't have to have SCUBA) just a wet suit, which are rentable in F. Bragg, and a license. How awesome to have uber fresh abalone with an Anderson Valley chardonnay, right there on the beach!!! LIVIN' LIFE!!!
From Heather
… not that I'm biased or anything – but living in the middle of Sonoma Wine Country does make for a fun trip. I love the Dry Creek and Russian River Valley wines!
From Catherine
Maybe you make part of your dream journey what it is like to connect with the 8 Women Dream women that live in the wine country. Maybe we can even get Shellie here and take you on a trek through the wine country and the experience of connecting with women you decided to take this online journey with but never met. There are some interesting private winery tours that would be amazing to go through together.
Survey Question of the Week
So we have Sonoma County. And Sonoma County has eight cities, one town and 13 AVAs–or designated grape-growing areas.
Cities and Towns
Cloverdale
Cotati
Healdsburg
Petaluma
Rohnert Park
Santa Rosa
Sabastopol
Sonoma
Windsor
Sonoma County AVAs
Of all these places, I have been to Healdsburg, Sonoma, Rockpile AVA (unforgettable Zinfandels), Sonoma Valley, Sonoma Mountain and Russian River Valley. While I more than enjoyed myself–and was more than served–I can't specifically remember all the wineries and places I visited. I've always had a sober driver, so I was free to thoroughly enjoy myself. But this wine trip will be different. I will enjoy myself, but I will remember the good times as I experience them.
With my fuzzy memories of past wine trips, I am asking you to help me decide what areas within the Sonoma County I should focus my efforts on this time around. I will start with the cities, then next week ask about the AVAs within those cities and finally onto the wineries in the chosen AVAs. Whew! That's a lot to shallow. If you are still with me, please bestow your expertise in this week's wine travel question.
[polldaddy poll=6017753]
I left out Sonoma, because I will certainly be spending time in the City of Sonoma–I still welcome and recommendations for that area if you have them. I already promised my current wine teacher I would go to Sebastiani, which is his former employer.
If you are so kind as to cast a vote, I encourage you to take a second and leave a comment about why you think the city you picked is tops and what are the can't-miss sights there.
Stay tuned next week as I take you one step closer in making my wine travel dream a reality.
Thanks for being a part of it!
Katie

Enjoy this special 8WomenDream Guest Contributor story submitted by new and experienced big dreamers throughout the world, edited and published to capture a dream perspective from different points of view. Do you have a personal dream story to share with 8WomenDream readers? Click here to learn how to submit dream big articles for consideration.
Note: Articles by Guest Post Contributors may contain affiliate links and may be compensated if you make a purchase after clicking on an affiliate link.