Last updated on July 13th, 2022 at 03:21 pm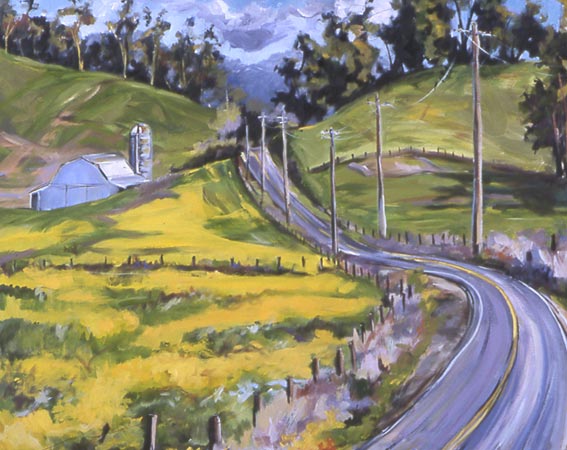 Once again the country hills are full of mustard. It signals to me that it's time to do some Plein Air Painting In Sonoma County, California.
The song The hills are alive with the sound of music . . . races through my mind when I stop to paint in such beautiful surroundings.
You know, the scene where Julie Andrews is singing on the hill with such abandon. It has always been stuck in my memory, bubbling up as soon as my eyes scan a particular countryside for a place to paint.
This "the hills are alive" emotion I feel returns as soon as I see the hills of the Sonoma County wine country begin to change into fall. The dry summer hills never inspire me to go out and paint–not to mention. the sweltering heat and dry winds.
As soon as the soft velvet green and mustard emerge as Autumn calls, my paintbrushes scream at me to take them out of my studio.
These fields of gold also make me think of my dream of painting in Italy. It is said that the reason so many Italians settled here and started wineries and farms was because this northern California spot resembles the Italian countryside of their birth. It felt like home.
Wendy Brayton
Wendy Brayton is a Plein air painter and teacher who enjoys working with bright colors. Her subjects are the rolling hills and fields of Northern California, with its oak and eucalyptus trees, old barns, and farm animals as subjects. Her dream is to paint in Italy.

Enjoy this special 8WomenDream Guest Contributor story submitted by new and experienced big dreamers throughout the world, edited and published to capture a dream perspective from different points of view. Do you have a personal dream story to share with 8WomenDream readers? Click here to learn how to submit dream big articles for consideration.
Note: Articles by Guest Post Contributors may contain affiliate links and may be compensated if you make a purchase after clicking on an affiliate link.