Last updated on August 27th, 2019 at 03:11 pm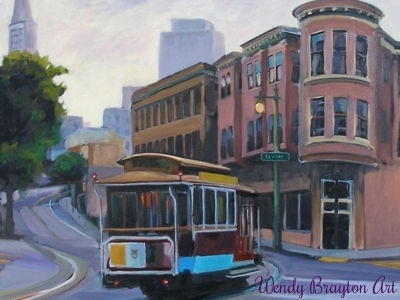 Crossing the Golden Gate Bridge at Sunrise is breathtaking. That's where I was Monday morning as I headed into the city on the bus to take my first figure drawing of the new college semester.
It's another step on my big dream journey to have my own art studio and Plein air paint in Italy.
I am fortunate to be living in such a place where I can further refine my Plein air painting techniques. As beautiful as it is to face your fears and move your big dreams forward, I now find myself in my second week of grad school and up to my eyeballs in homework.
Arriving two hours early for my first class, I found refuge in the warmth of a nearby coffee shop. The fog wrapped the city like a haze of smoke. As I sat sipping hot cocoa to warm my cold hands, I thought about my journey to become a Plein air artist.
And I thought about how I am not merely a Plein air artist; I am a joyful one.
Although this is a simple statement, it took me some time to come to terms with the idea of being a joyful artist. Earning my Bachelors in Art during the 21st century, I faced an art world focused on abstract, political, and often bizarre, disturbing pieces.
It was challenging to navigate as my artistic instincts push me toward beauty and joy. Twice during my education, I attempted to join the contemporary movement by making profound, dark pieces–they failed miserably.
Not only were they failures, but I did not enjoy the process. I concluded that art is self-expression, and one must be true to oneself when creating one's passion.
4 simple ways to remain true to your artistic self.
1.  Trust your creative instincts.
2. Create what you're passionate about not what the media dictates.
3. Do not give up on your dream–or your art!
4. Find joy in the artistic process. Be in the moment. Just do it.
This week I'm sharing some of my San Francisco pieces. I hope they make you feel a little joy.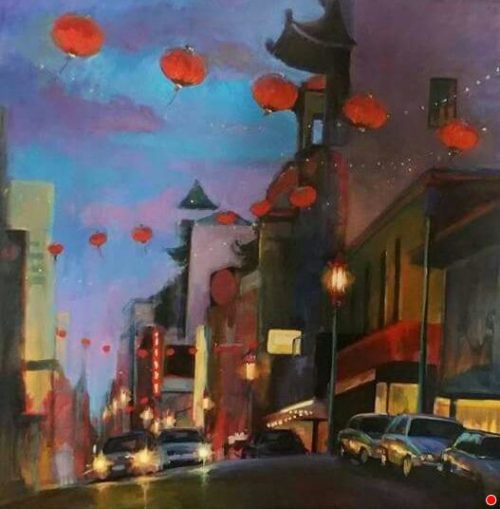 Wendy Brayton
Wendy Brayton is a native of Sonoma County, California and a Plein air oil painter who is known for her painted tractors and trailers, rural and urban Northern California landscapes, as well as figures and portraits. She has a BA in sculpture from Sonoma State University and an MS from the Academy of Art University. You can often find her painting and teaching in her dream new art studio in the beautiful Petaluma, California countryside.

Enjoy this special 8WomenDream Guest Contributor story submitted by new and experienced big dreamers throughout the world, edited and published to capture a dream perspective from different points of view. Do you have a personal dream story to share with 8WomenDream readers? Click here to learn how to submit dream big articles for consideration.
Note: Articles by Guest Post Contributors may contain affiliate links and may be compensated if you make a purchase after clicking on an affiliate link.