Last updated on March 7th, 2010 at 11:13 am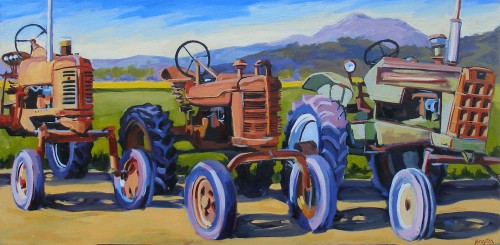 Last week started with a pity party.  Instead of painting Monday, I spent the day at the doctors being diagnosed with bronchitis and on the same day my husband had dental surgery which included bone grafting.
Tension was building as I awaited for results from the jury on the Napa Museum plein air show.
Two weeks passed since I delivered my art along with another friend's artwork.   On Tuesday my friend called me to say he had received a letter of acceptance. I did not receive a letter that day nor the next.  Sometimes the shows will send the accepted letters out first and rejections after.  I had felt very positive when I made the delivery  but as time went on I started to realize I might be receiving my fourth rejection letter of this year.  Thursday arrived and I ran out to the mail box and still nothing.  The reception was Friday and rejected artists were to pick up their pieces on Saturday.  I finally called.  Guess what?  I was in and do to some clerical error, a letter was not sent. The above picture is the one that was selected.
Friday night was the reception.  My painting turned out to be one of twelve that was selected to be made into a page for the 2010 Napa Art Museum calendar. When I received my award, the director said he needed to talk to me after.  It ends up one of the jurors wants to buy my painting when the show is over in June.  Another artist came up and introduced herself to me.  She said she has visited my studios and loves my work.  She recently became a member of Local Color Gallery in Bodega.  It is a co-opp gallery and she would like me be a guest artist.  To top off the evening, one of my friends received the grand prize of winning a solo show and it could not have happened to a kinder more deserving person.   Oh by the way, I spent all Friday painting a tractor in the perfect weather.
What an amazing day!
Wendy
(Wendy's dream is still to become a influential international artist, but she left 8 Women Dream in March of 2010 to complete grad school.  She is still a strong supporter of 8 Women Dream and you will see her in the comments on the blog.)

Enjoy this special 8WomenDream Guest Contributor story submitted by new and experienced big dreamers throughout the world, edited and published to capture a dream perspective from different points of view. Do you have a personal dream story to share with 8WomenDream readers? Click here to learn how to submit dream big articles for consideration.
Note: Articles by Guest Post Contributors may contain affiliate links and may be compensated if you make a purchase after clicking on an affiliate link.