Last updated on March 20th, 2019 at 03:43 pm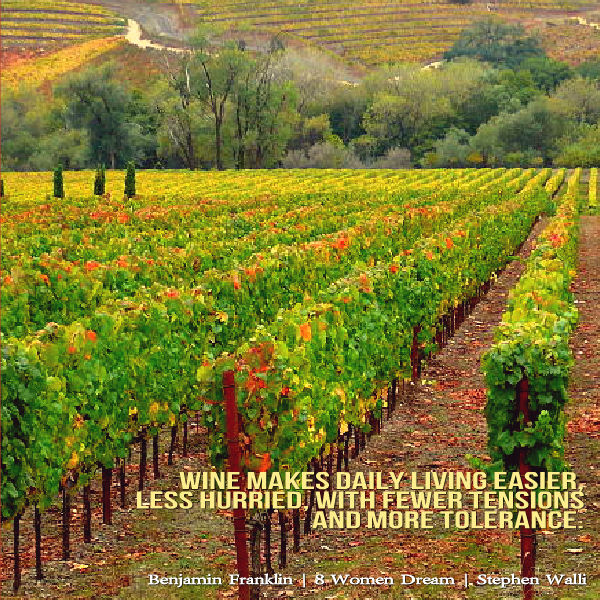 Is your big dream to travel to the heart of the California Wine Country and spend time exploring what some have called, "a wine-lover's paradise?"
Then today is your California wine country travel information day!
Nestled in the heart of the California wine country is the home of the 8WD project director, Catherine. It's where the 8WomenDream Project took off. Catherine will tell you that, while it is a lovely, and expensive place to live, she rarely thinks of it as a wine country region, even though she loves wine.
Since so many people dream of visiting the California wine country and have added it to their travel bucket lists, I thought I'd talk about traveling to the sunshine state to drink wine and ask the 8WomenDream founder, Catherine for her area travel tips.
Note that the California wildfires damaged only a small part of the wine country, but the winery destruction was limited to a tiny part of the California wine country–and a tiny portion of wineries. Northern California is rebuilding so you won't see the destruction unless you go on a search for it. Plan a visit to the region if it has been on your bucket list. You won't be disappointed.
California has much to offer if you are looking for a wonderful wine country experience. Napa is only one town in a state filled with grapevine-surrounded communities with excellent wines to share.
The California Wine country regions
There are six wine regions in California: North Coast, Central Coast, Sierra Foothills, Sacramento Valley, South Coast, and the San Joaquin Valley region.
• The North Coast wine region covers the area around the cities within certain north coast counties. In the county of Sonoma, it includes the towns of Santa Rosa, Windsor, Healdsburg, Asti, Cotati, Petaluma, Sebastopol, Occidental, Kenwood, Sonoma, Guerneville, Windsor, Geyserville, Cloverdale.
In Napa County the cities of Napa, Yountville, Rutherford, St. Helena and Calistoga. There's also Lake County and Mendocino County.
• The Central Coast wine region covers the area around the cities of Livermore, Paso Robles, Monterey, Santa Cruz, and Santa Barbara (think Sideways, the movie) to the south.
• The Sierra Foothills wine region covers the area around the cities of Placerville, El Dorado, Amador, Calaveras, and Murphys.
• The Sacramento Valley wine region includes the area around the cities of Sacramento, Lodi, Stockton, Clarksburg and the counties of Yolo and Solano.
• The South coast wine region covers the area around the cities of Los Angeles, Ventura, Malibu, Temecula, Riverside, Cucamonga, and San Diego County.
• The San Joaquin Valley wine region covers the area around Fresno, Modesto, and Madera.
The North Coast wine region
Sonoma County residents will argue that Sonoma County is the pure heart of the wine country with famous wineries such as Korbel Champagne Cellars, Francis Ford Coppola Winery, Kendall Jackson Wine Estates, Silver Oak Cellars, and Ferrari-Carano Vineyards & Winery.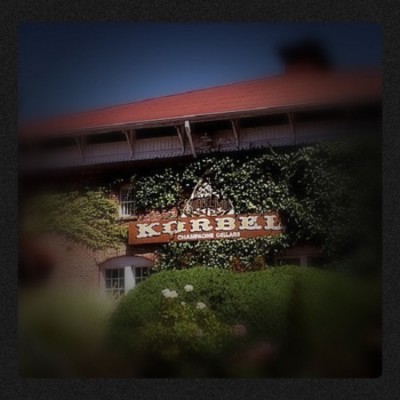 But it can be difficult to know how to plan your trip since even in these smaller regions the wineries are spread out in different locations, so it's best to look at a map and maybe plan on visiting four wineries in a day and explore that area.
California is a vast state and visitors always underestimate its size and how far apart locations can be from each other.
If you are coming to Sonoma County, Catherine recommends that you break up your visit this way (she was born in Santa Rosa and has watched the wine scene play out over the last 30 years) —
1. Russian River Region
This region is the area off of River Road, California starting with Korbel Champagne Cellars then drive east to Westside Road and visit the wineries on Westside Road to lower Dry Creek Road ending in Healdsburg. Healdsburg has a lovely downtown square with grass and benches for picnicking and some fine dining expereinces.
Favorite winery along this route: Korbel champagne cellars if you are new to the area. Their excellent guided tour explains the rich history of this region.
2. The Lake Sonoma Region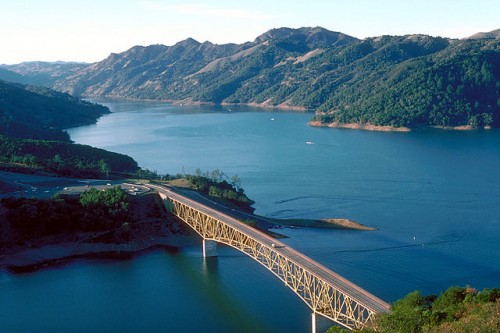 Start in Healdsburg at West Wines or Murphy Goode and move on to Dry Creek Road again. Locals consider Dry Creek in two sections – lower Dry Creek below Madrona Manor at Healdsburg and upper Dry Creek above (or north) Madrona Manor at Healdsburg.
Favorite winery on this route: A. Rafanelli Winery (you have to call and make an appointment, but well worth it!). Pack for a picnic as so many wineries along this route offers great outdoor eating areas, or you can wait and picnic at the grounds on Lake Sonoma and stop at the salmon fish hatchery.
3. The Knights Valley / Alexander Valley Region
This route begins by taking the Shiloh exit off of highway 101 in Windsor traveling east to Faught Road and turning left, then turn right on to Chalk Hill Road and follow the winery signs. Start at Hoot Owl Creek Vineyards and be sure to end with Catelli's restaurant in Geyserville.
A favorite stop along this route: Calluna Vineyards. The winery is located high above the town of Windsor with 360-degree views of the Russian River Valley, Chalk Hill, Alexander Valley, and Mount St Helena, making it an ideal romantic stop. This red wine lover's paradise produces bold Bordeaux. If you wish to visit, be sure to plan and make a reservation.
This route is on the highway between Santa Rosa and Sonoma known as highway 12. This route can be a dangerous two-lane road. Accidents that happen here don't bode well. But it's worth a trip to see this area known to locals as "The Valley of the Moon." Glen Ellen Village Market & Deli is worth the stop along the route for deli items to take to wineries or any of the state parks for a picnic.
Ledson Winery & Vineyards is worth the stop to see the site, but a favorite winery along this route would have to be St. Francis Winery. End your tastings in Sonoma and take in the downtown park and the Vella Cheese Company of California located at 315 Second Street East. If you are in the area over the 4th of July, Sonoma hosts a grand downtown parade and festival in the park.
Note: There is no way to travel the entire Sonoma County wine region in one day.  If you want to do that–stay a week.  You'll be lucky to get through part of one wine region in a day.
As for places to stay, Catherine recommends avoiding lodging on Santa Rosa Avenue in Santa Rosa itself. It's an industrial and shopping road with a homeless problem. A favorite hotel is the Hyatt Regency Sonoma Wine Country because you can walk to downtown restaurants, visit the Smart Train Depot and Visitor's Center, and shop in downtown Santa Rosa. There are also some quaint Bed and Breakfasts in the area. A few travelers love the out-of-the-way Flamingo Resort and Spa Hotel (Note: Flamingo will be going through renovations in 2019 so be sure to ask about it when you book a reservation) with its massive swimming pool and cocktail service. There's also always a Sonoma County Airbnb.
Other California Wine Country places to visit in Sonoma County
• Petaluma – Explore the downtown area and visit the bar in the back of long-time Petaluma family-owned Volpi's Italian Ristorante. If you don't eat at Volpi's try the Italian food at the highly-acclaimed Risibisi restaurant. If you love live band music check out the events at the Mystic Theatre. The police are persnickety in this town so consider yourself warned.
• Jack London State Historic Park. Lovely spot for a picnic and a hike.
• McDonald Avenue Santa Rosa. Be sure to take a photo of Hitchcock's movie "Shadow of a Doubt" house at 904 McDonald Avenue, "Scream" movie location 824 McDonald Avenue, Disney's "Pollyanna" house at 1015 McDonald Avenue. If you happen to be in Sonoma County over Halloween, take in McDonald Avenue after dark to witness the mini Halloween mardi-gras, with people walking the streets in costume, unofficial marching bands, and the incredible Halloween-decorated houses lining the street.
• Charles M. Schulz Museum. The locals don't think a lot about this place because they could see the man himself sitting in his corner of the ice arena whenever they wished, but they do love that there is a place for people who never knew him to enjoy his work. Visitors rave about the museum experience. There's the Snoopy ice arena next door if you fancy renting ice skates and ice skating.
• Annadel State Park & Spring Lake. If you like to walk or hike, this is a great little treasure right in the heart of Santa Rosa. Bring a picnic and enjoy a meal under the trees. There are plenty of park benches and picnic tables. Parts of the park also have bar-b-que pits.
• Safari West. Safari West is a 400-acre private wildlife preserve located in Sonoma County, California, United States. The selection of wildlife emphasizes species native to Africa, including giraffes, rhinoceros, cheetahs, and numerous species of birds. You can also book a tent-cabin on the reserve and hang with the animals (Source).
• Wild Flour Bread Bakery. It's famous for its brick oven baked sourdough bread, scones, and biscotti.
• Gravity Hill. Located at the top of Lichau Road in Rohnert Park. If you can find it, it's worth the illusion.
• Bodega and the Sonoma coast. Have you placed your feet in the Pacific ocean? It can be windy, the water cold with dangerous riptides, but a definite must-see experience for the sunsets. Pay the day park fee at Doran Beach and spend the day there if you are concerned about the waves. It's a family and dog-friendly beach where it's safe to enter the water. There are picnic benches and bar-b-que pits. West County is dog-friendly, but only certain beaches allow dogs. In the summer months or on 3-day holiday weekends, arrive at Doran Beach early in the morning, or you won't get into this state park. Once the parking lots are full (they fill in the morning), you will be turned around at the gate, and there's no other place to park nearby. On the way there, see if you recognize the famous scene locations from the movie, "The Birds."
• Lake Sonoma. Locals know how to get to the water for a nice swim by way of Dry Creek Valley Road. Ask. If you visit the large park side of the lake where the main boat launch is located instead, there's an interesting salmon fish hatchery that all kids love–they can even feed the fish.
• Armstrong Redwoods State Reserve. If you love California redwoods and love to hike this is a must see on your trip to Sonoma County. Guerneville has always been interesting. Stop at Boon Eat + Drink.
• Occidental.  Eat at Howard Station Cafe–especially for breakfast.  Note that Howard's is a cash-only establishment, but there is an ATM available at the back of the restaurant. Old-time residents love Negri's Italian Dinners & Joe's Bar.  Mama Negri is still there seating everyone from time-to-time.
Final thoughts on the Northern California wine country
The best time of year to visit Sonoma County is during September and October when the tourists have left, and the county experiences its Indian summer. Summer weather in Northern California tends to occur in August, September, and October. Locals joke that Halloween is the night when the weather finally changes from hot summer to fall and the rainy season begins. Bring a sweater or light jacket with you when you go out for the evening because as soon as the sun goes down, the temperatures drop and the fog often rolls in.
The wine crush happens during this time as well and depending on Northern California weather. If you are lucky you'll arrive while the crush is happening and get to see the grapes harvested from the vine.
The first weekend in October the Sonoma County Fairgrounds hosts the Sonoma County Harvest Fair. The Harvest Fair is a yearly celebration of Sonoma County's abundant harvest of world-class wines, award-winning craft beer, cider, and a showcase of culinary treats. A true farm-to-table experience and wholesome family fun inspired by the county's farmers, ranchers, vintners, and producers. There's also the famous World Championship Grape Stomp.
January, February, and March are the rainy months in Sonoma County. February is typically the coldest, but once in a while, a week of sunshine and a false spring can occur.
Now that you have all this great California wine country information book your big dream to visit the Sonoma County region!
Natasha von Geldern
"The grapes on a score of rolling hills are red with autumn flame. Across Sonoma Mountain wisps of sea-fog are stealing. The afternoon sun smolders in the drowsy sky. I have everything to make me glad I am alive. I am filled with dreams and mysteries. I am all sun and air and sparkle. I am vitalized, organic."

– Jack London
Natasha von Geldern is a travel writer, editor, and blogger who is passionate about making the pages of the atlas real by traveling the world. She is a contributor to Travel Wire Asia, Wild Junket Magazine, Yahoo! Total Travel, and Travelbite. You can find her on her travel website and blog, WorldWanderingKiwi.
Note: Articles by Natasha may contain affiliate links and may be compensated if you make a purchase after clicking on an affiliate link.