Last updated on January 23rd, 2019 at 10:40 am

Let Other People Sell You As A Motivational Speaker
The most powerful way to get business as a motivational speaker is from people who have seen you speak. Most clients prefer to book speakers they've seen before. This isn't always possible. So the next best thing for them is to talk to other people who have heard you speak.
Enter in the testimonial.
Just as we are always more convinced by reading the reviews on an app, than what the app tells us about itself, so are clients more apt to believe what others say about us more than what we say about ourselves.
People buy based on emotion, and story is emotional. Story allows our client to see what it looks like when they use our product. That is what great testimonials offers them – a story of how it would feel for them to book us as a speaker.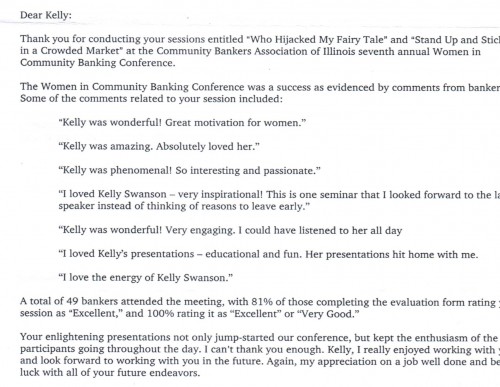 How Motivational Speakers Get Great Testimonials
The easiest way to get a testimonial is to ask for it.  if your client isn't busy (that's key) and you have a little down time directly following the event, perhaps you can get it then. I have often found that the best time to ask is a couple of days after the event is over. Send an email to the client, thanking them for having you speak, and say something like,
"My business is based on word of mouth. If you were happy with what I brought to your event, I would love a short testimonial letter indicating what you asked me to do, and how I delivered."
Sometimes when a client asks me to reduce my fee, then one of the things I will require in return is an extensive testimonial letter on their letterhead.
Sometimes it's very hard to get clients to send you that testimonial. It could be a number of reasons like they are busy, or they didn't really like your program. I usually only ask once and then let it go if I don't get an answer.
It's often helpful to prompt your client who might not be sure what to write.
Often I will tell my client:
"When you write the testimonial, please keep in mind that any future potential clients will read this letter and wonder if I'm funny, if I'm motivating, how easy I am to work with, what kind of slot would my program work for, what people in the audience thought, etc."

Great testimonials don't have to be in writing
Video testimonials are great but require a little bit more work.  And you have to remember that many people do not like to be put on camera. And sometimes when they do, they freeze up and don't know what to say. So ask them ahead of time if they feel comfortable, and have some questions to ask them about the program.
I once did a job and my husband was at the back door of the ballroom with a video camera, and as people were walking out he asked them to comment on the show.
We got some great authentic videos from that.
 Great testimonials don't have to be slick and polished
I think it's almost better that they aren't too slick and polished. I don't want them to feel like television commercials. I want them to feel like real live people in the hallway sharing their experience. It's more believable that way.
Where To Use Great Testimonials
Here is a list of 16 places where you can use your testimonial:
1. On the home page of your website in a visible location.
2. On a separate page of your website under a tab called "testimonials."
3. On your one-sheet/brochure.
4. On your proposals to the client.
5. As part of the printed program for the event.
6. Part of the description of the program.
7. At the bottom of your email signature.
8. On your marketing postcards.
9. On your social media sites.
10. In your social media posts.
11. In your blog posts.
12. In your program, as a subtle seed for more business.
13. On order forms.
14. On the back of your business card.
15. On the phone in your sales calls.
16. In promo videos you prepare for the client.
Kelly
[fbcomments]
Kelly Swanson is an award-winning storyteller, motivational speaker, published author and TV personality who is passionate about helping women harness the power of their stories to connect, influence, and get the results they dream of accomplishing. Laughing the whole way, Kelly teaches women how to master the art of connection through the power of strategic storytelling. You can find her on The Fashion Hero show airing Fall of 2017 on Amazon Prime or on her website MotivationalSpeakerKellySwanson.com.
Note: Articles by Kelly may contain affiliate links and may be compensated if you make a purchase after clicking on an affiliate link.