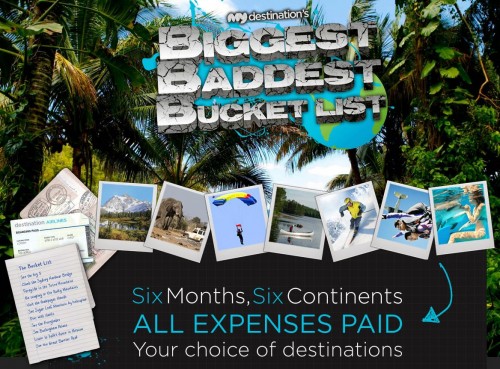 Do you have a travel dream bucket list?
Have you ever wanted to climb the Eiffel Tower in Paris, bungee jump in Queenstown, discover the amazing wildlife of the Galapagos Islands or visit the Mayan ruins of Cancun, Mexico?!
Have you dreamed about blogging your travel experiences for the world to read?
My Destination is giving away an all-expenses paid 6 months, 6 continents–your choice of destinations, trip around the world.
Not only do you get to choose where you want to go (making the bucket list truly personal) but the lucky winner gets to tick everything off at once during an incredible 6 month round the world journey. No need to wait a lifetime to complete this ultimate bucket list – it's all ready and waiting to be completed NOW!
It's the ultimate chance to kick off your travel bucket list … and they're also throwing in 10,000 cash.
When you return home, there will be a $50,000USD cash prize waiting for you! You could spend it on going away for another year, a new car, paying off that student loan, starting a business or buying a home… the choice is yours. You'll have worked hard for My Destination while you travel (producing blog posts and video posts) so they think you deserve it.
The winner will receive a camera, phone and any other technical wizardry that you'll need to produce your posts on the road. After the trip they'll be yours to keep.
How to Enter the Travel Dream Blogger Bucket List Contest
1. Create your very own video sharing your local knowledge and tips for people who might visit your destination, and not longer than 3 minutes. It must be your original material, presented by you, and created specifically for this competition.
2. Write a blog post (between 200 and 500 words) about an interesting travel experience you've had. It must be your own experience and written by you.
3. Provide 3 photos that you took yourself relating to the blog post in item number 2 above.
4. Visit the 1 Video. 1 Travel Tale. 3 Photos. page at My Destinations for complete details about the contest.
The travel dream bucket list contest closes on March 31, 2013.
Come on! Enter the contest and make your travel dreams and travel blogger dreams come true!
Good luck!
Natasha
Content rules and contest image by My Destination.com
Natasha von Geldern is a travel writer, editor, and blogger who is passionate about making the pages of the atlas real by traveling the world. She is a contributor to Travel Wire Asia, Wild Junket Magazine, Yahoo! Total Travel, and Travelbite. You can find her on her travel website and blog, WorldWanderingKiwi.
Note: Articles by Natasha may contain affiliate links and may be compensated if you make a purchase after clicking on an affiliate link.