Last updated on April 27th, 2014 at 12:49 pm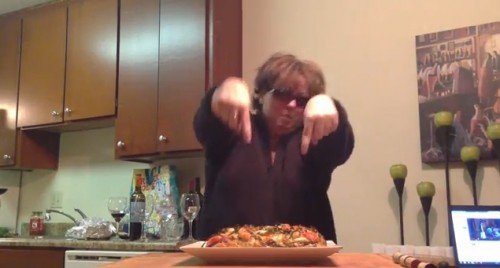 Someone once said that creativeness comes from personal hardship.
Really?
Then I should be Mozart by now.
It's mid-February and my main dream of financial stability is coming along. I am taking the necessary steps to get there, but I'm not saying it's easy.
My dream of being healthy is in the works also– I've joined a pretty serious volleyball league which will either kill me, or, put me in great shape. I played volleyball in college and I've played in many competitive leagues throughout my adult life. I also joined a tennis league where there will be travel to other parts of California. We will play quite a bit in Palm Springs, California. It's warm there and that's something I can deal with.
I've had the hardest time completing this blog post because I feel like although I am actively working towards a few of my dreams, what do I have to tell you about my culinary dreams this week? I don't want to tell you the same stuff over and over. I don't want to whine about how winter is slow for my business and how I live on Pepto Bismol.
To tell you the truth, I'm tired of the ups and downs of my life while working so hard to just stay afloat. I decided that it was time to change my attitude.
I woke up the other day and I knew I had to look at my bank account. I planned to do it this time without a sedative. As I blankly stared at my finances, I had a vision of throwing caution to the wind and flying to the Island of Fiji.
But instead of looking at the small picture; I thought of the big picture. I thought, "Don't let this crap get you down. You are cool and you are creative. People look up to you. Act the part."
So I did.
I stopped thinking about not having a lot of work or the balance in my bank account. I just put on some great music and I began to work on several creative ideas. Ideas that are hip and could easily start a new trend.
Do you want to get attention and respect? Do you want to be thought of as cool?
Wear Chef clothes.
Ever since I've started cooking as a profession, I have been amused at the way people react to seeing someone in a chef coat.
I once received special attention at the Department of Motor Vehicles in California when I was having trouble getting my tags because of residual Louisiana bull shit. I told the man who helped me that I would make him some Gumbo for going out of his way to resolve my issues. I could tell he didn't believe me. The day I walked in the DMV with a big container of Gumbo (which helped the odors in that big room) people's heads were turning. I waited for him to look up and when he did, he had the biggest smile on his face. He received a delivery from a chef. A gift of appreciation. From a Chef.
I got my tags and he got his Gumbo.
The culinary industry is brutal so I've decided to take a different approach. I'm acting on my confidence. A dreamer's life is not linear. It's filled with surprises that are great often mixed in with stuff that's not so great.
Disappointment can kill your dream confidence, but you only get back what you are willing to put out there, so you have to keep on putting it out there until you hit one out of the park. My attitude change is that I believe that I am capable and I am doing it Gangnam Style.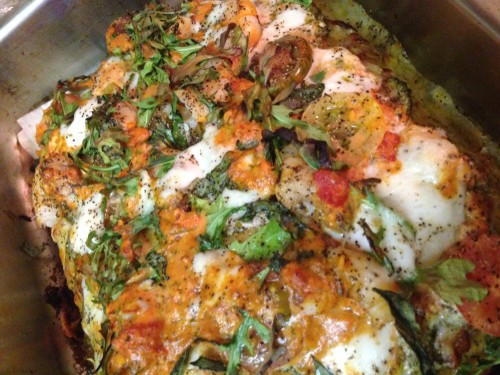 The other night I had the pleasure of hanging out with a few of my fellow 8 Women Dream ladies as part of the celebration of changing my attitude. We laughed. We drank wine. We played like teenagers. The girls bought ingredients to me and my job was to turn it all into something. I made us a pizza–Gangnam Style.
Here are the outtakes leading to the actual video.
Pizza and cheesecake Gangnam Style Take I
Pizza and cheesecake Gangnam Style Take II
Will you learn how to make pizza from the video?
Nope.
But you will learn how to have fun with your passion and your dreams and to not waste time looking at the dark side of your life. You are cool enough to rock this dream world, so just go do it.
Gangnam Style.
Part of this is just to remind you to not take your dreams so seriously and take time to play and have fun.  Sometimes the best part of a movie are the outtakes.  The same can be said about living the dreamers life, so have fun and live it Gangnam Style, which means quit worrying so much about what other people think.
Maria
PIZZA GANGNAM STYLE
Serves 6-8 Californians
Or 1 New Orleanian
1 pkg Trader Joes's flatbread or foccacia bread
1 jar Trader Joe's marinara
Fresh mozzarella
Finely chopped garlic
Tiny heirloom tomatoes
Fresh basil
Heavy cream
8 large shrimp
A big handful of arugula
Kalamata olives
Your favorite pesto
Black pepper
Heat about a half of a cup of marinara with heavy cream until the sauce looks light red. Add the garlic. Spoon the sauce on the flatbread then follow with the pesto, half of the mozzarella, arugula and olives. Put a little more marinara on top. Add another layer of mozzarella, arugula and olives. Add half sautéed shrimp, lots of heirlooms, fresh chopped basil and more arugula. Sprinkle with black pepper. Bake at 400 degrees until the bread is crispy and all is nice and melted together on top.
*This pizza is a very easy way to serve something awesome to your friends and family without a lot of work. I don't do dough…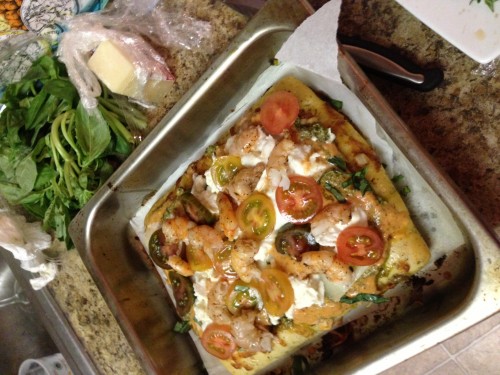 Enjoy this special 8WomenDream Guest Contributor story submitted by new and experienced big dreamers throughout the world, edited and published to capture a dream perspective from different points of view. Do you have a personal dream story to share with 8WomenDream readers? Click here to learn how to submit dream big articles for consideration.
Note: Articles by Guest Post Contributors may contain affiliate links and may be compensated if you make a purchase after clicking on an affiliate link.