Last updated on October 25th, 2023 at 03:57 pm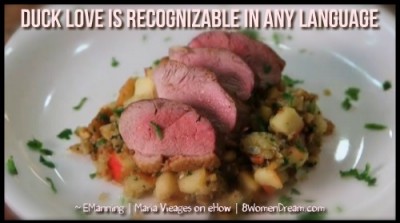 So, your big dream is to be an executive chef?
The holidays are the perfect time to master your culinary skills, especially if you plan to feed a large group of people and practice getting the course timing right without undercooking or overcooking your dishes.
If you're committed to being the official executive chef for your holiday dinner, try a twist on traditional family favorites and invent something new that speaks to the chef you are working to become. I want to share one of my favorite stuffing and side dish recipes that are always a big hit with my clients, especially at the holiday celebrations I cater.
The difference between stuffing and dressing is that stuffing is placed inside the bird, and dressing is cooked outside the bird. If you choose the stuffing method (inside your bird), it can complicate the cooking process, so you must ensure your bird reaches the correct internal temperature to prevent food poisoning.
Nothing is worse than getting your guests sick with culinary "experiments." Right? Judging by your guests' responses, you can decide if my stuffing/dressing recipe is a keeper or if you need to adjust or discard it and find one that is right for you and how you like to cook.
This duck stuffing recipe video is one more in the video series I've been filming with eHow, moving my executive chef dream along.
Here's my "How to Make Duck Breasts with Duck Stuffing" Video
You can see that I was beginning to relax more in front of the camera since taking my culinary advice online. To become a celebrity chef, you've got to put yourself out there and practice working in front of a camera.
As with all things culinary, practice makes perfect.
Here's the Written Duck Breasts, Duck Stuffing/Dressing Recipe
You can use boneless, trimmed duck breast (remove the skin) that you've marinated with water and sea salt to create the duck fat and serve it sliced as a side dish to your main holiday meal.
Let your duck breasts sit on the counter for at least 30 minutes to bring them to room temperature before pan-frying.
Pat the duck breasts dry with paper towels, and to sear the breasts properly, use a steel or cast iron fry pan on medium-high heat. Be sure to press your duck breasts while frying to improve the searing.
After sauteing your duck, set them aside to rest on a cutting board, and leave the duck fat in the skillet over medium heat. You can also buy duck fat at your local upscale grocery or order it online.
Do not fry the breast and stuffing ingredients at too high a temperature that the fat begins to smoke.
3/4 cup Duck Fat
1 pound day-old french bread, sliced into 1″ pieces (3-8 cups, depending on the number of guests)
1 medium sweet yellow onion
1 1/2 cups 1/4″ sliced sweet apple (make sure it's an apple that doesn't get mushy when you cook it)
2 tablespoons chopped fresh garlic (more if you love garlic as I do!)
½ cup pine nuts, pecans, or walnuts, depending on the nut flavor you enjoy.
½ cup fresh parsley, chopped or 3 tablespoons dried parsley
1 ¼ – 1.75 cups turkey or vegetable broth (you can also add about 1/4 cup of whipping cream for extra flavor).
2 teaspoons salt
Sometimes, I add chopped bacon and mushrooms to this recipe. About 6 slices of cooked bacon, chopped, and 2 cups chopped mushrooms.
Saute onion (add chopped celery if you like it–2 ribs). Add apple, nuts, and garlic to taste. Toss in 3-8 cups of your favorite bread cubes for stuffing (depending on the number of people – 3/4 to one cup of bread per person). Add parsley. You can also add 2 tablespoons of chopped sage if you have to have that flavor with your holiday dressing.
Line the baking dish with duck fat or butter. Put the dressing in a baking dish on the middle rack of the oven and bake at 350 degrees until golden brown and crisp around the edges, about 30 to 35 minutes.
Scoop the dressing onto a platter and feather slices of the duck over one side. Or leave the stuffing in the baking dish and serve it separately from the duck slices with your holiday meal.
Eat, drink, and enjoy chasing your executive chef dream.
———-
Maria Vieages
When not cooking as a private chef, Maria Vieages resides in New Orleans, filming cooking segments with the Hallmark Channel, HGTV, and the Food Network, and occasionally working as a guest chef with Celebrity Cruises. You can find out more about Maria at her website RealMaria.rocks

Enjoy this special 8WomenDream Guest Contributor story submitted by new and experienced big dreamers throughout the world, edited and published to capture a dream perspective from different points of view. Do you have a personal dream story to share with 8WomenDream readers? Click here to learn how to submit dream big articles for consideration.
Note: Articles by Guest Post Contributors may contain affiliate links and may be compensated if you make a purchase after clicking on an affiliate link.