Last updated on April 27th, 2014 at 12:47 pm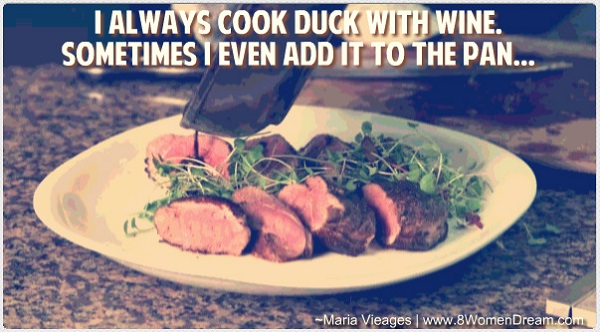 In last week's post, Moving from Fear to Fire is to Be a Happy Celebrity Chef I shared the story of how I have begun to make videos for eHow, and how my duck recipe set off all the fire alarms at the building where we were filming and the local fire department was alerted.
The point of this video was really not about bringing out the local fire department for a taste, all dressed in uniform carrying hoses, but to share a fast recipe for cooking duck with a marinade.
This is one of my first videos with eHow and proof that you should move forward on your dreams by putting yourself out there and stop worrying if you are not perfect.  To become a master at something you must repeat a process over and over.
Working with eHow allows me to practice being a chef on camera.  Scary? Hell yes.  But you must do the things you fear in order to grow and make your dreams come true.
Panglaze Marinated Duck Breasts Video –
Now if you are looking to date some local hot firemen and want to try this duck recipe so that you can set off all of the fire alarms in your neighborhood, here's how –
For the duck you'll want to have two duck breast halves that are 12 to 16 ounces each.  For your marinade you will want to combine the following to taste:
1/2 Cup Olive Oil
1/4 Cup Balsamic Vinegar
1/4 Cup Favorite Red Wine
2 Sprigs of Fresh Rosemary per Breast
2-4 Garlic Cloves
1 1/2 Teaspoons Sea Salt
1 Teaspoon Freshly Cracked Pepper
Place your duck breasts in the marinade and cover with plastic wrap, and marinate over night (or at least 6 hours – more is better) in the refrigerator, turning them over at least every 3 hours.
When you are ready to pan sear and cook the duck, remove the breasts from the marinade and slightly pat them dry (or shake them over the marinade bowl) and set aside on a plate.
You will want to have a cup of red wine and 1/4 cup of your balsamic vinegar next to you at the stove.
Turn your skillet on to medium heat and pre-heat the oven to 400 degrees. Add enough oil to the pan to prevent sticking.
Now, some chefs like to score the duck breasts on the fatty side by using knife to cut about 1/8-inch into the skin in a cross pattern. Add the duck breasts to the skillet with the fatty side down, and cook each side until the skin is brown and crispy which takes about 7 – 9 minutes. Pour off extra fat down to enough to keep the pan moist (about 2 tablespoons). Be careful when doing this and be sure to wipe off any fat that gets on the outside of the skillet. Increase the heat to med-high and to create your panglaze.
Add the cup of your favorite red wine to the pan and carefully light with a long match if the flame doesn't ignite by itself. Move the pan around until flames die or cute firemen appear in your kitchen. Add about 1/4 cup of the balsamic vinegar.
Add 2 sprigs of rosemary to the pan and place it (pan and all) into the 400 degree oven for about 10 minutes. Remove from the oven and allow the breasts to rest for about 3 minutes before slicing.
Add 1 tablespoon butter to the pan and stir before pouring over the sliced duck resting on some micro greens.
Any type of roasted potato goes great with this recipe, or garlic mashed potatoes — or even cheesy polenta.
Feeds two firemen.
Next week I'll be back with more. Face what you fear and have some good red wine.
Love, Maria

Enjoy this special 8WomenDream Guest Contributor story submitted by new and experienced big dreamers throughout the world, edited and published to capture a dream perspective from different points of view. Do you have a personal dream story to share with 8WomenDream readers? Click here to learn how to submit dream big articles for consideration.
Note: Articles by Guest Post Contributors may contain affiliate links and may be compensated if you make a purchase after clicking on an affiliate link.