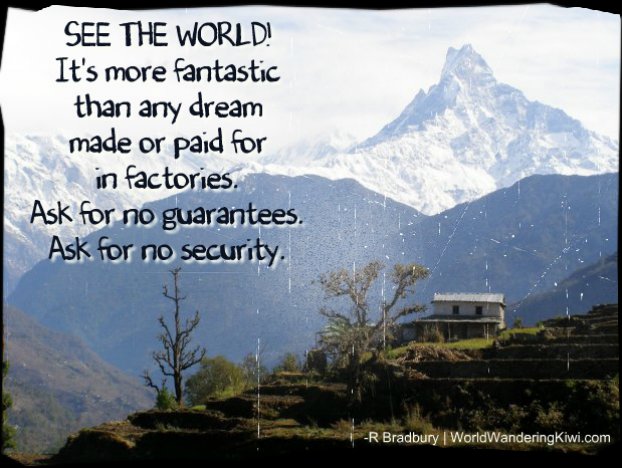 Hello fellow world wanderers!
This week I am taking a few days break from the frustrations of getting my travel ebook ready for publication. In place of my normal weekly world travel dream updates, I am leaving you with what I hope is inspiration to travel the world and a challenge to do one of the following:
1. Get a passport if you don't have one.
2. Make a list of 3 top places you would like to see before you die and how you would like to see them (alone, with family, on a tour, etc.).
3. Investigate the cost of where you would like to stay and what funds it would take to complete the trip.
4. Start a travel savings plan and commit to putting money in it every two weeks – even if it's only a dollar.
5. Check your travel bags. Do you have any?
6. Find photographs of the place you'd like to travel to first and create a photo collage and place it on your computer desktop or someplace where you can view it every day.
7. Work on your credit so that you can get a credit card to travel with.
8. Start getting in physical shape so that you have the energy to fully explore your destination and enjoy your trip.
Thus far in my world travels I have visited 47 states. As there are around 196 countries (depending on how you define it) I've still a lot more ground to cover myself, but here is a link to a map of the places I've enjoyed if this will help you get started.  And remember, I've traveled alone and with a young child under foot.
So I don't want to hear your excuses.
While I am away working this week,  just complete the one thing that will bring you one step closer to making your world travel dreams a reality — or any dream a reality for that matter.  Quit putting it off.  Quit making excuses.  This is your life and it's no dress rehearsal.
What are you waiting for?
Do it!
Natasha
Natasha von Geldern is a travel writer, editor, and blogger who is passionate about making the pages of the atlas real by traveling the world. She is a contributor to Travel Wire Asia, Wild Junket Magazine, Yahoo! Total Travel, and Travelbite. You can find her on her travel website and blog, WorldWanderingKiwi.
Note: Articles by Natasha may contain affiliate links and may be compensated if you make a purchase after clicking on an affiliate link.