Last updated on April 27th, 2014 at 12:47 pm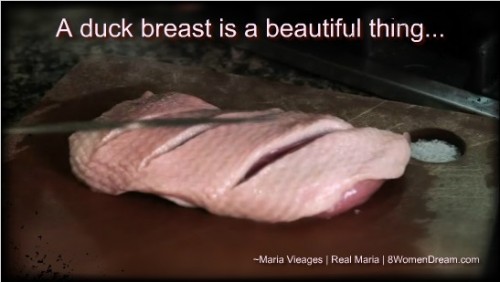 I was excited when I was asked to shoot 10 cooking videos for e-How. I have cooking videos on YouTube and I have auditioned for The Food Network and OWN, but I haven't received even a crumb for those efforts. The e-how videos are different. They brought me one step closer to my dream of cooking in front of the camera for a living.
My excitement went out the door when I stepped on to set at the film location. The sweat poured from my head and I lost all confidence in myself. The first 5 videos were difficult, but then the longer I was there, the easier it became until I found my groove.
Well, kind of.
I am scheduled to shoot 10 more videos, but this time I am confident that I won't walk in and freak out at the sight of the camera and lights like I did the first time around. I am looking at the next set of 10 videos as an opportunity to improve and become the celebrity chef of my dreams.
Last week I revealed the first part of this duck video in my post, Want to Meet Firemen? Panglaze Marinated Duck Breasts, here's the second part —
I believe that anyone who has the passion to become a professional chef, has some sort of a gene that leads them in this direction. This is probably true with other professions, but I can only speak from what I know. It's like being gay–why would you choose something that is so freaking hard? You wouldn't. It's part of you from the moment you are born and this is a wonderful thing.
Most chefs (especially really good chefs) are insecure people. Their egos are inversely proportional to their self-esteem and cooking great food for the masses is like some sort of approval-seeking quest through someone else's senses.
Those of you who are inflicted with this gene–this imbalance of a gift if you will–can't ever give up on your culinary dream. This dream haunts us and we suffer greatly until we get the crumbs of adulation and recognition for our efforts, and then, and only then do we feel the glory. But until a lot of great things happen to those of us with this gene, we need to fake it (like an orgasm during lousy sex) while the people around us don't have a clue. It's sort of like Elaine Benes being with Jerry Seinfeld in the show, Seinfeld.
The filming of the e-How videos has made me realize that in my professional career I've faked certain things in a million different ways until I got it right. This is what you have to do until your dream comes true. The more things you do that have to do with your dreams, the clearer your dreams become.
And you have to sometimes fake it.  It's the only way to learn and move forward with your life.
Until next week,  keep your fire hot.
Love,
Maria
To view the above video on e-How see: www.ehow.com/video_12315867_check-duck-cooked.html

Enjoy this special 8WomenDream Guest Contributor story submitted by new and experienced big dreamers throughout the world, edited and published to capture a dream perspective from different points of view. Do you have a personal dream story to share with 8WomenDream readers? Click here to learn how to submit dream big articles for consideration.
Note: Articles by Guest Post Contributors may contain affiliate links and may be compensated if you make a purchase after clicking on an affiliate link.