Last updated on May 16th, 2009 at 12:07 pm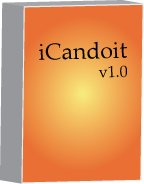 I do best with deadlines. It took me a long time of my adult life to realize and accept this. I started to admit this to my good friends several years ago. Just ask any of my friends on my strategy for unpacking after a move and you'll get the idea. (P.S. plan a housewarming party 3 weeks after you move in)
So after a painful 4 weeks of "getting it together" I have officially installed my virtual motivation enhancement software –
iCandoit v1.0 (gotta love pretend software). I would like to take credit for the beta version, but it came in the shape of these 8 Women Dreaming and the updates are coming out daily!
For example, after my virtual motivation installation;
I did manage to install the ecommerce on the site – Whoo hoo!
I did set-up Paypal – Whoo hoo!
I configured the cart to work – Whoo hoo!
I wore myself out after all that excitement… but as soon as the site actual DOES something, you will be the first to get a link.
Look for upgrades soon – and keep in mind that the iCandoit runs anytime with a little help from your friends.
Enjoy – Heather
(Heather's dream is to have multiple streams of income, starting with launching an e-commerce website that showcases her one-of-a-kind designer jewelry, which are crafted by her)

Heather Montgomery is a fitness writer, triathlete, and serial entrepreneur who is devoted to sharing what she has learned about becoming a triathlete after age 40. She uses her Metabolic Training Certification to help other women struggling to get fit in mid-life. She lives and trains in Santa Rosa, California, the new home of the Ironman triathlon. You can find her biking the Sonoma County wine trails.
Note: Articles by Heather may contain affiliate links and will be compensated if you make a purchase after clicking on an affiliate link.