Last updated on December 10th, 2010 at 12:10 pm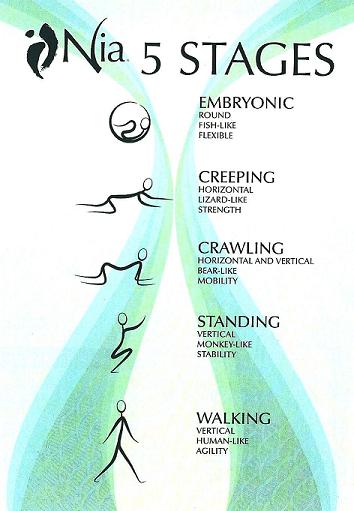 I am a Blue Belt NIA instructor.
One of the trainings I took in my journey to become a Blue-belt NIA instructor was the 5 stages of healing or it can be described as developmental anatomy. We all go through developmental anatomy to get from the ground to standing and ultimately walking into our future.
In class, our trainer Debbie Rosas asks what stage of NIA we are in.
Are we
embryonic
creeping
crawling
standing
walking
During this exercise, I always want to lie.
What grown woman wants to get into a creeping position to portray any aspect of her life?
In my Blue Belt training, Debbie asked our group where we were in our sex life. Did we ask for exactly what we wanted sexually? At this point, we were to physically get into one of the 5 stages of developmental anatomy – the stage we felt we were at in our sexual relationships.
People were all over the place.
It's quite a moment to share with a group of strangers. Sometimes sharing your dream with others is scary and weird. It's like driving for the first time. On this dream journey I've come to know that you have to do things that don't necessarily feel comfortable with when you are first trying them out. You have to grow in new ways and you have to put your guts on sometimes as well.
Sometime back I took a workshop called Awakening the New Feminine Spirit at NIA training.
We had to share of course, so I spit my little rap dream out and before I know it, I'm on the stage in front of all these women – doin' It!
But the next week, I'm back in Portland at my Green Belt training, much different than Awakening the New Feminine Spirit, but the same trainer, Debbie Rosas along with her dude counter part, Carlos Rosas – no longer married but profoundly attached.
In these trainings, we have to create space, which is a sacred and serious exercise. The exercises are physical, intellectual and creative, and designed to act as a mid-wife, nurturing, supporting and birthing the distinctly female spirit in every woman. Each activity is designed to help teh participants explore the awakening and unfolding of our feminine spirit through our body, mind, emotions, and spirit. The trainers come in, observe the circle and start the process.
So here comes Debbie like a sleek little cat prowling around the circle. She stops, looks at me and says,
"How's the Bitch?" I flub something out like, "Fine, how are you?" She says, "This Bitch and I have something in common." Then she looks at me and says, "I hope you'll do your Bitch Rap for us." "Yeah, yeah, of course," I say, "Absolutely!"
And I did.
At the Green Belt graduation.
There is a picture of me performing at the NIA headquarters. Debbie introduced me as White Chocolate, a master crafter of words and I'll take that!
Whether your embryonic, creeping, crawling, standing or walking – just keep going! Don't be afraid to try something different, something that feels awkward at first. As long as it isn't going to kill you, what have you got to lose?
Think of the 5 stages of NIA and apply it to your dream journey. Where are you in the process? Be gentle to yourself in the stage your in, but think about how hard a baby works to crawl, then walk – you must also push yourself past your perceived limits (and frustrations) to walk.
Move on your dream this week – even if you have to crawl to get there!
Laurie
Laurie has several amazing dreams going on in her life at this time. She left 8 Women Dream in November of 2010 to focus on Club B and her NIA business.

Enjoy this special 8WomenDream Guest Contributor story submitted by new and experienced big dreamers throughout the world, edited and published to capture a dream perspective from different points of view. Do you have a personal dream story to share with 8WomenDream readers? Click here to learn how to submit dream big articles for consideration.
Note: Articles by Guest Post Contributors may contain affiliate links and may be compensated if you make a purchase after clicking on an affiliate link.