Last updated on July 27th, 2014 at 10:10 pm
I've become hopelessly involved in Farmville.  For those of you who don't know, Farmville is a game on Facebook where you manage a virtual farm.  You plant virtual crops to earn "coins" to buy more stuff for your farm.  You can also buy farm animals – horses, rabbits, chickens, cows, etc.  My farm has some crops, some fruit trees, two horses, and two rabbits.
My virtual horses stand politely in the corral I made for them.  I can click on a button and pet them if I feel like it.  I don't (apparently – I'm still figuring out the game) have to feed them, groom them, turn them out or clean up after them.  They just stand there.  They're brown and cute.  I like them.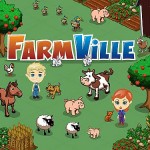 Stormy, my real older horse, has stomach ulcers that I've been nursing.  He's on expensive medication.  Nikki, my real horse, hurt himself again and is un-rideable for who knows how long.  Flicka, the real pony, is o.k. but, in a true misjudgment of where the carrot ended and the fingers began, bit my 4 year old yesterday.  She's fine – more upset that she had a "pony accident" than anything else.  Fred, my real dog, had to be started on thyroid medication.  **Sigh**
See why I'm liking my virtual farm better?
I have decided (tentatively) to keep Nikki for now and not consider selling him.
I'm trying to decide if I want to buy tickets and go to the FEI World Equestrian Games in Kentucky next year.  The Games are being held outside of Europe for the first time ever.
I'm considering the fact that, once Nikki gets better and I'm riding again, I probably could use a new trainer.  My trainer stopped by yesterday to look at Nikki's bump.  We got into a discussion about whether or not to sell Nikki, what kind of horse he'd like to see me get, etc.  He made it pretty clear that he sees me as someone who just wants to go to little shows now and then and that, while I probably have the talent to be successful on a larger stage, I'm not headed in that direction and he doesn't see me ever going that way.  Well, actions speak louder than words and, given my lack of dedication, I couldn't really say much back to him.
O.k., I'm headed out to the barn to smear some ichthammol (yep, its as nasty as it sounds) on Nikki's leg and wrap him.  Hopefully that will help.  Hopefully he'll leave the wraps on, not chew on them, take them half way off and tangle himself up in them.  Aren't horses fun??
'Til next week.
Danelle
(Danelle left 8 Women Dream in March of 2010 and is still working  on her dream is to become an accomplished equestrian)

Enjoy this special 8WomenDream Guest Contributor story submitted by new and experienced big dreamers throughout the world, edited and published to capture a dream perspective from different points of view. Do you have a personal dream story to share with 8WomenDream readers? Click here to learn how to submit dream big articles for consideration.
Note: Articles by Guest Post Contributors may contain affiliate links and may be compensated if you make a purchase after clicking on an affiliate link.