I am taking this Monday off and I am currently in the beautiful, natural, mountain hot springs of Pagosa Springs, Colorado. While I am "blogging to you from the future," I thought this would also be an opportune time to talk about the importance of writing letters to our future selves, as it pertains to goal setting — namely dream goal setting.
My life, like yours, is full of work, friends, family, off-hours work, travel plans, financial constraints, staying healthy, staying on top of the world, worry and trying to keep it all together without melting down. It's tough. I have no immediate solution to alleviate all of the stress–or even figure out how to manage it better, but what I have done, which I find to be helpful, is taking time to slow down.
Like I said earlier, it's easy to rush through day to day life and somehow wake up in the end of a year wondering where the last few months have gone. I could stand corrected here, but I think it can be especially tough for us traveling types and those who travel for work.
In the past two months, I have traveled to Colorado, Las Vegas, Montana, Phoenix (only two hours away), the White Mountains of Arizona and Chicago. It's been a bit of a whirlwind, in the midst of balancing my dream with my laundry list of obligations.
Your Current Self – On Pause
I really have to stop myself and think–what have I accomplished and what do I want to continue to accomplish? On top of which, I constantly ask myself if it is making me happy. If it isn't then something needs to change.
Find the pause button in your life–even if just for a minute, although I hope you can find more time for the sake of you.
When you find that pause button in your life, follow these steps to achieve your dream goals:
1. Visit FutureMe.org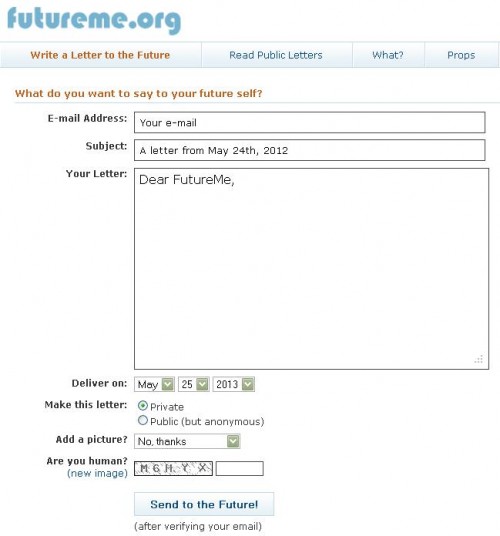 2. Start reflecting on your current self and what you want in your life for the future.
3. Write down your goals along with all your thoughts about them — all the thoughts, fears, hopes, dreams and words of encouragement.
4. Set a future delivery date that you would like to receive this letter in your email — 12 months from now is good.
5. Forget about this letter and be surprised when it arrives in your future inbox.
During the next 12 months your subconscious mind will begin to go to work on your goals without you even knowing it. Amazing things will begin to happen in your life over the next year without you realizing it.
When you receive the email in 12 months, you will be amazed at just how many of your goals you will have accomplished.  There's something to writing them down and releasing them.
If you don't want to do the email letter, write a letter to yourself and place it in something you know you will look at in a year.  If it's January, you can fasten it to December on your calendar.
The important thing is to write down specific goals.  These are not goals like, "I will be a famous singer," but more like "I will sing in front of 5,000 people at the John Doe Auditorium."
If you try this, come back in 12 months and tell me what happened in the comments below.  I am sure everyone will want to know how this turns out.
Katie

Do you have a dream you'd like to share? Be a Guest Contributor on 8 Women Dream! To read Guest Contributor guidelines click here.